Street Chaser APK 6.1.5
In Street Chaser APK, multiple modes are available, dozens of heroes and a lot of power ups to get. Run after the robber by dodging obstacles and using skills.
Download Street Chaser APK – Runner Game
Runner games have been done a lot of times with the most popular ones being Temple Run and Subway Surfer. It's a quick and easy way to have fun on your phone which involves a lot of running and dodging.
Street Chaser adds a lot of twists to it such as the theme which is to go after the robber who got your friend's item.
Run through the hood as you face many obstacles on thew ay such as boxes, barricades, and tight roads. Aside from the endless runner mode, there are many modes to enjoy here as well.
This is a game that will test your reflexes but still provide an addictive gameplay. Collect powerups on the way and various items that can help you catch the bad guy. Can you beat the gang members?
In-Depth Study of Street Chaser
Some of the most popular Android games are also the simplest. Runner games are a no-brainer, but they top the charts every time. It has a lot to do with the addictive gameplay which is the endless aspect of it.
Instead of the overdone Subway Surfers, why not try Street Chaser? The game is unique which takes place in a suburban city where your friend's bag has been capture by a gang of robbers.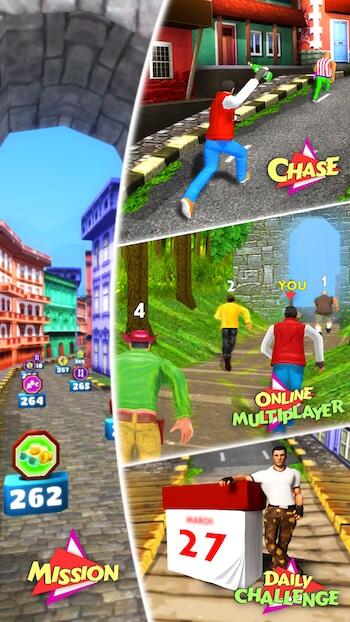 You become a hero by running and trying to capture the robber. But after you capture the robber, it will be continued by another gang member.
The endless mode provides a lot of fun as you'll go through harder roads just to catch the robber. Thankfully, there are powerups in the way, but the challenge is going to be tougher.
Entertaining Modes
The Chase mode is the endless mode which is the main one in the game. This is where you'll spend most of your time playing. The goal is to chase the gang member who robbed your friend. It involves a lot of running in diverse roads littered with different coins, powerup and even obstacles.
When you catch a robber, the item will be picked up by another robber and so on. The game doesn't end, and you can set a high score every time you play this mode.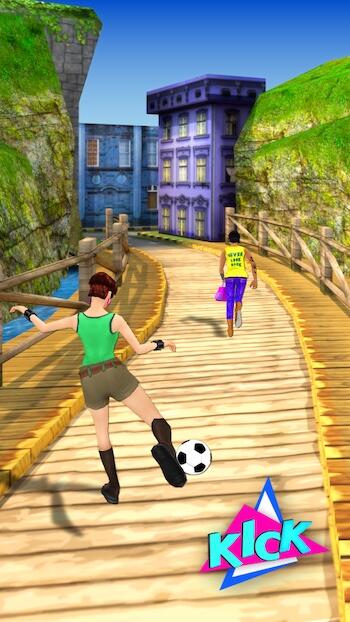 The Mission mode is where you can complete different objectives. There are various missions available like Item Collections, Kick Balls, Throw Bottles, Chase Runner, Word Finding, Coin Collection and Bring it Back.
There's also a multiplayer mode where you can fight against real people. The game can handle up to 8 players in a match at a time. Compete to see who can come in first place as there are also obstacles in the road.
Unlock Dozens of Heroes
If there are robbers, there are also heroes. The players are the ones who will play the role of the hero. There are various heroes in the game with different stamina and power stats. The heroes are:
Mercurial

More Stamina

Gifted

Thief Buster

Classic

Athletic

Robo Chaser

Champion

Special One
Each hero has their own theme going on for instance, Special One is a character that wears a yellow tuxedo with shades. Unlocking each character requires gold coins which you can get from playing various modes.
Collect Powerups on the Way
In the game, you can collect coins scattered plus a bunch of other things. There are also power ups like a soccer ball, a slipper, magnet, bottles and more. The items provide you with a temporary benefit against the robber. There's also a medical kit along the way that would restore some of your health.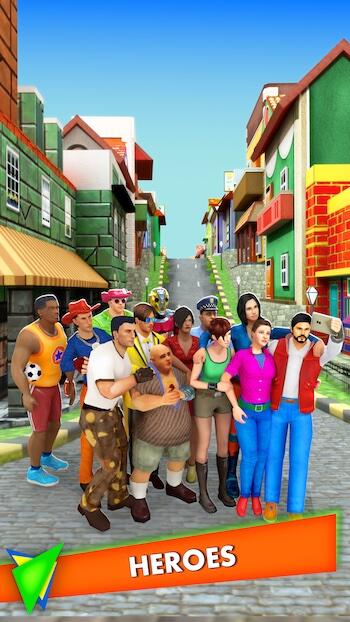 But obstacles will also slow you down and can even affect your health. You must avoid them as much as you can. There are roads holes, bombs, radioactive drums, and a bunch of street mess.
Realistic 3D Graphics
Street Chaser has excellent 3D graphics to provide the best experience. The game is playable in many devices as it's not graphically taxing on your phone. It's in 3D but the controls are as easy as it can be.
Basically, you would just swipe the screen depending on where you want to go. You can also swipe up and down to avoid obstacles. Your hero will automatically run and use the powerups as needed.
Practical Tips to Finish the Game
It isn't easy catching robbers especially if they're a gang! Thankfully, we've come up with some countermeasures to help you catch them.
Pick up the power ups all the time

Take advantage of the Luckywheel spins where you can get extra lives, money, and keys

Compete with friends to make things interesting

Prioritize getting coins so you can unlock stronger heroes

Always look ahead of you when running

Use your dominant hand when playing
Download Street Chaser APK – latest version
In Street Chaser, you'll help your friend to catch the robber. Dodge obstacles, collect powerups and unlock heroes!