Steel Rage APK 0.183
Are you tired of tank and robot multiplayer games? If you want to try something else, download Steel Rage now and equip your car with the latest weapons now!
There are lots of multiplayer car racing games right now. Yet, most of them are redundant trash that you see everywhere. And most multiplayers right now involve shooting, tanks and robots. So, if you're getting tired of all these things, try playing Steel Rage for now. This game is a classic yet a fresh one that features cars with guns.
Participate in 6 vs. 6 matches using your custom car full of weapons. Here, you have full control over your car as you can customize its body, chassis and weapons. Select from light to heavy weapons and eliminate opponents now while dodging them as well. You can mount up to 4 different guns that you can use in unique scenarios in the game. Start your engines and partake in the craziest car multiplayer game of all time!
Fight with Cars
If you're a huge fan of car games, you'll know that it's becoming hard to find the perfect game right now. That's because most games are either copycats or a bad original. But Steel Rage is a different breed as it combines shooting and cars all in one game. Unlike tank games, this one lets you drive cars that are faster and have powerful engines. Equip tons of weapons now and blast enemies to win the match with friends.
This game lets you fully customize your rig from the chassis, body to the weapons. Then, fight with real opponents in 6 vs. 6 matches right now. Unlock different powerful cars today and customize everything! You can even add a camouflage skin to make it more stylish and powerful. There are sedans, sports cars, SUVs and vans in this game that you can use.
You can also hook up your vehicle with various weapons ranging from light to heavy. Equip machine guns, AP projectiles, missiles and other powerful weapons to defend yourself and attack others. Upgrade your car parts to resist enemy attacks and become more powerful overall.
Steel Rage Features
Are you a kid at heart looking for the best shooting car game ever? Go crazy with Steel Rage today and prove your worth!
Epic Car Shooting Game – Normally, car games involve mainly racing and stunt ones. But as there are many racing games available right now, some players are bored with these ones. Naturally, they're looking for something more, something that you can't do normally in real life. In Steel Rage, you can participate in car shooting matches and make your childhood dreams a reality. Here, you can equip some weapons on your car and participate in death matches!
Unlock many types of cars ranging from sedans to sports cars. Dominate the battle by shooting at all your enemies and teaming up with random people online. Here, you have the ability to customize your car and add weapons as well. Dominate the rankings and become the champion of this unprecedented car game! There are so many things to unlock and look forward to that you should play this game already.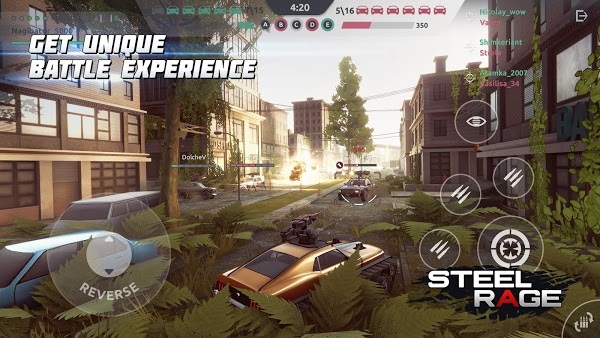 Fully Customize Your Car – In Steel Rage, you will be able to unlock many types of cars. This includes sedans, SUVs, vans, mini and sports cars. Here, every car can be customized fully from its body to even the skins. You can use sports suspension to make it faster or even add wheels to make it more powerful. Better yet, you can even add steel limbs to make it flexible in any terrain. There are so many ways to customize your car in here and you decide the final outcome.
You can also upgrade your car to make it more powerful. With every match that you win, you can get money. You can then use this to buy powerful parts or add different parts.
Unlock Weapons – In this game, your weapons are one of the most important aspects of the game. Luckily, you can mount up to 4 different types of guns here. These include light to heavy weapons such as machine guns, missiles, AP projectiles and more. You can also add an energy shield to protect yourself against oncoming fire. Or, you can even add a nitro boost to get out of tricky situations!
Online Multiplayer Fights – This game is so much fun since you can play against real people online. Participate in 6 vs. 6 matches now with random people or against your friends. There are a variety of combat tactics that can be displayed in the game.
Beautiful Graphics – What really sells this game are the 3D realistic graphics. Enjoy it now!
Steel Rage Mod APK – Unlimited ammo
Are you a huge car fan? Play Steel Rage today and destroy enemies with a car equipped with weapons!