Sport Car 3 APK 1.04.076
Can't get enough of cars? Enjoy plenty of vehicles and things to do in Sports Car 3 Taxi & Police - Drive simulator! Here, you can complete many missions such as taxi, freight, parking, and more.
Car games are always popular thanks to the fact that there are many cars in the world. We can go anywhere today thanks to vehicles, and we can bring along our family and friends as well.
But some people love watching races on TV and on personal, which is why they play all sorts of games. If you're one of those people, then you'll love Sports Car 3! This is a game that allows you to race and do all sorts of things.
Published by SportCarGames, this racing game is different from others because it allows you to do many things. There are so many game modes for you to enjoy here, such as the Racing, Drag, Parking, Hunter, RunWay, Card delivery, Cargo, and Enter the City.
You can do everything there is to do with cars here which is why this is a popular game. Enjoy the realistic weather, car interior, controls, and traffic here today.
The Ultimate Car Game
A lot of people have cars today, but some are crazy for them. This is one of the reasons why there are car shows, racing events, and plenty of sports cars. We can enjoy so much car-related content nowadays that will fill our love for cars.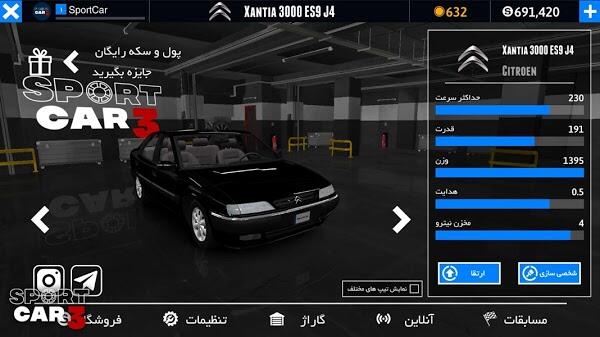 But one of the most fun things to do today is to play mobile racing games today. With Sports Car 3, you can have fun with so many things to do today. This isn't just a racing game, as it's so much more.
In this fun car game, you can race with so many cars today to go against them. Then, you can also enjoy Drag racing to see whether your vehicle is fast enough or not. Or you can practice at the Parking mode where you can take on many challenges as a driver.
There are also other game modes to enjoy, such as Cargo, where you'll take on Cargo to deliver somewhere. There's also a Car Delivery mode, RunWay, Hunter, and Enter the City.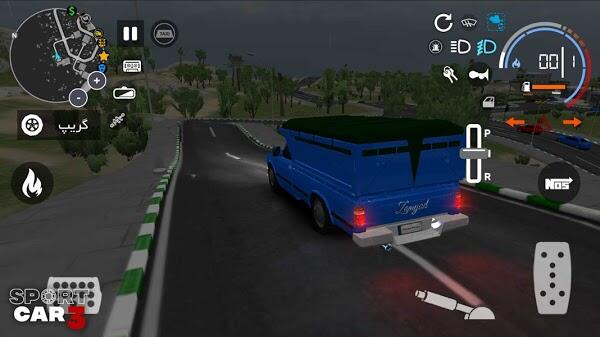 The game allows you to buy so many types of cars available today, such as Samand, vans, Peykan, Peugeot, Pars, and more.
Highlights of Sports Car 3
If you're looking for the best car game to play, try Sports Car 3 now! It packs a lot of content for you.
The Complete Car Game – There are so many fun car games to try right now for you. They allow you to enjoy everything about cars and racing, which is why they're famous.
But if you're looking for the complete car game today, then you can try playing Sports Car 3. This isn't just a racing game; it also allows you to do many things. Enjoy all sorts of game modes in this one game and play with others.
Here, you can race in the Racing and Drag modes, where you can go against other cars. Have fun in the Hunter Mode, too, where you can complete tasks to receive rewards.
Then, there's also the Car Delivery mode which lets you deliver things to do different places. Cargo mode allows you to drive trucks with cargo to various locations on the map. You can also Enter The City and enjoy taking in the view.
Various Game Modes – When we think about cars in games, they're usually just racing games. Although these are still fun, you can enjoy so much more with other car games. When you download Sports Car 3 today, you can have fun with many game modes aside from racing.
There's the Drag Mode, where you will compete to see who can go the fastest in a short amount of time. Then, you can also try the Parking Mode, where you can practice your parking skills. Game modes are also Hunter, RunWay, Cargo, Enter The City, and Car delivery.
Unlock and customize cars – In this game, you can buy so many types of cars available right now. Different ones are perfect for various game modes here.
You can freely buy all sorts of cars like vans, Pars, Pekan, Peugeot, Pride and many more. You can also enjoy the realistic interior of the cars, full controls, and changing the driving settings.
Multiplayer – If you're up for a challenge, you can also enjoy the Multiplayer Mode, where you can play with other people worldwide. Have fun racing and doing all sorts of things with your friends.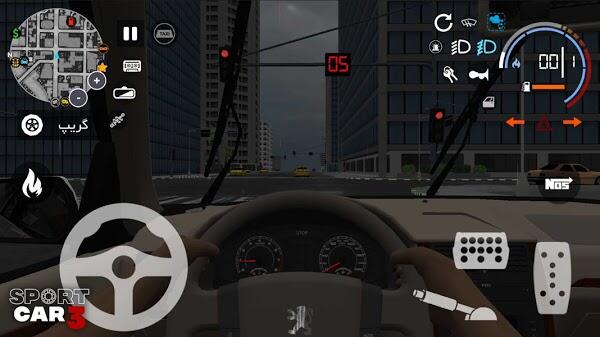 Complete controls and graphics – You can also appreciate the full controls that you can have here. You can have buttons for acceleration, brake, handbrake, arrow keys, turn signals, headlights, nitro, and many more.
Download Sports Car 3 APK – Unlimited money
If you're a fun car guy, you can download Sports Car 3 now to experience a lot of car game modes.