Sonic At The Olympic Games APK 10.0.1
Download Sonic At The Olympic Games APK - latest version - free for Android to bring your favorite characters to amazing sport competitions.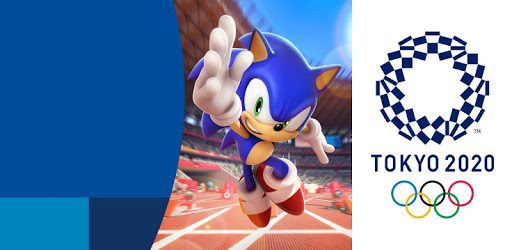 | | |
| --- | --- |
| Name | Sonic At The Olympic Games |
| Updated | |
| Compatible with | Android 4.4+ |
| Last version | 10.0.1 |
| Size | 52.33 Mb |
| Category | Sports |
| Developer | SEGA |
| Price | Free |
| Google Play Link | com.sega.tokyo |
This year, 2020, is the year of the Japanese Olympics. Despite the current global circumstance, you can enjoy all the fun of the olympics from your Android with this official Sonic game on mobile. Join Sonic and friends as they head to Tokyo and try to take down the evil Dr. Eggman who is causing havoc across the city. It's up to you to save the city, take part in special Olympic events, and challenge classic Sonic bosses in iconic Japanese locations. Tokyo is a huge global city and looks forward to welcoming you!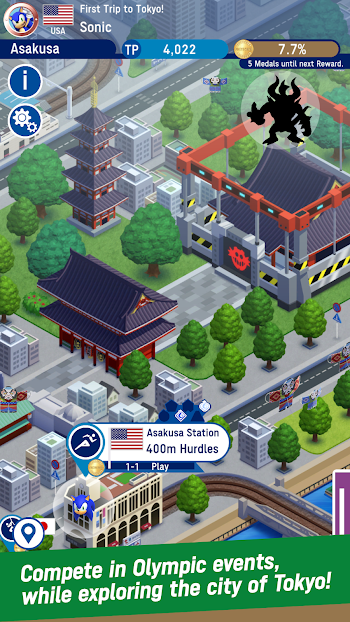 This is an official Sonic Olympics game so you can expect to find all the iconic characters from the franchise as well as the official sports feature in the games. The controls are simple, much easier than training your entire life to become an olympic athlete, that's for sure! You'll find all the events from the olympics, as well as the new events that are coming in the 2020 Olympics. For fun on your Android, there are also new extra special events that are designed specifically for mobile gameplay.
Best Features of Sonic Olympics
As a celebration of the Olympics this year, hosted in Japan's capital city, Tokyo, this is the official Sonic video game for the games. These games are usually found on the leading Nintendo consoles, such as the Wii or Switch, but now you can enjoy the game on your mobile phone for gaming on the move. The free-to-download version of the game is essentially a demo of the full title, which you need to pay extra for. This will include all the other game modes, characters and interesting features of the game. Read on to find out more about the base game and then add-ons you can get to boost your fun.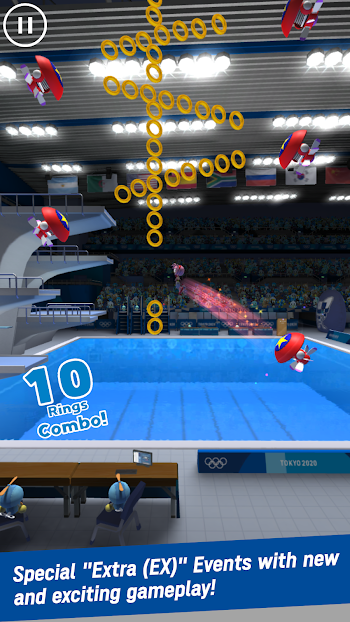 Sports Games On Mobile Need Good Controls
Sports games really need great controls on mobile, otherwise the gameplay is going to feel slow and clunky. Thankfully, SEGA has experience with creating these types of games for mobile, as well as on a range of different consoles. They've taken lessons from other popular mobile games and have included an easy-to-use and effective control system that involves a lot of tapping and flicking at your phone screen. Each game has different controls and different ways to navigate, but each is clearly laid out when you first start!
All The Sonic Characters You Know and Love
This is an official SEGA game so you can expect all the actual characters from the Sonic universe right here in this game. Play as and alongside Tails, Amy, Knuckles, and take down the evil Doctor Eggman. It makes sense that Sonic and his friends all enjoy the Olympic games so much, they are fast and impressive characters for sure! With over 15 olympic games to try, you can find the best character for each one and then challenge your pals!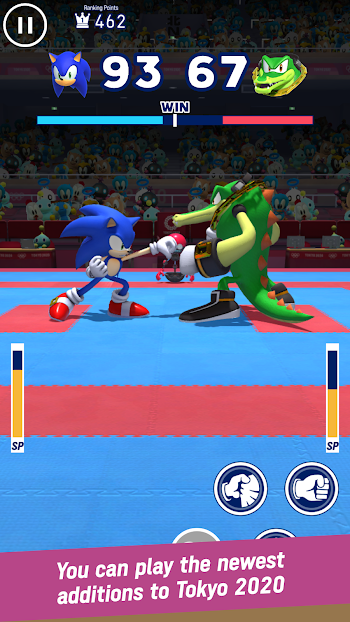 Exploring Tokyo While You Play
The Olympics are more about just the sports and challenges, they're also about exploring new places and countries getting a chance to show off their culture to the world. Tokyo is an impressive city, with lots of history and also a level of beautiful modernity in its structures and city-life. This Sonic game renders an overworld of Tokyo which you explore and unlock as you play, discovering new areas where the games are held. Whether it's finding where to race the hurdles or just admiring some of the game's nice graphics, this overworld is a nice addition to the game.
Over 15 Different Olympic Events To Play
No Olympic game would be right without a bunch of different games to try out and master. In Sonic Olympics you can try the 100 metre and 400 metre hurdles, the Javelin Throw, Karate, Diving, Shooting, Sport Climbing, Fencing, Table Tennis, Badminton, and more! Each has been carefully developed to be as challenging yet as simple to learn as possible. You can play these both in offline mode and online to challenge other real life players and compete for a global leaderboard, so get out there and earn those medals! Prove your nation is the best at a sport and claim the gold medal.
Online Community And Play With Friends
The Olympics are all about getting together with people from all over the world to enjoy challenges in a variety of sports. Sonic Olympics are no different. As you master each game you'll be placed on the global leaderboards against other top competitors - choose your favorite sport and become the best at it by constantly practicing until you can earn that special golden medal. You can also challenge your friends as there is an in-built social system so you can keep track of them and even send messages when they're online. Invite them to a game of table tennis!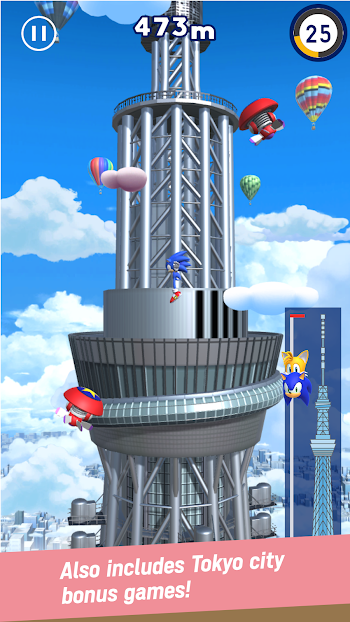 Tips and Tricks for Sonic Olympics
Before you can challenge for those gold medals, you'll need to practice the individual games and controls that go with them. Tapping, flicking and coordination are all important, and you might practice with a game like hurdles before trying out some of the more technically difficult games. Overall, though, the game doesn't have a huge learning curve, and it's more about having fun working towards those medals which makes this game so enjoyable!
Download Sonic Olympics APK - Play For Free On Android