Save The Girl APK 1.5.0
Download Save The Girl APK – latest version – for Android and try your saving skills against multiple challenges in this game! Do you have what it takes?
Casual games have taken over the mobile gaming industry for these past years. Because they are easy to make and play, they are the most popular choice among many players. Moreover, almost the majority of the games in the market belong to the casual category nowadays.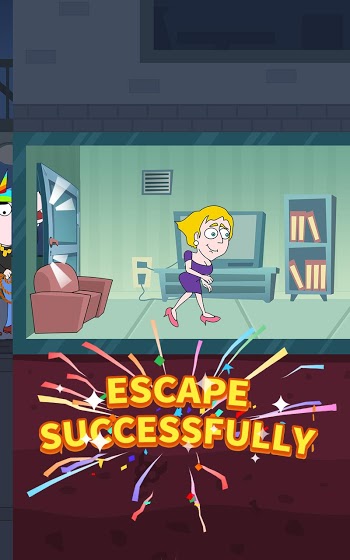 One such game is called Save The Girl by Lion Studios. This seemingly simple game has now over 10 million downloads on Google Play Store alone! This game has a fairly simple gameplay – make the right choice every time to save the girl. There are only two choices and you need to make the right one to progress the story. It's a very interesting and simple game that many have been craving for. Interested to know more? Read on!
What is Save The Girl?
Just by reading the title, you can get a glimpse of the gist of this game. The task is simple – save the girl! The story starts with a girl kidnapped by the Mafia. She is taken to a place far from her home and tied up in a small and dark room. This is how where the story starts.
In this game, there are over 100 missions all revolving around the main theme of saving the girl as she escapes the bad guys. In this game, you don't have to fight the bad guys with weapons or anything. You just need to make the right choice in determining the correct object to use to escape certain situations.
Although it may sound simple, things suddenly becoming interesting as you may find that the choices may not be obvious anymore. This is where things get complicated and challenging for you as a player. In order to progress the story, you need to choose thing otherwise you replay a level from the beginning.
Although you can have the ability to revive on the last spot you were by spending gold or watching a video advertisement. This is why you should think hard before choosing any choices to not lose your progress. Overall, this game is a simple yet challenging game that will keep you on your wits all the way. It's one you can't miss!
Features of Save The Girl
As said earlier, this game is fairly simple yet it has its challenges. The game has a certain uniqueness to it that others can't replicate. This is what separates this game from the others and how this game achieves many downloads. Because of that, here are the features:
Interactive gameplay – When we say interactive gameplay, this game doesn't feel like a game at all. Rather, this is more like a live-action story where the viewer can choose the choices to progress the game. There's nothing more satisfying or annoying than having your choices directly affect the story. So be sure to think clearly before making any choices. You soon might regret it!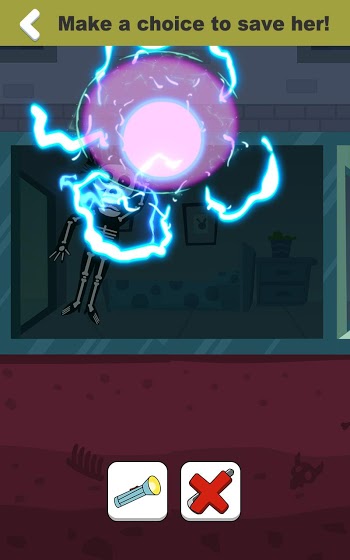 Many levels – As mentioned earlier, there are many levels in this game. Choose the wrong choice and you're back to the beginning of the level. It's that hard. In the beginning, the choices are obvious, between a lighter and a scissor, what would you choose to free the girl from being tied? The scissors, right? Then, as you progress, you'll find that the choices are becoming less obvious and harder. You can't progress without making a mistake even once. That's how hard this game really is. You need to think clearly before making a choice because not all rational choices are the right ones. You must think like a detective before making any choices in this game.
Great graphics – This game has a simple cartoonish graphics that will appeal to all. Think of your favorite American cartoons like American Dad or Family Guy. The graphics are similar to those cartoons. The characters are designed with comedy in mind as you'll clearly see from the shapes of their faces. You are also treated with gorgeous effects that you can witness when choosing objects to help the girl escape. Overall, the simplicity is what makes this game a top-notch one.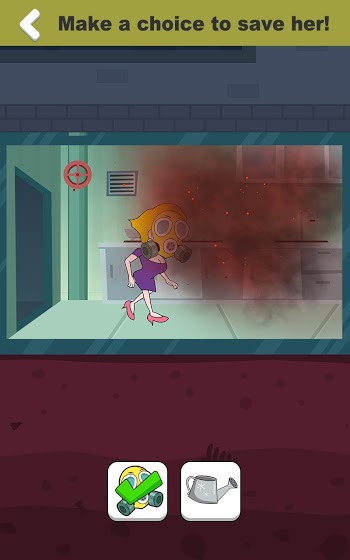 Easy controls – It may be fair to say that there really aren't any controls in Save The Girl. That's because you just tap which object you want to choose in order to progress the story. You don't need any elaborate control schemes to remember like other action games. This is what makes this game a simple and an enjoyable one. Overall, this game has a simple graphics and a simple control scheme that combines for a very interesting gameplay.
Interesting story – As said earlier, the game starts with you saving the girl inside a dark room. She was kidnapped by the Mafia for some reason and you need to make the right choices in order to get her as far away from danger as possible. The game's story progresses right as you make the right choices. And the story isn't just a simple one. It's filled with intense scenes, interesting escapades and funny tales. You'll find yourself craving more as you progress through the story.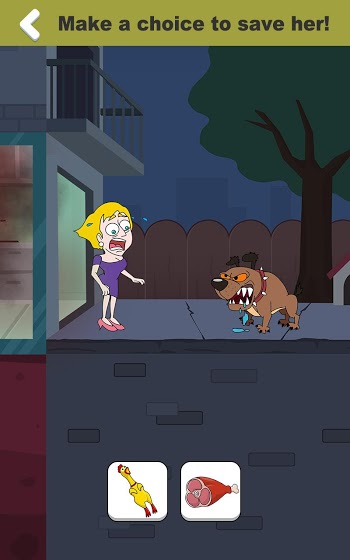 Tips for Playing Save The Girl
Save The Girl starts off pretty simple at first. You're presented with seemingly rational choices and obvious ones to throw off your game. Then, you'll soon find that your choices won't make any sense at all and it's already too late. To avoid those times, here are some tips:
Think before you tap – It sounds obvious but sometimes we get too confident about our choices. At first, we're presented with the choices of scissors and a lighter to help free the girl. At first thought, both can cut the rope but the lighter would be riskier as you can light the girl on fire accidentally. Then, as you progress through the story, you'll find that rational choices would make absolutely no sense throughout the game. This is why you need to think hard before making any choices.
Download Save The Girl APK – Latest version
Want to play Save The Girl but don't want to watch ads? Download the unlimited coins now and enjoy the game without limits!