Rokkr APK 1.8.3
Do you like watching your favorite movies and series, regardless of whether you're at home or on the go? For this, we can recommend the Rokkr app one hundred percent.
| | |
| --- | --- |
| Name | Rokkr |
| Updated | |
| Compatible with | Android 5.0+ |
| Last version | 1.8.3 |
| Size | 22 Mb |
| Category | Entertainment |
| Price | Free |
Do you like watching your favorite movies and series, regardless of whether you're at home or on the go? Nowadays, many people like to watch their favorite shows on the way to work, on the bus or on the train. Just pop in your headphones and you can keep up with the latest developments in your favorite series. But of course, you need the right app for that. Do you have a good smartphone? Then watching your favorite shows wherever you are is not a problem. For this, we can recommend the Rokkr app one hundred percent.
In this article, you will learn everything you need to know about this best media app. We'll show you what Rokkr is good for, how to use the Rokkr app, and also how to download Rokkr on both your phone and your TV.
What is Rokkr?
The Rokkr app is a media player and a browser in a single app. It is a replica from the makers of the once-popular app "Watched". Rokkr is one of the most popular entertainment apps, so you are guaranteed hours of entertainment. With this app, you can watch movies and TV for free, without a subscription! Even live news, podcasts, and music are included.
What makes Rokkr special?
What's special about Rokkr is that this app combines optimal user experience with technical excellence. Rokkr plays not only your media but also music, movies, or series. The Rokkr app also offers you the functionality of a browser at the same time. This combination ensures sheer entertainment no matter when and where.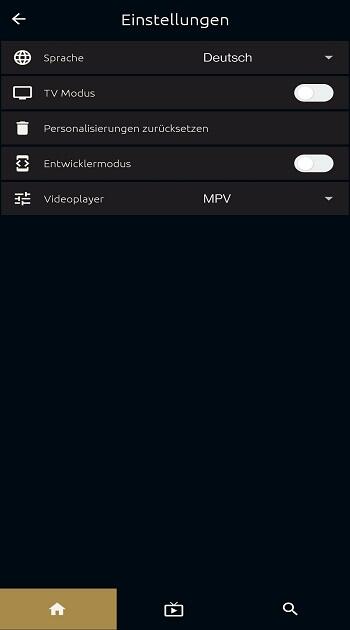 These advantages have also been recognized by our smart users and that's exactly why the Rokkr app is especially in the top charts of entertainment apps. Download the free Rokkr app now and enjoy limitless entertainment today. Discover your latest favorite series today!
How much does the Rokkr app cost?
I'm pretty sure that you are thinking that such a handy app must be expensive and require a monthly subscription. Well, there are two pieces of good news! First, the Rokkr download is completely free! The creators cover the cost of the app through ads, so there is no cost to you at all, especially no hidden costs. The free version of the Rokkr app also includes a playback function, which means that you can use it for 5 to 30 minutes a day.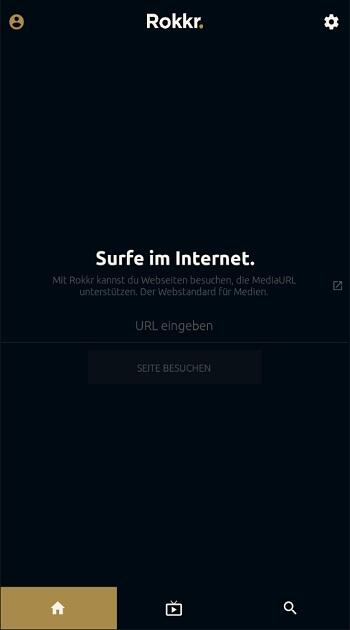 The second option is the Rokkr Premium version. What are the benefits of the Rokkr Premium version? That's a good question, and we're happy to answer the question for you. The Premium download costs only €19.95 per year for absolutely unlimited access to the Rokkr app, completely without annoying ads that keep interrupting your fun.
There are also no monthly fees or hidden charges for you. Best of all, you can cancel your premium subscription quickly and easily at any time, so you're not tied to anything or anyone should you no longer need it, which we can hardly imagine, considering how many fantastic options Rokkr gives you.
Now let's take a look at what's included in the Premium version.
The ultimate Rokkr experience in the Premium version
Download Rokkr with the Premium option - it offers you endless entertainment fun.
What we found particularly positive is that you can log into the app on all your devices, no matter how many devices you own - whether TV, iPhone or tablet, there are no limits to your entertainment fun.
After downloading Rokkr, you can easily use the app anywhere. Apart from that, it is especially pleasant that the paid version is 100% free of ads. This means that you can enjoy movies, series, TV shows and music completely without annoying interruptions, which for us would more than justify the price. But these advantages are by far not all that the Rokkr app has to offer.
What particularly impressed us was the huge selection in the media library.
You can stream German series and movies and use servers in other languages like Spanish, French, and German. In addition, you can even access many local TV channels worldwide through the various Rokkr bundles, which are then streamed live to your smartphone or TV.
Furthermore, there are even free live broadcasts of soccer matches that would usually be chargeable but are free with Rokkr TV. Not a fan of soccer? No problem! Because Rokkr also provides you the latest and hottest movies and series from the year 2020 and even 2021, so you always stay up to date. What we really liked is the extensive custom search that allows you to choose what you want to watch by genre, year, and language. The fast server offers you great entertainment fun without any interruptions or latencies.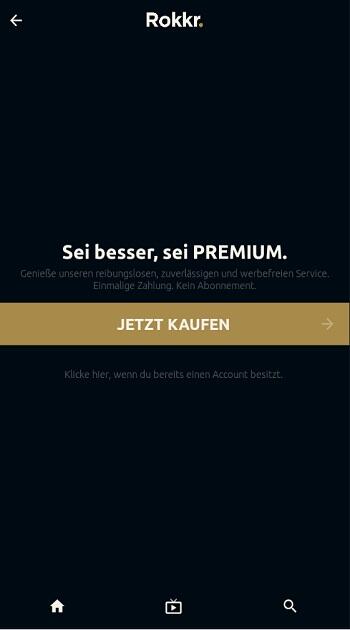 Rokkr also helps you to learn a new language by watching TV. Because for many of your favorite shows, subtitles are available in different languages, such as English, French, Spanish, Russian, and so on. This is the most fun way to learn languages! The best thing about Rokkr App Download is the fact that the time you can watch is absolutely unlimited! For truly unlimited streaming enjoyment.
Get Rokkr online today!
Easily install Rokkr on your devices
Are you convinced that you should download Rokkr? It's a fantastic idea! Once the Rokkr APK is installed, you can customize the app by choosing from a huge selection of bundles that you like the most. Rokkr APK offers a user-friendly interface with innumerable categories for streaming. Included are popular series, popular movies, trending series, popular series, settings, and more. We wish you a lot of fun and entertainment while streaming!