Resso APK 3.7.2
Download Resso Latest APK 2023 free for Android and get a fulfilling music streaming experience! It allows you to create a unique playlist and enjoy your favourite songs any time!
Resso is one of the most realistic music streaming app that allows you to access lots of songs. Even better, it allows you to express yourself as you share your feelings with other users.
This unique application was developed by Moon Video Inc. to enable you to access all the songs that you may need for optimal fun.
Similar music apps: Jiosaavn APK and Avee Player APK
When you download Resso for Android, you'll discover songs that you've never known existed. As such, you can be confident that this platform will expand your music scope.
Additionally, the platform has premium/pro packages that enable you to download music for offline use. You'll get all the lyrics you need in the font and colour of your choice!
What to Expect When Using Resso
Here are a few exceptional features that you'll enjoy after downloading Resso:
Listen to Your Favourite Music. This app offers you a chance to select your playlist from a list of diverse songs. You can quickly search your ideal songs through the search bar! Even better, you'll receive numerous recommendations that match your music preference.
Form Your Community.You'll have the chance to establish a community of individuals with whom you share interests and likings.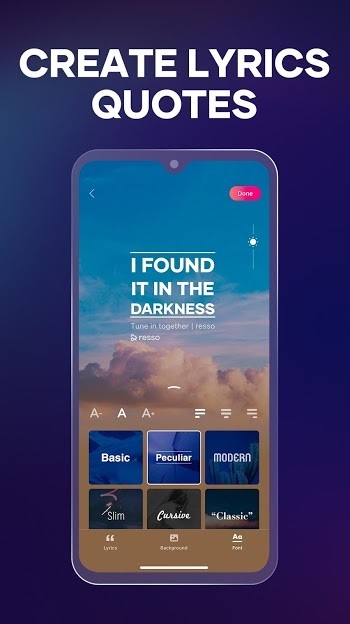 Create a Playlist.You can discover new music and create super cool playlists! Incorporate all the songs that tickle you. This will enable you to select your ideal playlist based on your prevailing moods.
Share Your Favourite Lyrics through Social Media.This platform enables you to select your favourite lyrics and share them through your social media accounts. This helps in enlarging your community and enhancing your music experiences.
Straightforward User Interface.Its UI has simple accessibility and easy-to-apply features. As such, you can be confident that you will not waste too much time trying to familiarize yourself with the app.
Music Invitation Code.This is a unique feature that enables you to make personalized Resso community.
Share Your Experiences. As you listen to the songs, you'll have the chance to share your sentiments regarding that particular song. This enables you to exchange ideas with other users.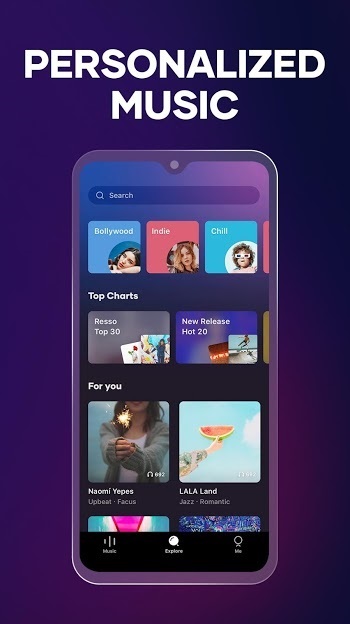 High Personalization Abilities. In this game, you can change your background, font size of your lyrics, and many other features to achieve a personalized feel.
Download Resso APK for Android - Latest version
If you'd like to have highly detailed music streaming app, you should download the latest version of Resso app. This tool enables you to access personalized playlists!