JioSaavn APK 8.4.1
Download Jiosaavn APK Latest Version free for Android to enjoy the premium features of this popular music streaming app from India. Get the hottest tunes the east of Asia has to offer!
Looking for an app where you can have your fill of the latest and hottest Indian music? Seek no further as JioSaavn Pro have this in store for you and more. Enjoy well-curated content mostly from South Asia in one stunning platform.
JioSaavn Pro is the product of the merger of Jio Music and Saavn which was finalized in December 2018. From the initial brand, JioMusic was rebranded to the JioSaavn Pro it is known today. The acquisition of Saavn has strengthened the offerings of the streaming app with its exemplary reputation in distributing Bollywood content. With this coupling, the app has become a streaming giant in showcasing Bollywood, English, and other regional Indian music to the world.
JioSaavn Pro Features
JioSaavn Pro offers a freemium service which means people can access its basic features for free. However, to fully enjoy its exclusive features and get rid of the ads, you must avail of the subscription service. Either way, this online music streaming app is worth your while with its eargasmic library of music and other audio content. English content runs in various countries and territories such as India, Pakistan, Afghanistan, Bhutan, Maldives, UAE, and more.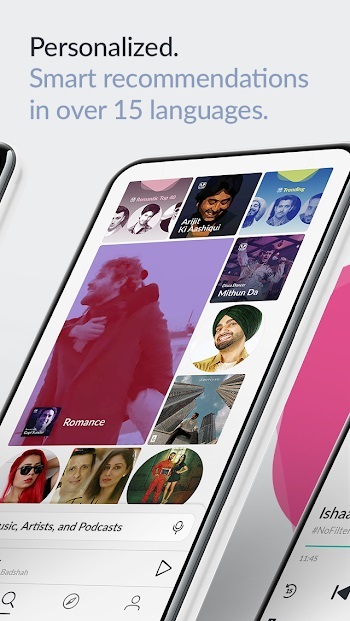 Currently, it has 45 million music and audio content from Bollywood, English, Hindi, and other Indian regions. They showcase carefully curated playlists as well as custom radio stations for a more personal experience. They cover a lot of Indian regional languages such as Tamil, Telugu, Punjabi, Marathi, Kannada, Bengali, Urdu, and more.
Highlights:
Unlimited library of music from across South Asia
Use one of your favorite music as your phone's notification sound with JioTunes
Professionally picked playlists and radio stations
Recommendations based on your music consumption
Access to lyrics; live sync is available for your very own music bar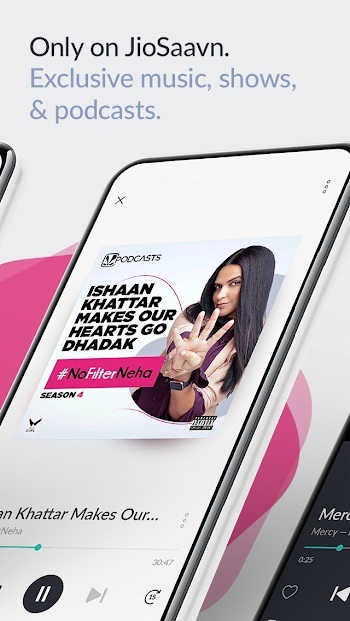 Content exclusive to the platform
Venue for podcasts and other original radio shows
Available on Alexa, Chromecast, Google Home, Android Auto, Airplay, etc.
The Premium features are offered at good rates that are guaranteed to give you the best music streaming experience. Try JioSaavn Pro for unlimited downloads, crisp audio, and the most important of all - no ads!
JioSaavn Pro Interface
Modern and chic define the look of the app. It has a very organized and thumbnail-driven layout that makes going through the music a smooth experience. By default, it has a white background with intuitive controls. The white background is the perfect backdrop for the album cover or artists' thumbnails with their colorful themes. If you are feeling edgy and want to add character to it, there is a "Dark Mode" option you can switch to.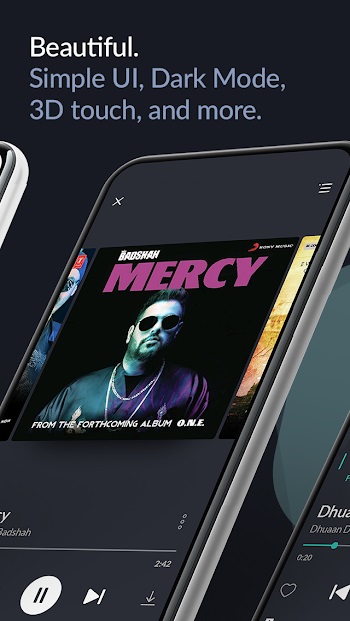 It's about time South Asia's sound is heard throughout the world. An app continuously growing, users have commended it for its timely updates. It has now amassed more than 100 million downloads on Google Play. The reviews are looking excellently with a big majority of respondents rating it with 5 stars. Enjoy it in any of your Android devices as the app is made to accommodate them all.
JioSaavn Pro APK Download 2022 New version
Also, the version of JioSaavn Pro gives you access to everything you'll ever need to fully utilize the app. These simple features available make a ton of difference:
Listen when offline
No ads
Get your dose of Indian music instantly with JioSaavn Pro APK Latest Version. No need to worry about the subscription fee as the version lets you in on the premium features for free.