Resortopia APK 7.5.1
Are you into relaxing casual games? Try Resortopia APK today and see if you can help Udon renovate the old resort! Design the place, buy furniture, and more!
The Google Play Store is a place where you can find tons of fantastic games to play today. You're able to find games in all sorts of shapes and sizes, as well as categories for you to enjoy.
There are games in RPG, simulation, action, racing, fighting, shooting, and many more today. You can also enjoy casual games that take away the stress of the day, like Resortopia! Here, you can help Udon restore the glory of the resort.
You'll act as the resort manager here who's in charge of many things. The ultimate goal is to bring back the old glory of the resort who's become rugged and old now.
To start, you'll need to clean and renovate the rooms as you freely design them. Pick the best furniture and unleash your creativity in designing to attract many customers here. You'll manage the limited budget, and you'll need to draw everyone's attention to the resort! Manage it wisely now.
Manage a Resort
You'll be able to have fun with so many unique and intense games right now for free. Smartphone games have come a long way from just some casual games that you can play anytime. Now, there are intense action games from big companies and developers that you can play now.
But if you're still looking for some casual games that can help you relax today, you can download Resortopia. This is a one-of-a-kind game where you'll become the resort manager in charge of running things! How will you revive this resort?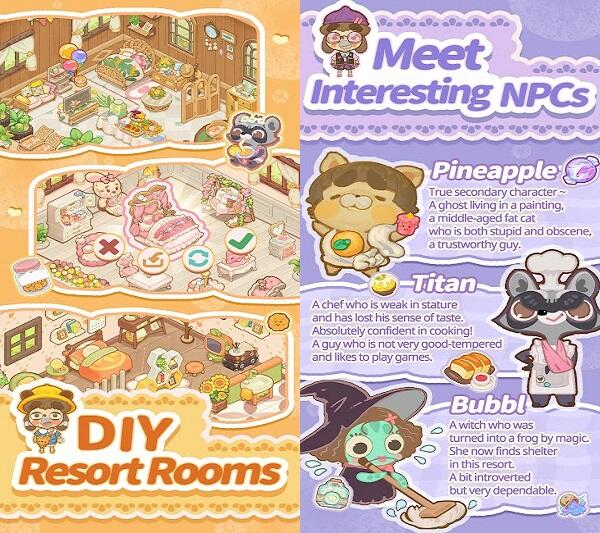 All businesses go through ups and downs as it's only average. But in this game, you'll need to help Udon restart the resort as it's been rundown ever since. To do this, you'll be the resort manager in charge of many things, including the renovation.
You'll be able to design all the rooms here including the quarters, facilities, paint and many more. You'll be able to purchase many exciting items to entice people to stay at your resort!
You can also hire more helpers so you can accommodate and help more people. In this game, there are endless things you can do!
Resortopia Highlights
If you want to have your resort, this is your chance! Help Udon run the resort now in Resortopia.
Run a resort – There are so many enjoyable casual games to play right now. The Google Play Store has so many fun and easy games for players to enjoy right now. These are games that aren't as intense as action or shooting games but still fun in their way.
You don't need to tap as hard as you can as these games allow you to relax and enjoy the moment. In Resortopia, you'll be able to run a resort as the manager to help it get back up.
As the manager, you'll need to attract a lot of guests here of different colors, characters, and styles. You can do so many amazing things to turn this old resort into something unique and exciting.
Here, you can DIY all the rooms to add decorations, buy new furniture, and renovate them all. But you'll need money to do so, and you can only earn them when you have more customers. So, do your best to attract new customers today!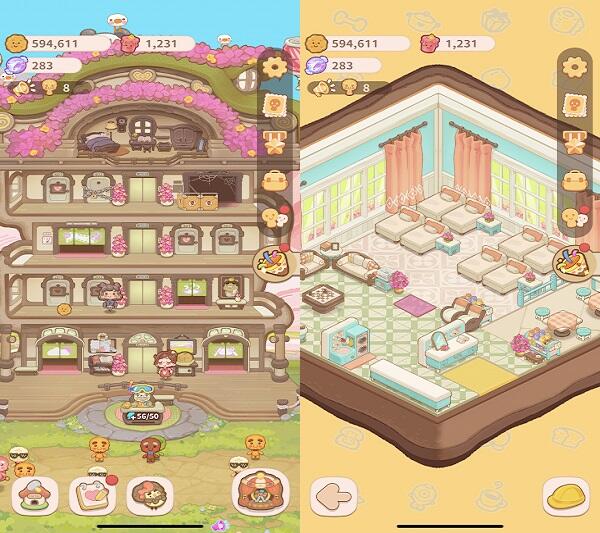 Renovate – To attract more customers; you first need to renovate the old rundown resort. It's been a while since customers last visited the resort, so you'll need to get to work!
Here, you can unleash your creativity as you buy so much furniture and various facilities today. You can clean and let your imagination unlock as you make all the rooms sparkling clean. Here, you can freely design all the rooms according to your taste!
Buy furniture and facilities – In this game, you'll be able to buy various furniture and facilities to make the resort more inviting. You can buy various beds, entryway cabinets, a welcome area, a massage chair, and even a spa!
You can create the best rooms and design them with plants, cabinets, and different wallpapers today. There are so many things you can do and design in this fun casual game today.
Hire helpers – To get more things done, you can hire workers to help you manage your resort. You'll need a lot of hands as you grow your business into something big! Feel free to hire more help as needed and expand your operations!
Download Resortopia APK – Latest version
If you want to run your resort, try Resortopia and create the best paradise for visitors now.