Ramp Car Jumping APK 2.5.0
Car racing games are fun for everyone. But have you ever performed stunts out of a car? In Ramp Car Jumping, you can do numerous stunts and blast through now!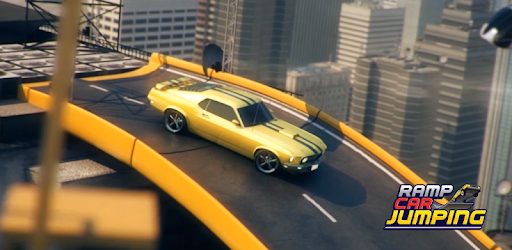 Car games always involve racing one way or another. The popular types of these games include racing, simulations and stunts. If you're on the hunt for the ultimate car stunt game, then play Ramp Car Jumping today. A game from BoomBit Games, this one challenges you to fly your car in the grandest way possible and demolish everything in sight. Can you fly your way to victory?
There are a bunch of insane ramps that you will go through in this game. The higher you can fly, the more stuff you can eliminate for some insane scores. You are also free to upgrade your engines, add boost and add extra power to give you that much needed boost. There are plenty of fun locations that you can perform stunts in such as the mountains, a football field, in buildings and even in space! Enjoy a fun stunt game today!
Accomplish Cool Stunts
For car enthusiasts, playing car games on a mobile phone is a dream come true. A lot of people still can't drive or can't afford one in real life so they play racing games. But some people will go to the extreme and play a car stunt game that allows you to perform dangerous stunts. Ramp Car Jumping is one such a game wherein the higher you can go, the higher the score is! Go through extreme lengths to perform stunts now!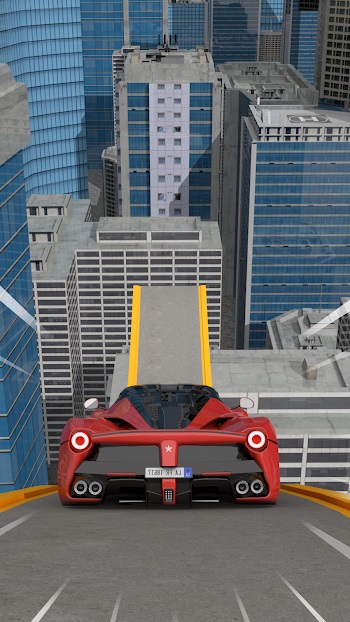 In this game, the controls are as easy as tapping the screen to play. You don't need to control the steering wheel or accelerator to play. This is because your car is set on a huge ramp and it will automatically go do its own thing. Then, you can upgrade certain things such as the engine, boost and a bonus to get higher scores overall. This is a game where you will test the limits of your abilities!
In terms of graphics, it's on par with some of the most realistic car racing games right now. The only difference is that this is more of a casual game.
Ramp Car Jumping Features
In the gaming world, car games are so much fun. This is especially true with Ramp Car Jumping where you can do insane stunts on a regular basis.
Car Stunt Game – As much as car racing games are fun to see, we can't deny that stunt shows are more entertaining. They are death-defying, incredible and impossible to pull off. Yet, a lot of stunt people love to do them to impress millions of people worldwide. In Ramp Car Jumping, you get to be on the driver's side as you perform cool stunts! Here, the more ridiculous the stunt is, the higher your score can be.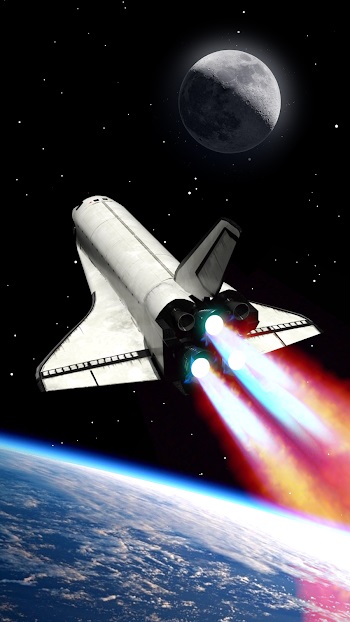 Enjoy a multitude of cars each with its own features. Go down the ramp and up again at the last second to reach new heights! Plow through everything on your path and get insane rewards. In this game, you can select different cars do upgrades and go through a lot of levels. Overall, this is a game where you can test your skills in stunts!
Choose Your Car – There are many types of cars available in Ramp Car Jumping. The first one will be a yellow muscle car. Then, you can also upgrade to other racing cars, with different weights and speeds. From pickups to rally cars to event jets and planes! There are so many cars to use in this game which gives off different stunts for you to do. Of course, unlocking them requires money first!
Do Upgrades – In this game, you can also upgrade your engines, boost and extra coins. This game lets you upgrade them to different levels all throughout the game so you can fly higher and score more rewards. But the higher the level, the more gold coins you need to upgrade them. You need to first clear the levels so you can get rewards in this game.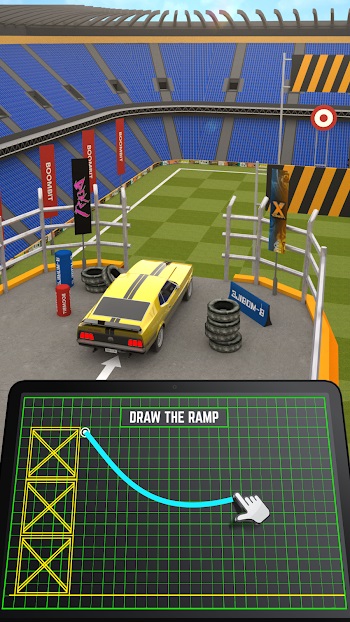 Different levels and locations – The fun in Ramp Car Jumping lies in the cars and the different ramps. In this game, you'll play in different levels that are set up in certain locations. Play in a football stadium, a building, a mountain and even in outer space. There are so many fun locations to try out in this game where you can perform your insane stunts. Unlock all of them by completing the levels now.
Fun animations – In this game, you will not go against other racers rather yourself. You will enjoy the real physics and animation that this game has to offer.
Ramp Car Jumping APK
Are you up for some unusual challenges? Download Ramp Car Jumping now and show off your stunt skills!