PhotoPills APK 1.8.9
Have you always wanted to create stunning photos involving the natural elements? Use PhotoPills now to plan every shoot so you can create stunning ones.
Ever since camera was invented, we've taken countless photos and videos now. The camera has gradually evolved over time until it's now embedded right into our smartphones. Now, we can capture any precious moment anytime and anywhere we want. But if you've always wanted to capture the sun, moon and the Milky Way in the perfect moment, you should plan your shots with PhotoPills. Endorsed by award-winning photographers, this is a must-have app for photographers.
Published by the developers with the same name, this app is the perfect companion for photographers everywhere. With this app, you can see when the Sun, Moon and the Milk Way will be positioned perfectly that you can take the shot. You can then capture stunning photos where the sun is on the beach or the moon is as visible. Moreover, the app contains many features such as the Location Scouting Tool, Calculators, Widgets, 3D Augmented Reality and many more. In short with this app, you no longer have to guess when the perfect shot comes.
Capture the Perfect Moment
If you didn't know, photography is such a huge activity that countless people around the world make it their livelihood and even their hobby. There are a lot of beautiful things and moments that we can capture on our planet so it makes sense to do photography. But one of the best subjects will always be natural elements that you can shoot from just about anywhere. But if you want to plan your shots better, then you'll need PhotoPills. This app makes sure that you can shoot the perfect shots every time.
What this app does is that it helps you calculate when the best shot for your photo would happen. This is possible by choosing where you want the Sun, Moon or the Milky Way would be on a specific place and the app will calculate it. It then gives you the specific time that you'll need to be to shoot it and create a masterpiece. Now, you don't have to wonder when the perfect alignment will be anymore.
Aside from that, you can enjoy other details calculated like the exposure, DoF, Hyperfocal, FoV and many more.
PhotoPills Features
There are many moments and things that we can capture today with our smartphones and cameras. PhotoPills is the ultimate companion app!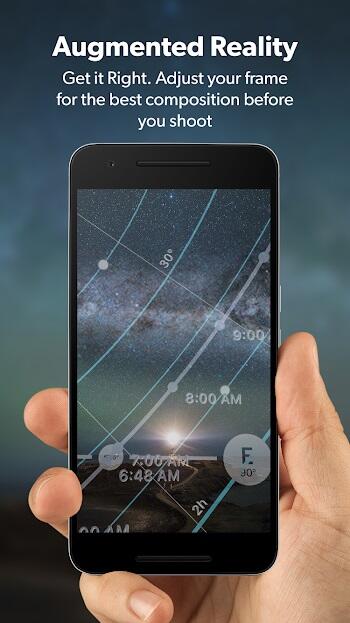 Plan Your Every Shot – Smartphones have truly come a long way today. We can now use it to capture just about any shot we want to take. With more and more apps being developed, we can do just about anything with it. But if you're a photographer, you must have thought about shooting the natural elements at least once. It's difficult to predict when the Sun, Moon or the Milky Way will be at specific times so you should use PhotoPills. With this app, you don't have to guess since this app can calculate everything for you.
What this does is that it allows you to calculate when is the perfect time for your shot. You can calculate when the Sun, Moon, and the Milky Way will be the perfect for your shot so you can plan for it. This means you can save time in creating masterpieces! Moreover, the app lets you calculate the time lapse, long exposure, Spot stars and many more.
2D Map-Centric Planner – With this app, you can enjoy planning your shots involving the Sun, Moon and the Milky Way. There have been many stunning shots of these 3 celestial bodies ever since photography was invented but you can still give it your best shot. You can try shooting them in the perfect angle and in the perfect time involving other elements. But you can only achieve that with the help of PhotoPills as it allows you to calculate when that perfect shot can occur.
3D Augmented Reality – With this app, you can enjoy seeing when the Sun, Moon, Milky Way, Celestial Equator, Polaris, DoF and FoV will take place. With this, you can plan your shots accurately without missing any details. This feature makes use of your device's compass to accurately show the correct angles.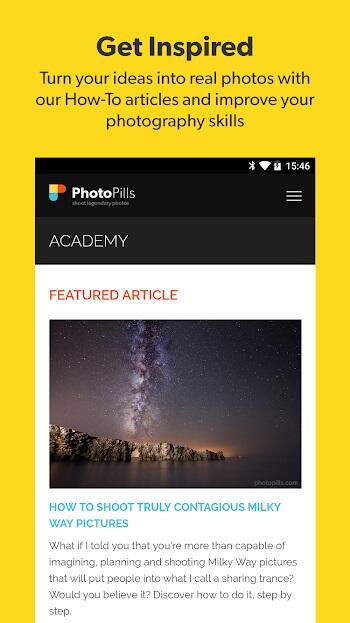 Location Scouting Tool – With this app, you can scout for locations all around the world. This means that you can plan your shot anywhere in the world you wish today. You can set when the perfect place is and you can go there when the time is right!
Key Information – In PhotoPills, you'll be able to see the important info such as the sunrise, sunset, twilights, golden hour, blue hour, moonrise, moonset, supermoon dates and many more. This is to ensure that you can capture the perfect moment!
Calculators and Widgets – The app also allows you to calculate time lapse, star trails, spot stars and many more.
PhotoPills APK – Latest version
Enjoy planning the perfect shot today with PhotoPills! Capture the best moments right now.