Paper Fold APK 200108
Download Paper Fold APK and create spectacular pictures by folding papers. It has multiple levels with unique challenges that will keep you glued to your screen.
What You Need to Know about Paper Fold
Paper Fold is a puzzle game by Good Job Games. It challenges you to create pictures by folding papers.
Due to its simplicity, the game is ideal for children. It enables gamers to unlock sophisticated features, thus making it more exciting. If you love simple puzzle games, you should download Paper Fold APK for android.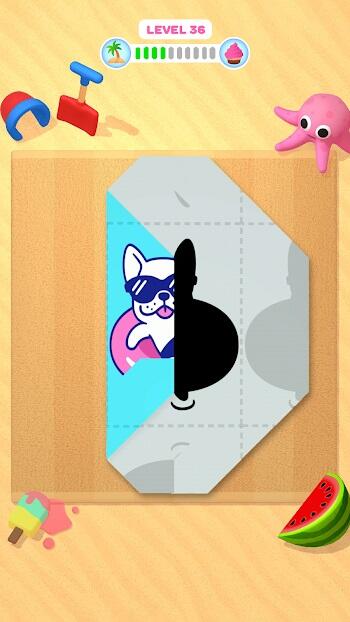 The app works best with devices using Android 5.0 and above operating system. It has more than 50 million installations, which shows a positive reception by gaming enthusiasts.
An Immersive Gameplay
This game offers pretty straightforward gameplay, but it can also be frustrating as you go higher up the levels. You will need to combine multiple vintage-style papers to create a complete image.
To fold a paper, tap and drag on its corners and edges until you get the desired effect. It is more challenging if the edges of the paper overlap each other or there are many small objects to replicate, such as flowers and butterflies.
There are different challenges for you on each level. For instance, sometimes you need to create a picture using a finite number of papers and folds, while others require you to match paper colors and patterns. As the levels go higher, your goals become tougher.
Multiple Game Levels
There are numerous levels for you to conquer. Each level has specific goals that you need to accomplish before being given the stamp of success.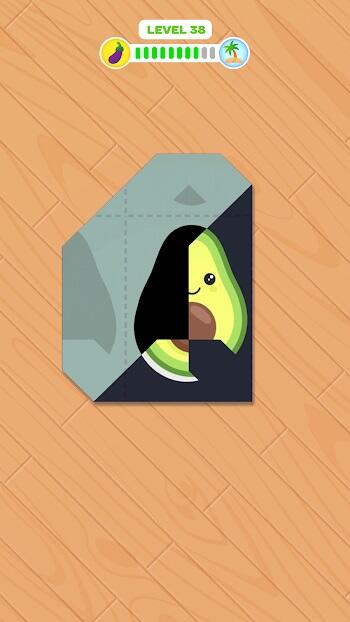 For instance, if it is a "Puzzle" level, you need to create an image by folding papers without overlapping them too much. On the other hand, "Pop Art" requires you to combine different patterns, colors, and textures to create an image.
There are also Nature (where you need to fold papers based on scenes like windmills and flowers) and Freestyle (which challenges your creativity as you fold papers without adhering to specific rules).
Simple Controls
Paper Fold is a game that involves the use of your fingers to fold papers. However, you can also rely on hints when you are stuck. This way, you won't spend coins, which are hard to earn!
To fold a paper, tap on it and press the fold button. For hints, click on the question mark or shake your device to reveal a randomly hidden letter that will help you solve the puzzle.
You can also tap back if you have mistakenly tapped on something. You can pause by clicking the home button or using a multitasking feature of your device.
In-App Purchases
As a free game, Paper Fold APK has in-app purchases. You can purchase coins to buy hints or unlock special features such as patterns and other elements that add more fun to the gameplay.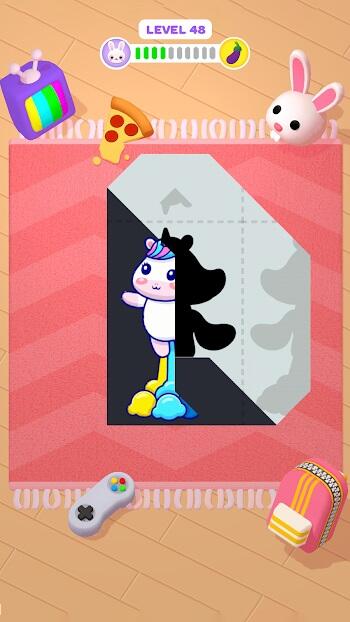 If you don't want to use your money, you can also earn coins by watching sponsored videos. The ads are displayed as banner ads or commercials that you can watch to earn coins. You can also check your achievements to receive rewards.
Simple Graphics and Immersive Sound Systems
You will love the colorful graphics of Paper Fold. The images are highly detailed, especially when you use the zoom feature to see pictures in greater detail without compromising quality.
The game has a soothing soundtrack that complements its beautiful visuals. Your ears will love it as well! It is a good way to escape from stress and relax after a tiring day at work.
You can also tap on the sound icon to mute or unmute the sound of Paper Fold. You can also change its volume if it is too loud or too quiet for your liking.
Download Paper Fold APK
The modded version of the game is available in the form of APK files. You can download it on your device, but make sure that you get it from reliable third-party websites.
Once you have installed the game, you will see all premium features unlocked and unlimited coins added to your account. You don't have to spend real money anymore!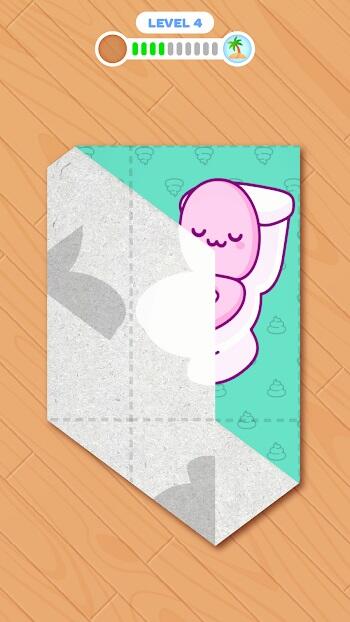 Additionally, the Paper Fold APK download is advert-free. As such, you can enjoy the full benefits of Paper Fold without experiencing annoying screen interruptions.
Conclusion - Paper Fold Game APK
Paper Fold is an exciting and challenging puzzle game that makes you use your imagination skills in folding papers to create images. If you love coloring, then this game will be a great addition to your toolbox.
Even better, you can get the Paper Folding APK if you want more enhanced gameplay. It features unlocked premium features and unlimited coins, which you can use to buy hints or unlock items.