NFL APK 57.0.48
Download NFL APK Latest Version free for Android. Get everything related to the National Football League, straight to your mobile device.
Football is the heart and soul of America. As such, there's only one true way to stay connected to the National Football League. That is, with the official app – NFL for Android.
With this app, you'll be able to enjoy all content and features of the Football League, uninterrupted and unadulterated. This is exactly how the sport was meant to be enjoyed.
So, you just might be away from home and cannot access your television to stay updated on what's going on with your favorite team. No worries, you can just pop open your app and get right to the same content, as you would've at home.
NFL App Features
There are many different features to enjoy about the National Football League Application for Android. That being said, these are all scattered across the different platforms you can use the app on.
Thus, we have listed the features across both Android phones and tablets. So, regardless of which mobile device you are using, you'll know just what you get when you choose to download NFL for Android.
Phone Exclusive Features:
Get live games straight to your phone. As such, you will have access to both local and primetime games available to live stream.
Not only this, but live Playoffs and Super Bowl games will be available once the season hits! Make sure to be ready and available to begin streaming your favorite teams' matches as they air accordingly.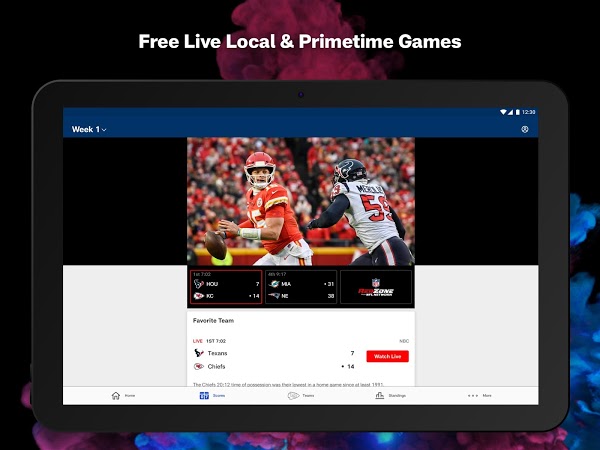 Get the NFL draft coverage in full details. Learn about the roster and draft picks for your own fantasy football fetishes.
Tablet Exclusive Features:
You'll have access to NFL Network and NFL RedZone, if you are a subscriber to any of the compatible providers of these different services. So, regardless, you will still be able to stream the same, if not better than you would have on your phone.
Features Shared Between Phone and Tablet:
The Game Center will give you up to date scoring on the very minute it occurs. Additionally, you'll have in-game highlights and charts of drives at all times. You'll feel as if you are right there in the stands, watching each game for yourself.
NFL Network is made available, with authentication. Get everything NFL related to stream 24/7/365, all year round.
Get highlights in the form of both audio and video. So, you'll be constantly updated on the latest in breaking news on everything NFL.
Tons of other aspects are opened up to users of the application, Such as the NFL Game Pass, RedZone, NFL Shop, and many, many more tools.
NFL APK Free Download
Download the NFL App APK free now to begin enjoying all of the content mentioned previously. Although, you'll be able to save data and space on your Android phone and tablet with the APK, compared to the Play Store download.
With that being said, we recommend getting this download straight from our website now. You'd be missing out otherwise. Not only will you save space on the NFL APK download, but you can also add more apps to your device. We have a selection of other sports apps that you'll be able to enjoy in addition to this one.
Conclusion
Grab a quick snack and take in all of the juicy football content you want. Follow your favorite teams, stream live games and events, get highlights and many more other features. So, download the NFL app for Android mobile device now.