Naruto Slugfest APK 1.0.3
Download Naruto Slugfest APK Latest Version free for Android. Join your favorite ninjas from the popular manga and anime; create your own unique shinobi among 4 classes.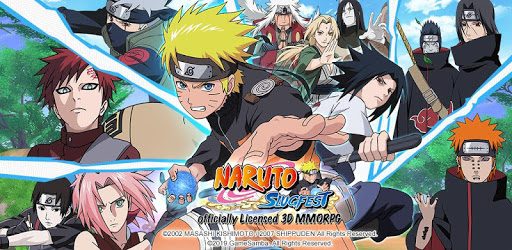 If you've wanted to join the world of Naruto and become a shinobi yourself, this is your chance. Introducing, the first and best Naruto MMORPG. Not only that, but the first open world Naruto MMORPG. This is Naruto Slugfest for Android!
Choose a ninja class, follow the story of Naruto as an active ninja, and experience the life of a shinobi. You'll have a ton of fun playing this game on your mobile device. Don't miss this opportunity and download Naruto Slugfest for Android today!
Follow the Story of Naruto
Are you familiar with the popular manga and anime, Naruto and Naruto Shippuden? If not, then you must live under a rock. The anime and manga based on ninja has created a huge wave of inspiration for proceeding authors. This was quite possibly the first underdog story ever told in shounen writing.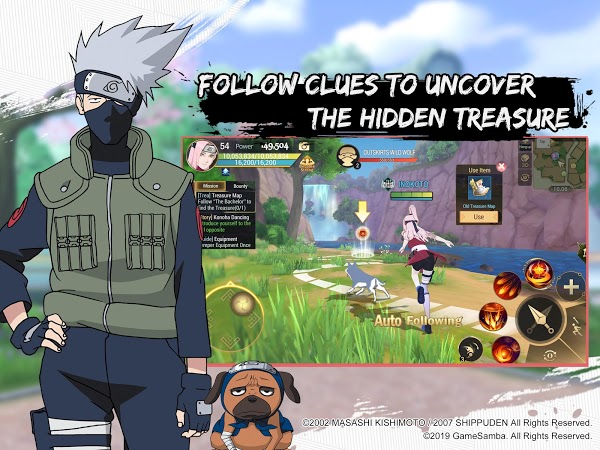 Naruto is an orphan, born into Konoha, the Village Hidden in the Leaves and one of the five great nations. His parents were killed during the assault of a nine-tailed demon fox. The end result was the demon being sealed within the boy.
This is the story of how Naruto grows and develops as a result of his dream: To become Hokage the leader of his village and to be respected amongst all of the villagers. There is suspense, drama, action, and mystery spread across the tale of Naruto Uzumaki.
Create Your Own Ninja in Naruto Slugfest!
In Naruto Slugfest for Android, you can immerse yourself even further into the shinobi world. Create your own ninja and become a part of the history of shinobi. How amazing does that sound? Similar to Naruto to Boruto Shinobi Strikers, you'll be able to customize and edit the skills and appearance of your own ninja. What's more, there are four distinct classes for you to choose from. Find out which one you like best and build your fighting style and jutsu around that.
Know Your Classes…
Each of these ninja classes has their own specific nature element. Additionally, there are two styles of play between each of them, usually a choice between utility and DPS (damage per second).
Wind Shooter:
Mastering the wind element, this cool ninja is fast and skilled in both close and long range. Therefore, the two fighting styles you can choose between are Agile for quick close quarters fighting or Ranged to keep a distance.
Earth Keeper:
The second male character you can pick is the earth style user, Earth Keeper. These deadly and overwhelmingly powerful ninjas can generate a ton of damage, while also taking hits pretty well. So, naturally they would be the tanks of any squad. You can choose between Assault for the most damage potential, or Defense to eat up as many hits as possible.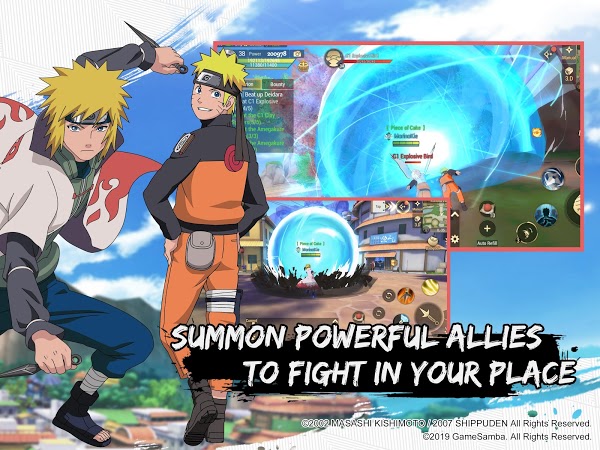 Thunder Assassin:
Third, is the first female ninja of the group. The Thunder Assassin specializes in lightning style jutsu and is the stealthiest among the shinobi you can choose. Her quick and undetectable movements make her a great pick to get the true feeling of a ninja. Either pick the Murder style for quick and powerful assassination moves. Or, you can master Mobility and your enemies will never be able to see you coming. You'll be in and out without a single trace.
Blazing Lotus:
Finally, the last ninja you can choose from is the fire style using Blazing Lotus. These ninjas solely rely on their jutsu to get the job done and support their teammates. That being said, everyone should at least have one Blazing Lotus in a squad. Blazing Lotus and heal up their injured comrades with the Medical style. In addition, they can be an all-out attacker with their ruthless fire style jutsu as a Flamer.
Action-Packed Open-World Gameplay
Want to learn how to play Naruto Slugfest? The game is easy to get into and enjoy the user interface is similar to most action games. You'll have a main attacking button for your basic actions. Then, there are various jutsu and skills that you can perform on the side. However, these will have a buffer after being used.
Additionally, the game is open-world. You can traverse the Leaf Village and ninja world with your friends and explore a ton of familiar locations. This is by far the best Naruto open world game for mobile!
Download Naruto Slugfest APK
Unfortunately, Naruto Slugfest is not available to multiple regions. But, this would be bad news if you were downloading the game from the Google Play Store. Instead, you can get the Naruto Slugfest APK free download here!
There's nothing stopping you from becoming a ninja and experiencing the world of Naruto. Defend your ninja way and install the Naruto Slugfest APK Android download.