NADRA Center APK 0.1.26
NADRA Center APK is a useful app for Pakistan citizens. It allows the search for NADRA offices, provides directions, appointments, and see all the details.
Download NADRA Center APK – Database Registry
A lot of government agencies in the world has completely adapted the digital world. Thanks to the internet, many apps have sprung that provides convenience to citizens.
NADRA Center is one such example as it's an app that lets Pakistan citizens know where the offices are. Now, you don't have to manually ask for directions or even search for them in Google.
We all know how much of a hassle it is to secure important documents. But thanks to the app, we're able to locate all the offices near us. This app features a lot of important details which you can access easily.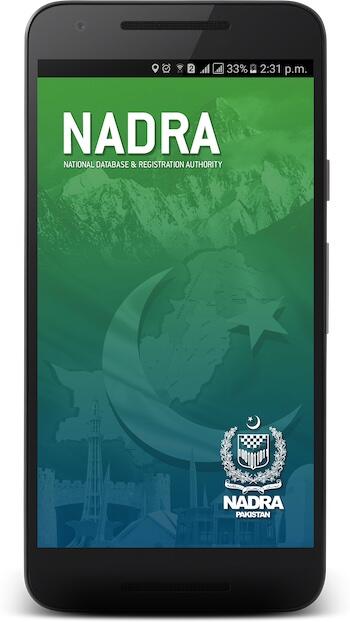 There's no app quite like this which you can use to secure all your needed documents. In the post, we attempt to provide more details for users like you.
What is NADRA?
The National Database & Registration Authority is an agency under the control of the Interior Secretary of Pakistan. Its primary function is to manage Pakistan's database, identification, e-governance and securing documents. It was established in March 2000, and it has been performing well over the past decades. With this agency, you can secure enjoy many benefits:
Solutions

e-Government Solutions

Procedure of Appeal

Secure Documents Solutions

Security Solutions
For identity documents, citizens can request for: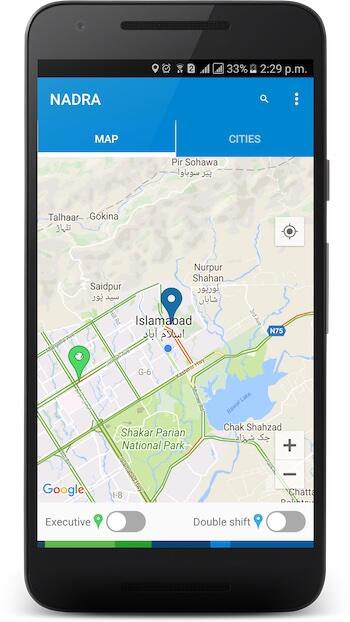 Pakistan Origin Card

Family Certificate

National Identity Card

Juvenile Card

Cancellation Certificate

Child Certificate
Through their office, applications can apply for any document and have it delivered to their doorstep. It also lets them file for complaints to get help for their needs.
Features You'll Love from NADRA Center
Now that you know what NADRA is, you might be curious as to what NADRA Center offers. You can see for yourself below:
Search for any NADRA office – Knowing how important NADRA is, the government has put up many offices throughout the country. The goal of the app is to provide users with the ability to search for any NADRA office.
You can do it manually or by combing through the cities and seeing different offices available. Thus, you don't have to do a lot of leg work just to know which offices are open or not.
In the cities tab, you'll know the total NADRA registration centers, executive offices, regional centers and double shift centers.
Get Important details – Another terrific feature that NADRA Center brings aside from the location of the NADRA offices are details. Here, you'll know each office' address, operating hours, center type and contact details.
Thus, you can make an appointment without going through the office. If you didn't know, there are huge lines in different government offices especially in NADRA ones.
Digital Map – With this app, you'll get directions to each NADRA offices as you search for them. The app is equipped with a map that can use your phone's GPS to accurately guide you. You can then screenshot it or use it while driving for guidance.
Get info through email/SMS – If you want every info to be sent to you, you can request to do so. The app can send you the office details through your email or phone number. This way, you can save the details without having to manually type them.
Easy Interface
With this app, you don't have to login or create an account to utilize it. Since it's simply a way for people to be guided to NADRA offices, the design is simple. Here, everything is straightforward as you can also utilize the search function. There's also a share button which will let you share the location and important details to any app.
As for the theme, it uses a blue color and large fonts which are easy for the eyes. It can also accurately pinpoint the location of the offices with a pin.
Download NADRA Center APK – free version
With NADRA Center, you can see all the offices in the country. The app lets you search and get important details.