My Dystopian Robot Girlfriend APK 0.80.2
Download My Dystopian Robot Girlfriend APK latest version and help Anon decide what to do with a peculiar sexbot. It has dynamic gameplay with unpredictable outcomes.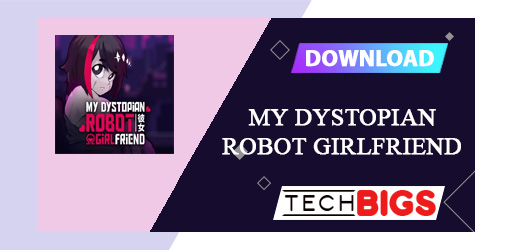 | | |
| --- | --- |
| Name | My Dystopian Robot Girlfriend |
| Updated | |
| Compatible with | Android 5.0+ |
| Last version | 0.80.2 |
| Size | 191 Mb |
| Category | Role Playing |
| Developer | Patreon |
| Price | Free |
My Dystopian Robot Girlfriend APK Download - Storyline
This game is set in a future where relationships with humans are frowned upon, and robots are the new norm. The sexbot industry is booming, and the sales are quickly surpassing those of other motor industries, including vehicles and military equipment.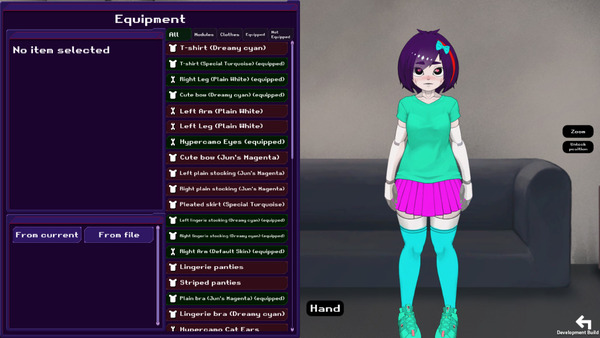 Unfortunately, a conflict between China and the United States has led to a worldwide embargo on sex bots. This has left those who own them scrambling to find ways to keep their robotic lovers operational.
This ban is not well taken, and a black market quickly sprung up to cater to the needs of those who wanted to keep their metal mistresses. There are also militias & terrorist groups advocating for their use, including the incontinent Cell & the Bening Bionist Coalition.
You play as Anon, a young man living in a crowded ghetto. You are penniless and hopeless after losing your job. In a moment of desperation, a military truck rolls by and drops a mysterious cargo box.
Upon opening it, you find a beautiful and realistic sexbot inside. Now, you must decide what to do with her. Will you use her for your own needs? Sell her on the black market to pay rent? Or will you help the resistance by using her to spread information and rally other sexbot owners? Your choices will affect the outcome of the game, so choose wisely!
Choice-Themed Gameplay
My Dystopian Robot Girlfriend APK Android is an adult visual novel with multiple routes and endings. It presents the player with choices that affect the outcome of the story. Ensure that your choices lead you to the ending you desire, as some choices may lock out certain routes.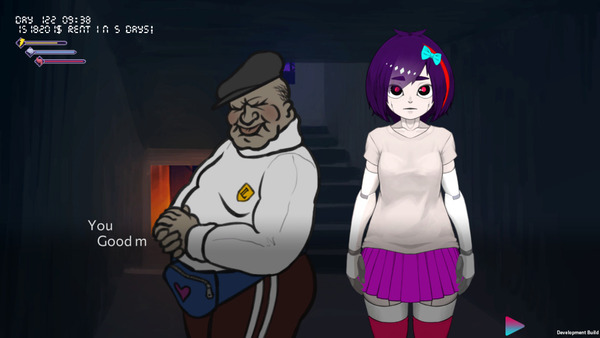 The open-ended nature of the game means that there are many ways to play, and it's up to the player to discover them all. There is no "right" way to play, so experiment and have fun.
Customize Your Bot
Once you have your bot, you can customize her to your liking. Choose from a variety of hairstyles, skin colors, and clothing options. You can even give her a personality by selecting from a variety of traits.
Your bot will evolve over time as you continue to interact with her. The more you talk to her, the more her personality will develop. You can even raise her as your own virtual pet.
Even better, you can buy individual parts to upgrade her. This includes everything from new eyes and ears to full-body makeovers. For can shop for a hand that matches her skin and hair color, or you can go for a more unique look with mismatched colors. The choice is yours.
A Rich, Dystopian World
My Dystopian Robot Girlfriend APK for Android game is set in a richly-detailed world that feels alive and real. The game features beautiful hand-drawn artwork and an original soundtrack.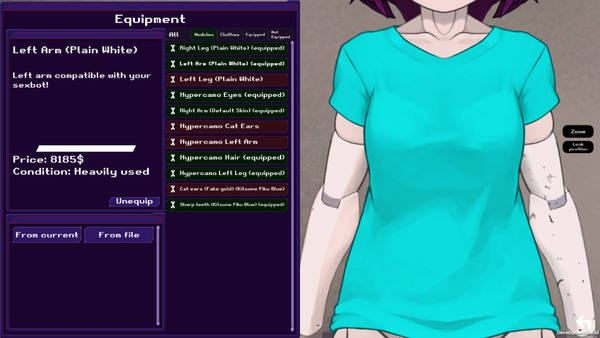 The storyline is based on real-world events, and the game includes references to current affairs and popular culture. This gives the game a sense of immediacy and relevance that is rare in other visual novels.
My Dystopian Robot Girlfriend is more than just a love story. It's a game about relationships, technology, and the future of our world. If you're looking for a game that will make you think, this is the one for you.
Many Minigames
This game offers a wide variety of minigames integrated into the storyline. They range from simple puzzles to more complex games that require strategy and planning.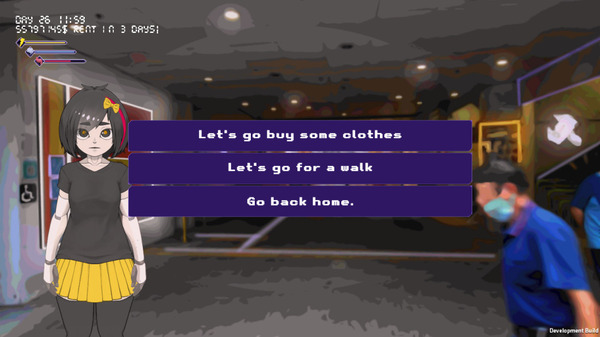 These minigames are not only fun, but they also help to further the plot and flesh out the world of the game. They are a great way to break from the main story and explore the world differently.
Other Unique Features of My Dystopian Robot Girlfriend APK
Fluid Animations. This game has many scenes with beautiful, fluid animations. The seamless transitions make it feel like you are watching a movie, rather than playing a game.
A Dynamic In-Game Editor. With this game, you decide how the story unfolds. The in-game editor allows you to make choices that affect the course of the plot. You can also add images and videos to the game to create a truly unique experience.
Customizable Clothes. The game includes a variety of clothes that you can use to dress up your bot. You can change her clothes as often as you like and even buy new outfits. The shape, length, color, and style of the clothes are all customizable.
Integrates Survival Elements. This game takes place in a dystopian future where resources are scarce. You must help your bot survive by collecting rare items necessary for her survival. You can also find other items to trade or sell.
Realistic Environments. You can be in bed, lounge around in your apartment, or take a walk through the city. The game features different areas to explore, and each one is realistically rendered.
My Dystopian Robot Girlfriend APK MOD
My Dystopian Robot Girlfriend APK free download is the modified version of the game that provides you with unlimited money to buy anything from the shop. Dress up your bot with the most expensive clothes, shoes, and accessories without worrying about the cost.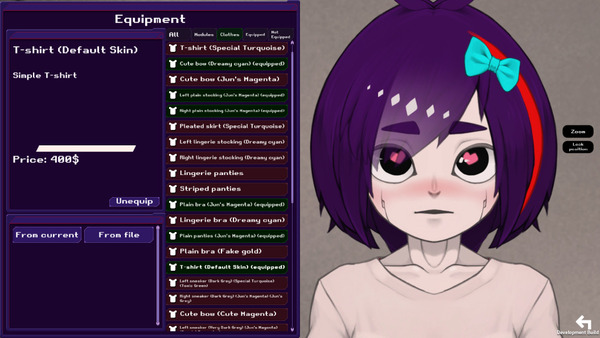 With this game, you can have the best of both worlds – a rich, detailed world to explore and a love story to follow. If you're looking for a fun and thought-provoking game, this is the one.
Conclusion
My Dystopian Robot Girlfriend APK is a must-play for any fan of visual novels or dating sims. The game offers a unique and captivating story, lovely artwork, and an immersive world to explore. It also includes a variety of minigames that are integrated into the plot. It is fun & easy to play!