Muscle clicker Gym game APK 1.7.6
Download Muscle Clicker Gym Game APK – latest version – for Android to experience what it's like making a skinny person muscular by going to the gym!
There's something so satisfying with simulation games that we can't get enough of them. Maybe it's their simple yet addictive gameplay or their graphics. Either way, we've got a lot of them now on the market and it's unlikely that they'll ever stop making these.
Among the most addictive ones is a game called Muscle Clicker Gym Game. Sure, the title is long and isn't exactly inviting but it has more to offer. This game shows you what it's like to make a skinny person muscular with hard work at the gym. If you're excited, read on!
The Ultimate Gym App
When you think of gym games, they kind of contradict themselves. It's ironic that they made a game for people to work out yet they spend it playing the app on their phones. While there are certainly a lot of home workout apps out there, Muscle Clicker Gym Game isn't one of them.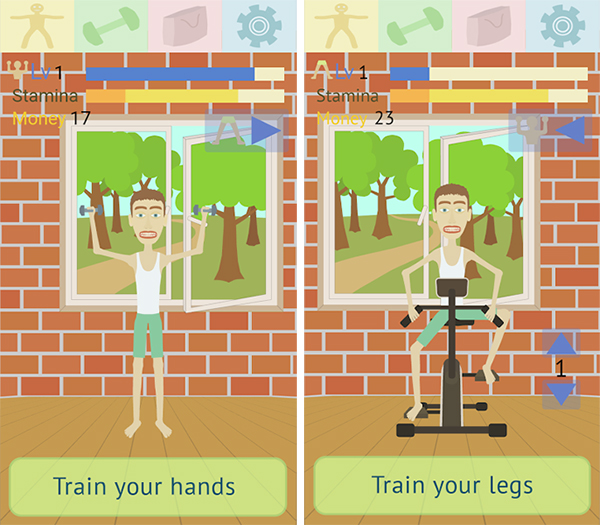 This game is far more sophisticated and more entertaining. If you're lazy about exercising, you can just download this game and make another guy exercise! That's the whole premise of the game. At the start, your character is so skinny he can barely run on an exercise bike. He can't even lift a 10kg dumbbell without panting! But your mission is to make this guy as healthy and as muscular as possible. The only way to do that is by exercising.
In this game, you need to exercise in order to gain money. But, it's not easy as your stamina runs out when you continuously exercise for a period of time. Don't let it get below 20%! Then, when you have sufficient funds, you can buy more equipment to help you gain muscles and money. It's basically just a cycle of this but as you gain more money, you can also increase your strength, stamina and more.
Overall, this game teaches you that hard work is needed in order to build some gains. Just like in real life, the game hopes to inspire people into working out. And it's not such a bad game after all. However, the only exercise you'll be getting out of this game is with your fingers by constantly tapping all the time.
Muscle Clicker Gym Game Features
Muscle Clicker Gym Game might just be a simple mindless casual game but it has a lot to offer. Many people don't realize that this game will inspire them to workout in real life because they'll see the progress that their character is making. So, without further ado, here are the features of this awesome game:
Simple controls – This game boasts incredibly simple controls. It's as simple as tapping on the screen repeatedly or just holding it. As you play with different gym equipment, you'll find that some of them have different control mechanics. But the controls are the same for everyone – tap the screen. How can such a simple game achieve more than 1,000,000 downloads? We don't know either but it probably has to do with how simple this game is. People love simple controls especially when they're out in the house playing this game.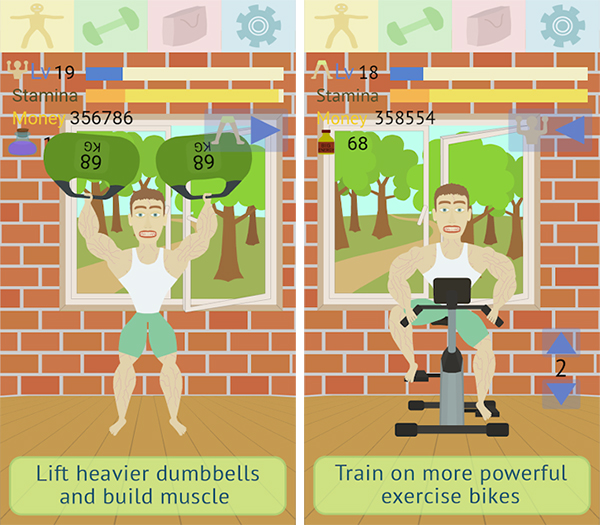 Increase your muscles – In Muscle Clicker Gym Game, you receive 1 status point for every level that you complete. After you receive it, you can use it to upgrade the strength of your arms, legs and stamina. This will allow you to work out even faster and stronger than before. Try to aim for as many as you can possibly achieve and see how your character physically as well as mentally evolves. Your character will go from a skinny dude to a guy with a top-notch physique.
Earn money exercising – If exercising in real life would earn us money, almost all of us would probably exercise day in and out, right? Well, in this game, that's a reality! Every dumbbell you lift, every time you run, and every time you work out, you earn money. In exchange, you can use the money you earned to buy more gym equipment. There is many gym equipment you can buy such as dumbbells, exercise bikes, deadlifts, and even protein shakes! These will give you equivalent strength or energy. As for the equipment, you can buy bigger equipment based on the kilos or the speed it offers.
Offline mode – These days, there are a lot of new games that needs internet connection in order to enjoy. Popular titles include Call of Duty, Mobile Legends, and Fortnite. However, the only thing these games don't have in common is that they can't be played offline. Muscle Clicker Gym Game offers a unique gameplay that is available even for offline play! This means that you no longer have to get bored riding the subway or waiting for the bus. You just get your phone and start playing this game anywhere you wish.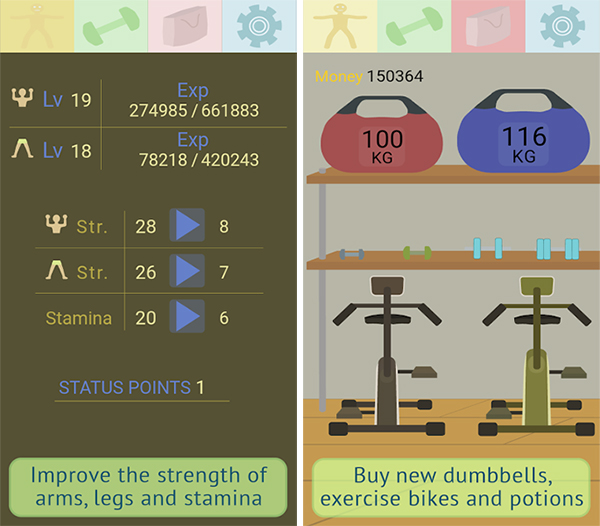 Customization – Aside from the physical transformation of your character, you can also customize his shirt and short! You can select from a wide range of colors in order to give it a variety. This way, you won't feel bored or the game won't be redundant. But let's face it, no one's actually going to use this feature, right? Either way, it's a nice option to have!
Tips for Playing Muscle Clicker Gym Game
This gym simulation game can't be simpler. However, there are things that only experienced players know. Here are they:
Try to play sparingly – Your character relies on his stamina more than you think. Just like in real life, you can't just work out non-stop! You need some rest times between work-out sessions. In this game, when you see that your character's stamina is approaching 20%, try to stop exercising and wait for it to replenish. In the meantime, you can go to the shop and see which equipment you can buy next. Or you can customize your shirt or short to whatever color that suits your preference. Then, you can go back to exercising!
Muscle Clicker Gym Game APK
Want to buy all the gym equipment asap? Download the Free shopping, No ads now and enjoy the body of a titan!