Mow Zombies APK 1.6.37
Download Mow Zombies APK - latest version - free to jump into the role of a zombie hunter, tackling the evil undead forces and upgrading your character!
Mow Zombies, from Digital Native, is a bullet-hell style zombie fighting game where you take control of a brave zombie hunter in a world overrun with hordes of undead. The main aim of the game is take down zombies and collect plenty of coins to upgrade your character and your arsenal. Easily controlled with just your finger, you move your character around and blast your gun, starting off with a simple pistol and working your way up to more powerful guns. It should be remembered that this game is still undergoing constant updates, and making progress towards being one of the top rated zombie games on the Android store.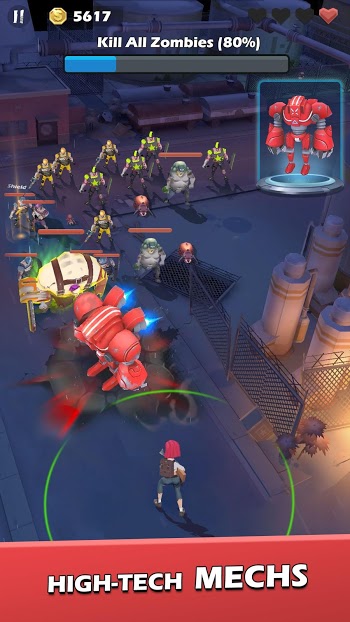 Digital Native, who also brought us the Lionheart: Dark Moon RPG, have put plenty of work into the game so far. In particular the visuals of the game are pretty great, and the smooth FPS and gameplay suits the fast-paced bullet hell genre. The upgradable guns feel powerful and the sense of progression keeps you playing after those first few days, with great log-in rewards to get you coming back day after day. It's true that the game does drop off in quality the further you progress, with less to achieve as you take down even bigger hordes of zombies. This is a sort of game you jump in and out of for a little zombie action.
Best Features of Mow Zombies
Mow Zombies is a great zombie slaying game for Android, with plenty of features that make it a top-rated mobile game. It's easy to play with well thought-out controls, the visuals look great, even for a mobile game, and much of the progression is rewarded over days played, meaning you can pass plenty of free time just chilling out and slaying plenty of zombies. The game has plenty of potential if Digital Native keeps up the work with their updates, a rival even to a game like BrawlStars!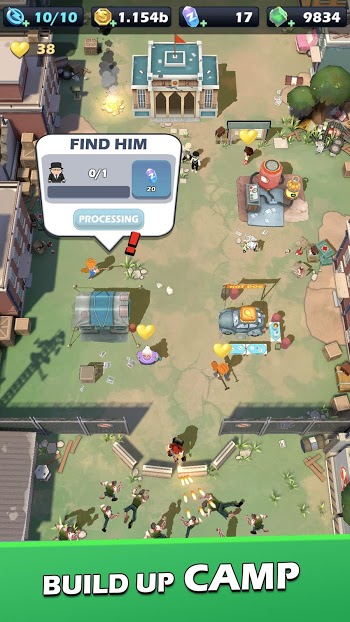 Bullet-Hell Zombie Slaying in Mow Zombies
What is bullet hell? Well, it's a very classic style of game that dates back to the nineties. The main concept is that you are being attacked by hordes of enemies who are all trying to hit your character, whether it be spaceships, or in this case, zombies. Your character is armed with a powerful weapon which is upgraded over time. It might start out firing just one bullet, and can be upgraded to fire hundreds of bullets a second over a huge area. These games are addictive, fun, and super simple to play.
Upgrades and Daily Rewards
One of the beast features of Zombie Mow are its upgrades and daily rewards, giving you a great sense of progression through the game. Every day you log in you can get your hands on good log-in rewards, which include resources and in-game currency which can be used to upgrade your arsenal of weapons. Other upgrades include your speed, outfits, weapon cosmetics, and even the style of your bullets. Thanks to the game's clean visual style everything looks fantastic, even on a small Android screen.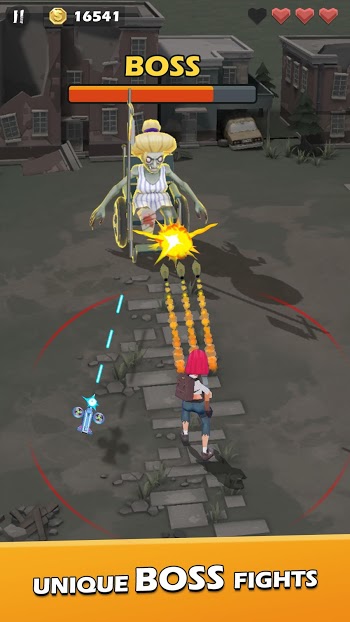 Complete Quests on Your Zombie Slaying Adventure
This game isn't all about blindly slaying hordes and hordes of zombies, there are also interesting storyline quests to complete as you righteously cleanse the lands of undead hordes. These missions add a little storyline flavour to the game and help build a compelling gameworld which gets you invested in the game. The better you perform in these quests, the better the rewards. Unlock new weapons and useful items to help bolster your fight against the waves of horrific undead zombies. Got what it takes to ace the story?
Unlock Powerful End-Game Weapons
Mow Zombies has an interesting gun rotation system with various featured weapons which you can unlock at different times. These weapons are awesome and you'll need plenty of in-game currency (or app store transactions) to unlock the guns and use them to their full potential. Each has a unique ability, like explosive ammo or fire spreading. This is the sort of kick-ass action everyone is looking for in a zombie game as you totally shred through hordes of cool-looking zombies. Will you be able to unlock the best weapons in Mow Zombies?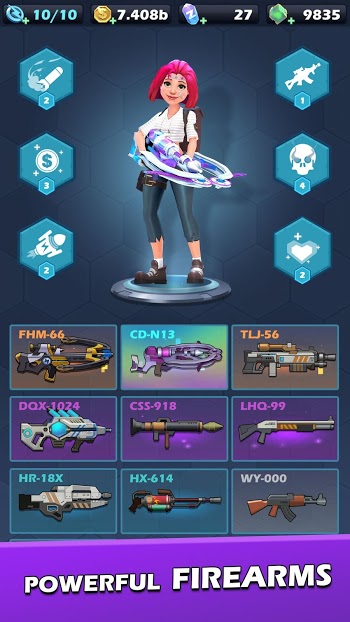 Boss Battles
After a while the ordinary zombies can feel like a bit of a walk in the park, especially once you've unlocked some of the most powerful weapons in the game. That's where these crazy boss battles come in, giving you a greater challenge and the chance to unlock even more fantastic gear. Whether it's a huge zombie who explodes all over you, or a particularly difficult wave of armored zombies, these boss battles have been designed to be genuinely challenging and offer a more difficult level in an otherwise pretty laid back and enjoyable game. It just puts that little bit of extra flair into the game!
Tip and Tricks to Be The Best in Mow Zombies
Bullet hell games are easy to pick up, difficult to master. To perfect your Mow Zombies ability you need to dedicate plenty of time to the game, learning which weapons work best, and how to effectively navigate around the tricky map design. There are all sorts of obstacles in your way, like cars, debris and buildings, which might get you stuck if you're not being careful! We also recommend that you make the most of the game's generous log-in rewards and daily challenges which can greatly accelerate your progress through the game and make the whole experience much easier. If in doubt, watch some videos of some great players ace the levels!
Mow Zombies APK - Unlimited money and Unlocked everything
Want to get the most out of Mow Zombies without waiting around for daily rewards and challenges? Download the Mow Zombies latest version apk.