Modern Warplanes APK 1.20.2
Download Modern Warplanes APK 2021 - free for Android and test your airplane fighting skills against tons of players around the world! Do you have the skills to survive?
As kids, we all thought that aircraft fights were cool at some point. We probably even played with airplane toys pretending that it's in a high-paced action scene. It can't be denied, airplane games receive a lot of love especially nowadays. If you love airplanes, then you'll surely love this game.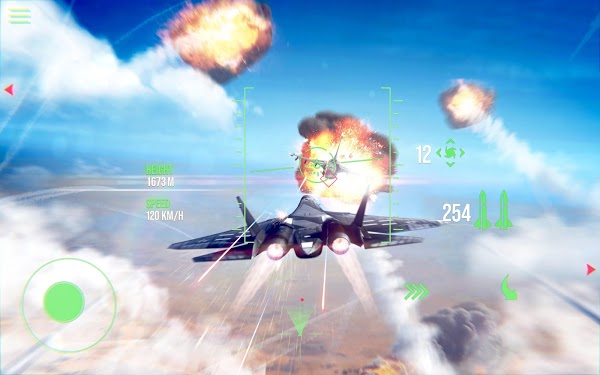 Modern Warplanes is an aircraft fighting game developed by GDCompany. To date, it has garnered over 10 million downloads in Google Play Store! The reason it was received so positively is because this game is truly a masterpiece. The game mechanic is as simple as fighting other aircrafts with all your might. But what makes this game so special is that it's done in the most impressive fashion. Want to know more about this game? Read on!
What is Modern Warplanes?
If you love military aircraft, then you'll surely love Modern Warplanes. With over 10 million downloads, this is sure to be a hit for airplane fans. In this game, you'll fight with the best military aircraft in the world. Of course, you'll also meet opponents that have similar advanced aircraft and supreme skills. But this isn't your ordinary aircraft fighting game, it's way more complicated in a good way!
There are many types of aircraft games out there especially simulation ones. But this game focuses more on the fighting aspect. In here, you'll be playing against the very best in the world in the ultimate battle to the death. Of course, there are tons of game modes to play in order to make things even interesting. But you have to fly the plane and attack other planes at the same time. Needless to say, this takes time to get used to but the most important thing is that it's fun.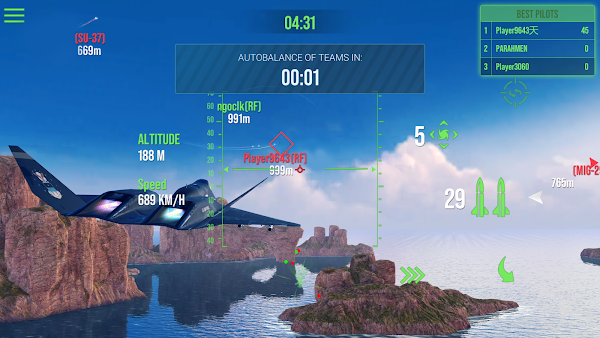 If however, you're only here for the modern aircrafts, you'll not be disappointed. Modern Warplanes boasts an incredible lineup of modern airplane prototypes of leading air forces in the world. If you're a die-hard fan, you can even recognize most of the planes in here. You'll be surprised at how detailed the designs of the planes as well as the battlefield. Most of all, you'll never forget the experience of playing this awesome game.
Modern Warplanes Features
Modern Warplanes is a one of a kind airplane game that deserves all the credit it gets. Although it's not just your typical aircraft game, it has so much more to offer. If you're wondering why this game is so popular, here are the features:
Incredible graphics – It's no mistake but Modern Warplanes has got to have one of the best-looking graphics in all of mobile games. The planes look realistic as it's complete down to the last details. Not to mention the beautiful sceneries in which the battles will take place are absolutely gorgeous. If you didn't know that this is a mobile game, you'll mistake it for a PC game. That's how supreme the graphics is. As for the effects, it competes with other highly-competitive games as well. There's really not much to say when the graphics alone can blow the competition out of the park.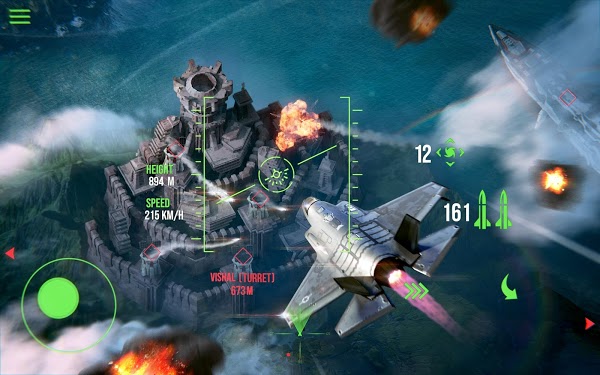 Multiplayer – In this game, you can participate in online wars. Represent your country as you fight against different nationalities around the world such as US, UK, Russia and many more. This is the only war that is permitted because it's such a fun and entertaining way to do so. You'll get to test your jet fighting skills against many others in a dogfight for the ages!
Different game modes – Modern Warplanes has different game modes for you to choose from. This ensures playability and for players to not get easily bored. In here, you can play: Solo Campaign, HQ Raid, Survival, and PvP. Each game mode is unique and has different objectives so be sure to keep that in mind. But one thing's the same, you need to eliminate your enemies! You can only do so by being the best!
Ranking – Like in real life, there's also a ranking system in here to determine the hierarchy. You can go from a rookie dogfighter to a general of the air force really quick if you are skilled enough. Of course, the rankings will determine who your opponents are going to be. The higher up your ranking, the harder your opponents will be. But it isn't easy to climb up the leaderboards. You need to have patience and the necessary skills to dominate every game. That can be obtained from experience and constant gameplay. Unless you're already accustomed to playing aircraft fighting games before. In which case, this becomes fairly easy.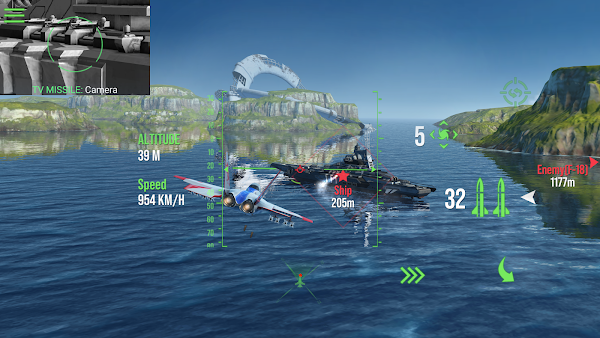 Lots of aircrafts – As mentioned earlier, this game boasts an incredible lineup of aircrafts from all over the world. There are more than 30 types of air force aircrafts such as real-world thunder warplanes, Falcon, Raption, SU, Nighthawk, Boeing, JAS Gripen, Mig and more! There are a lot of aircraft to unlock and each of them is unique. It's up to you to select which ones can accommodate your playstyle the most and pave your way to victory. But most of all, it's your job to collect as much aircraft as you can to experience what it's like playing this awesome game.
Equipment – Of course, the battle won't be complete without the guns! You can choose up to 40 top guns in this game to put on your aircraft's wings. There are rockets, machine guns, missiles, heat flares and even lasers! Of course, you need to practice using them before you can be proficient at them as they are not easy to use.
Easy controls – Modern Warplanes offers full controls over your aircraft. You can control the speed, steel wings, missiles and more. The control is as simple as guiding your plane through the virtual joystick on the left side of the screen.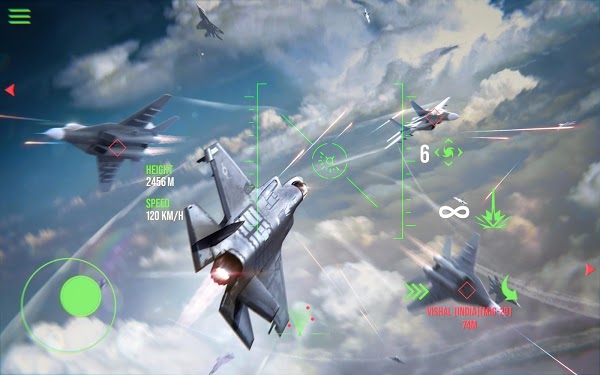 Customization – In this game, you can customize your warplanes with over 26 camo. This will allow you to not get easily sighted by enemy aircrafts so you can perform sneak attacks.
Modern Warplanes APK 2023
Want to download Modern Warplanes but don't want to play with limited money? Download the premium account mod now to unlock all the aircrafts and equipment!