Mivita APK 1.0.4
Download Mivita APK no watermark for Android and create epic video statuses. It allows you to customize your face, add effects, and change your complexion.
Everything You Need to Know about Mivita App
Mivita is a fully-featured app that offers brilliant editing options and unique face effects to give you the perfect videos you need. It comes with an easy-to-use interface, making it simple to create epic status updates in minutes.
Even better, this application has dynamic face swap features that enable you to adopt a different face – perhaps that of a celebrity or any other. As such, it offers unmatched videos with a special touch of sophistication.
The customization tool is approximately 75 MB and works optimally with Android 5.0+ devices. As such, you can be sure that it will not affect your phone's functionality or cause overheating problems.
How to Use Mivita App Like a Pro
Mivita is straightforward to use. It has a tutorial that shows you how to capture videos and create face swaps. Here is what you need to do:
Launch the app by tapping Open. Mivita will ask your permission to access your camera and microphone before it starts working. Click Allow for the app to complete its initialization process.
Create a video by tapping the video icon on the upper left side of your screen. You can also capture a photo or use existing templates to customize your videos.
After you are done, select an effect from the list that best suits your taste and then tap Next to preview it. This is optional as you may choose to continue editing your video.
When done, tap Finish to have your Mivita masterpiece ready for sharing on social media. You can also save it in the Gallery by tapping Save or you can share it right away via email or social media apps installed on your device.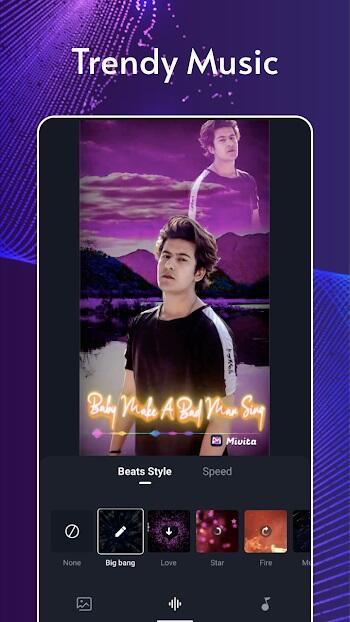 Additionally, you can select an existing template to use as a starting point and personalize it before you save, share or preview your video. When you do, the app will request permissions to access your gallery. Ensure that you grant it and then continue with your project.
A Simple-to-Navigate User Interface
Mivita is an impressive video-making tool that puts everything you need in one place. It offers a clean, well-organized interface that enables you to personalize your videos like a pro.
Its minimalistic yet highly informative interface allows even the most novice users to create customized content fast. As such, you are assured that it will have your back in case you need to create content on the fly.
Even better, the dashboard has several categories of templates that you can use in your video customization. Key among them include Hot, Amazing, Love, Latest, and AI Face.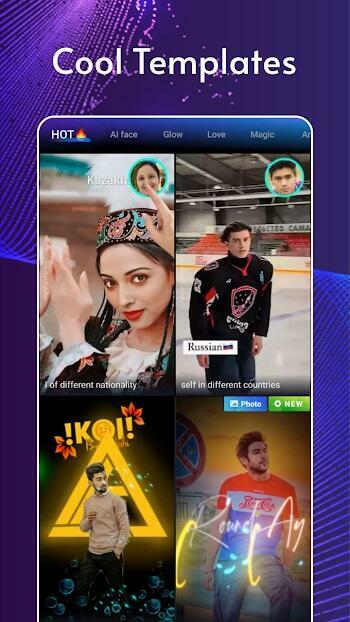 Each of these categories offers unique templates that will yield a refreshing video. You can even add your music, text, and stickers to your video via the customization tool.
Outstanding Face Swapping Feature
Impress your friends and family with face swaps that will have them wondering if you are even yourself in the video. Mivita offers an outstanding face-swapping feature that allows you to place your head on another person's body.
As such, you can catch up with your friend or favorite celebrity by swapping faces with them without having to leave your home. Even better, the face-swapping feature is highly accurate and virtually seamless.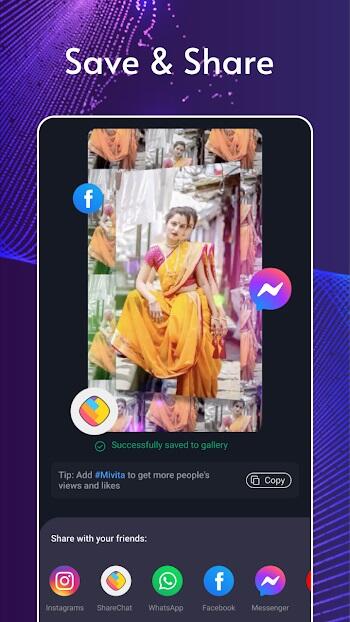 It uses advanced face recognition technology that can identify faces in real-time, allowing you to create realistic videos within minutes. The algorithms are highly detailed, which means you can add various themes to spice up your video, including Love, Calm, Magic, Holidays, Anime faces, and birthday faces.
Other Features of the Mivita App
Rich Beat.ly and Mbit Music Collection. The app allows you to use songs in genres such as Pop, Tock, Hip Hop, EDM, and other trending jams. Additionally, you can crop and change the songs in templates, replacing them with your best match.
Cool Video Effects. Mivita's Video Editor includes impressive effects such as magic, anime, skyscraper, and holiday. Also, there are personalized stickers with cartoon figures and animals.
Seamless Transitions and Effects. Mivita offers quick and seamless transitions between different video shots without any delay.
Realistic Video Reel Effects. The app enables users to create spectacular video reels with impressive effects, including mirror, sad, love, and cool effects. You can also include stickers, insertions, and crop your video to suit your desires.
Share with Friends! Once you are done with your masterpiece, share it on social media such as Instagram and Facebook.
Mivita Face APK Free Download
Mivita APK latest version offers better customization features. As such, you will have a better experience creating your video status using this app. Some exclusive features of Mivita Face APK include:
Mivita APK without Watermark. You will download your videos and photos without a watermark logo.
More Templates. The Mivita Face APK download includes more templates, which you can use to create custom content for your social media profile.
Better Effects. The app allows you to customize your effects with more effects. You will be spoilt for choice with all the effects that you can apply to your photos and videos.
Conclusion
Mivita is an excellent app that enables you to turn your video status into a personalized masterpiece. It offers impressive customization features, allowing you to create customized content fast. As such, it is sure to become your favorite video editing tool in no time.