MintAI APK 1.2.9
Download MintAI APK latest version and enhance your old photos. It uses powerful AI technology & cloud computing to transform your photos into beautiful pieces.
About MintAI (also Minati APK)
MintAI is a new tool that uses artificial intelligence to identify weaknesses in your photos, mend them, and turn them into spectacular works of art.
MintAI is different from other photo editing apps because it uses AI to improve your photos. This means that the app can automatically identify areas that need to be fixed, and then fix them with little to no input from your end.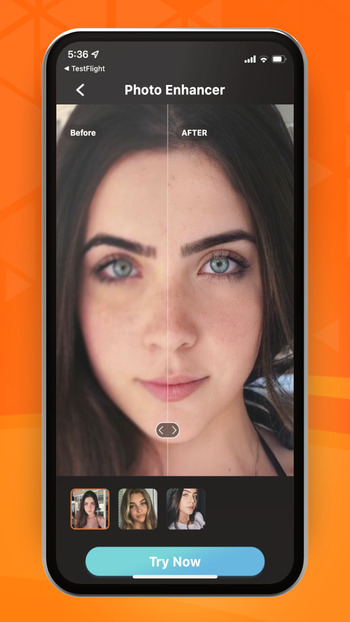 Additionally, the photo enhancer is also great for giving your photos a new lease on life. If you have old, faded, or low-quality photos, MintAI can help you restore them to their former glory.
The app is lightweight and easy to use. All you need to do is select a photo from your gallery, and MintAI will do the rest. The processing speed is also incredible, so you won't have to wait long to see the results.
Why Download MintAI APK?
Photos are an instrumental part of our lives. They help us capture memories, and they allow us to share our stories with others. However, some photos are not worth sharing because they're low quality, blurry, or just plain bad.
When you find yourself in possession of such a photo, you usually have two options: share it anyway and hope for the best, or keep it to yourself. But what if there was a third option? What if you could take that low-quality photo and turn it into a masterpiece?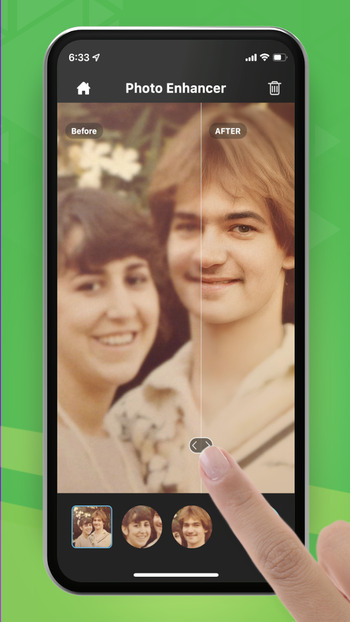 MintAI APK offers you this third option. With its AI-powered photo enhancer, you can take any photo and turn it into a work of art. The app is easy to use and only takes a few seconds to improve your photos.
World-Class Image Processing
This application applies complex cloud computing algorithms to process your photos. This is the same technology used by professional photographers and graphic designers. As such, you can be sure that your photos will look their best.
Additionally, the application has servers in different parts of the world. This means that you won't have to wait long for your photos to be processed, no matter where you are.
Which Photos to Use with MintAI APK?
Just about any photo can be enhanced with MintAI. Whether it's a photo of your last vacation or a selfie with your friends, the app can help you take it to the next level.
Of course, some photos are better suited for enhancement than others. For example, low-quality photos or those damaged by the sun are more likely to benefit from MintAI's AI-powered photo enhancer.
Additionally, newly taken photos are also likely to benefit from the app. This is because they often have small imperfections that can be fixed with a little bit of AI magic. This is particularly critical if you're using an old phone or camera.
How to Use MintAI APK
To use this application, you must have a soft copy of the photo you want to edit. If your photograph is in physical form, you can use a scanner to convert it into a digital image.
You will upload this image onto the app. The app will then analyze it and identify areas that need to be fixed. It will also suggest edits that you can make to improve the photo.
Even better, you will have a real-time comparison between the original photo and the edited version. This way, you can see exactly how much the app has improved your photo.
If you're happy with the results, you can download the edited photo onto your device. This way, you can share it in HD, guaranteeing high-level satisfaction from your friends and followers.
Other Features of MintAI APK
Simple One-Touch Operation. Using this application is child play! Your input is minimal, and the app does all the work for you. This way, you get the best photos even with zero editing experience.
Highly Affordable. Most of the functionalities in this app are free. For the few that are not, they're very cheap. You can even use the app for commercial purposes without breaking the bank. The in-app purchases cost $3.99 - $29.99 per item.
Uncluttered UI. The homepage is optimized for easy use. You won't have to wade through a sea of options just to find the tool you need.
Comic Style. The application offers a comic-style filter that can add some fun to your photos. This is perfect for those who want to post lighthearted content.
MintAI/ Minati APK Download
If you want all the app's features hassle-free, download MintAI APK for Android. This modified application ensures you enjoy a premium editing experience.
Besides, the MintAI APK Android unlocks all the app's features. You won't have to make any in-app purchases to access pro tools.
What's more, this application is ads-free. You can edit your photos without worrying about random pop-ups interrupting your workflow. The absence of ads also makes the app run faster and smoother.
Conclusion
MintAI is a fantastic AI-powered photo editor. It offers world-class image processing that can take your photos to the next level. Best of all, it's uncomplicated to use.
If you want to enjoy an uninterrupted editing experience, we recommend the MintAI APK free download. This moified version is ad-free and has all the features unlocked.