Mini World Royale APK 1.5.0
Do you want to play a cute battle royale game? Download Mini World Royale APK now and play the best battle royale now. Enjoy many weapons, characters, and more.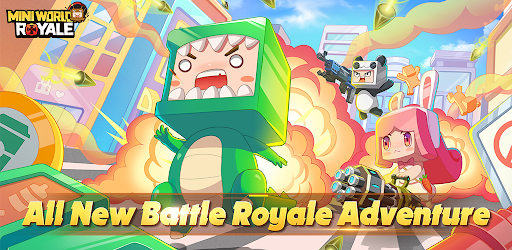 Mini World Royale APK – Cute Battle Royale
There are tons of battle royale games available right now. This genre is still one of the most popular out there as millions of players enjoy them regularly. You can enjoy games like PUBG, Free Fire, Call of Duty, Rules of Survival, and many more today.
These games offer just about the same mechanics and elements, so it doesn't matter what you choose. But Mini World Royale provides something different – a cute way to play battle royale!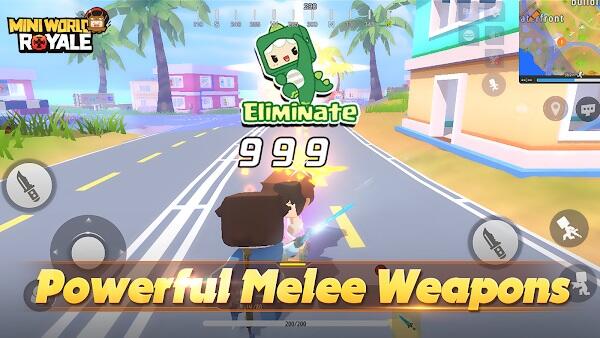 Behold and witness the world's cutest battle royale taking off today! In this game from Mini Star, you can enjoy a battle royale game where 50 players can battle it out to death.
Here, the characters are cute as they consist of blocks as well as diverse maps. Everything here is colorful, and they will allow you to enjoy the game without too much realism involved. In a way, this is a light version of battle royale games that you can certainly play with your family.
Colorful Battle Royale
The battle royale genre has been killing it for many years now. We can't see its decline for now since many new games are still joining in on the hype as you read this.
The most popular of the bunch are Call of Duty, PUBG, Rules of Survival, Free Fire, Fortnite, and many more. But if you're ready for a cute battle royale that will cure every problem there is, download Mini World Royale today!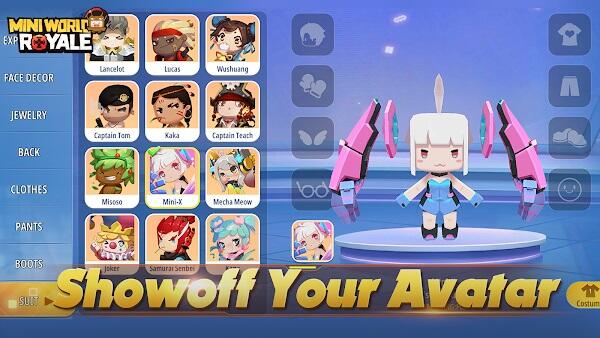 This is a 50-player PVP game that lets you enjoy gameplay that we're all too familiar with. If you've played any battle royale game before, then you know exactly what to do here.
But there are also some new things to watch out for here, such as powerful weapons that can blow up buildings instantly! You can also develop and equip so many unique skills to enjoy a unique gaming experience. Overall, there are so many fun new things to try here.
Some people, they'll love the unique outfits and accessories plus the emotes available today.
Mini World Royale Features
We're still in the world of battle royale today. If you want to try something extraordinary, try Mini World Royale now.
Cute Battle Royale – There are so many enjoyable games you can download now, as many are free. We're seeing a lot of battle royale games today since they're the most popular genre now.
Although we can play the most popular ones today, we can also try new ones that look cool. There are all sorts of battle royale games that offer a little something that we're used to. One of which is Mini World Royale, as it's a cute battle royale game!
Instead of the realism that PUBG offers, this game combines PUBG, Fortnite, Roblox, and other games. Here, you can enjoy cute gameplay and graphics that will blow your mind today. Feel free to customize your character from its outfits, accessories, and even skills today.
There are so many excellent weapons aside from the standard ones that you can also use in battle. Prepare to blow enemies with your grenade launcher or an energy sword today! There are so many crazy things that can happen here.
Familiar mechanics – You can enjoy many battle royale games today, but Mini World Royale is one of the many unique ones. This game lets you enjoy familiar mechanics that are present in every battle royale game.
Here, you can play in 50-player matches where everything is happening in real-time. You can invite your friends to play with you as well, and you can enjoy a fun time. Here, you can shoot enemies and strategize, but only one player wins the match!
New and improved weapons – Mini World Royale offers many standard weapons such as rifles, snipers, pistols, shotguns, and many more. But what makes this game so enjoyable is that it also provides users with many cool and unique weapons to pick up.
There's the grenade launcher that can send any enemy flying! Then, there's the energy sword which will destroy enemies at close range, and many more. There are so many weapons to choose from that will provide players with many opportunities to dominate.
Custom skills – Another unique thing about this game is the existence of skills.
These skills can give you an advantage over enemies as you also need to note your enemies' skills. With this feature present, the gaming field has just become more complex.
Cool outfits, accessories, and emotes – There are so many unique and cute outfits that you can collect here. Accessorize your character now and win the hearts of many.
Download Mini World Royale APK
There are so many amazing things you can enjoy in Mini World Royale today! Download it now.