LibreTube APK 0.2.3
Download Libretube APK latest version for seamless streaming. It offers unique features not available on YouTube, including the ability to play videos in the background.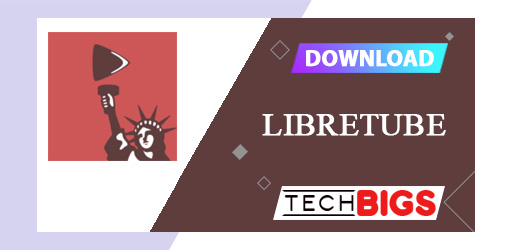 | | |
| --- | --- |
| Name | LibreTube |
| Updated | |
| Compatible with | Android 5.0 + |
| Last version | 0.2.3 |
| Size | 8 MB |
| Category | Entertainment |
| Developer | LibreTube Team |
| Price | Free |
Everything You Need to Know about Libretube APK Download
Libretube APK is a streaming platform that offers a better experience than YouTube. It guarantees improved UI free of ads.
Additionally, this application allows you to play your content in the background. This is one of the crucial features that makes it better than YouTube. This way, you can work as you listen to your content without fear of interruptions.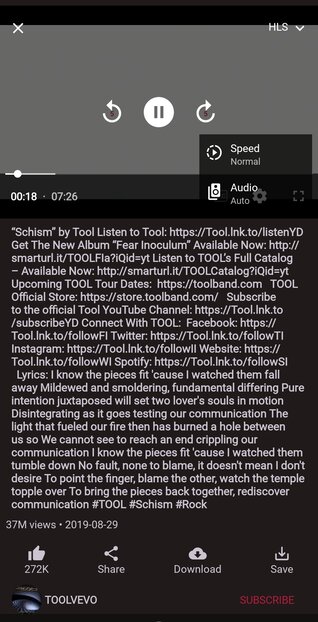 The app is pretty simple and lightweight. It is super optimized for superior user experience. You can be sure of a never-before-experienced feeling when you download Libretube APK for Android!
Why Use Libretube APK?
There are many reasons why you should use Libretube APK. They include:
Ad-Free Streaming. This application is a fresh breath of air in the world of streaming. While most platforms are laden with ads, this one gives you a clean interface to help you focus on your content.
Better Organization. The application is designed for an immersive experience. As such, it groups all your content according to channels and playlists. This makes it easier for you to find what you are looking for.
Background Playback. This is one of the features that make Libretube APK better than YouTube. With it, you can multitask while enjoying your content. No more waiting for the video to finish before you can do anything else!
Lightweight and Easy to Use. The app has a simple interface. It is also pretty lightweight, so it does not bog down your device.
Additionally, the app is regularly updated with the latest content. You can be sure of never running out of new content to watch!
How to Use Libretube APK?
The use of Libretube APK is pretty straightforward. After downloading and installing the app, open it and search for the content you want to watch.
The search function is pretty fast, and you can also use filters to get more specific results. Once you find the content you want, just hit the play button to start streaming.
Interesting Features of Libretube APK
It Supports User Accounts. This application supports user accounts. This feature enables you to create an account and save your content for easy access.
Numerous Channels at Your Disposal. This app offers channels in sports, music, entertainment, and many more.
Create Playlists. You can create playlists of your ideal/favorite content. This makes it easier for you to find what you want to watch.
Subscription Management. The app also allows you to manage your subscriptions. This way, you can easily keep track of the content you are interested in.
Integrated Subtitles. This application integrates subtitles into its videos. This way, you can watch your content in different languages.
Stream Sports Matches! You can also use this app to stream live sports matches. This is a great feature for sports fans who want to catch up on their favorite games.
Get Movie Trailers. The app offers the latest movie trailers. This way, you can keep up with the latest releases.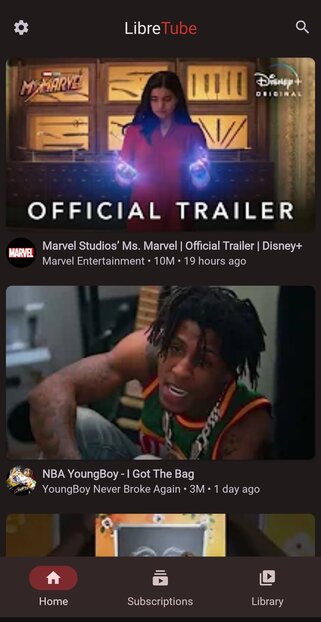 Check Trends. You can also use the app to check the latest trends. This is a great way to keep up with the latest gossip/news.
Choose Your Streaming Quality
This application offers content in different qualities, including HLS, 1080p MPEG_4, 1080p WEBM, 720p MPEG_4, 720p WEBM, 480p MPEG_4, and 360p MPEG_4.
When you start using the app, you will be required to select the quality you want. You can also change the quality of the videos by going to the settings menu.
This setting ensures that you get the most out of your internet connection. As such, you can watch videos without worrying about buffering or poor quality!
An Accurate Search Function
The search function in Libretube APK is very accurate. It returns relevant results based on the keywords you enter.
This feature makes it easy to find the content you want to watch. Additionally, the search function is fast, so you will not have to wait long for results.
Even better, it gives search suggestions as you type. This makes it even easier for you to find what you are looking for!
Choose Your Region
You can also choose the region you want to watch content from. This is a great feature if you want to watch videos from a specific country or region. It also allows recommendations that suit your needs.
To do this, go to the settings menu and select your preferred region. You can also change the language of the app in the settings menu.
This feature also enables your device to link up to the most stable server in your chosen region. As such, you can enjoy the best streaming experience!
Libretube APK Free Download
First, you must activate unknown sources on your device. To do this, go to the settings menu and select "Security." Then, toggle the switch next to "Unknown Sources."
Once you have done this, you can download Libretube APK from any third-party website. Ensure that you get it from a reliable source, as there are many fake versions of this app.
After you have downloaded the APK, open it and install the application. Once installed, you can start using it to watch your favorite content! It works optimally with Android 5.0 and above devices.
Conclusion
Libretube APK is an unrivaled application for streaming videos. It offers a wide range of content, including movies, TV shows, sports, and music.
The app also has numerous features that make it even more convenient to use. These include the ability to create playlists and manage subscriptions.
What's more, Libretube APK is completely free to download and use. Get the app today and start watching your favorite content!