KaraStar APK v1.0.2
Do you want to play a free NFT game? Try KaraStar APK Game today! Unlike other NFT games, you don't need to invest any money here to play. Enjoy it now and earn!
| | |
| --- | --- |
| Name | KaraStar |
| Updated | |
| Compatible with | Android 5.0+ |
| Last version | v1.0.2 |
| Size | 76 MB |
| Category | Tools |
| Developer | KaraStar |
| Price | Free |
Download KaraStar APK – NFT Game
NFT games are becoming more and more popular as the days go by. Today, people literally can earn money by just playing games regularly through NFT games.
If you didn't know, NFT means non-fungible tokens are part of digital assets similar to cryptocurrency. There are tons of NFT games today like Axie Infinity, but they require money up-front to play. But with KaraStar, you don't need to pay anything to start playing!
With this game, you don't need to buy any Karas using real money to start playing. The game is free-to-play right now, so you can take advantage of this to start earning real money.
Here, you can unlock and enjoy collecting various Karas, which are cute little monsters that you can use for battle. The way you earn here is by collecting energies which you do by playing Dungeon and Arena! There are so many enjoyable things to do here, and you can download the game for free!
Free to Play NFT Game
There are tons of mobile games that you can play on your phone right now. We're bombarded with choices in various genres like shooting, racing, action, casual, puzzle, simulation, and many more.
But if you want to be productive while playing, NFT games are the most popular games today. There are many NFT games today like Axie Infinity, CryptoKitties, MIR4, Binemon, My Crypto Heroes, Age of Rust, Sandbox 3D, and many more. But if you don't want to spend money playing NFT games, you can download KaraStar.
This game's main selling point is that it's a free-to-play NFT game for now. This is attractive because most NFT games like Axie Infinity require you to buy monsters with real money before playing.
But with this app, you can collect as many monsters as possible without even paying for anything. You can then use them to clear Dungeons and battle people in the Arena to earn energy. You can then use earn real money once you sell your monsters and when you have energy.
This game is one of the best ones to enjoy today to earn money!
KaraStar Features
Try KaraStar today and enjoy all these excellent features that await you if you want to play and earn.
Free-to-Play NFT Game – There are so many types of games to enjoy right now, like racing, action, shooting, fighting, and many more. Whatever type of game you're into, you can freely download so many of them today.
But there's a new type of game that's on the rise called NFT games. These are games that let players earn real money through digital coins! With KaraStar, you can enjoy a free-to-play NFT game that you can use to earn real money.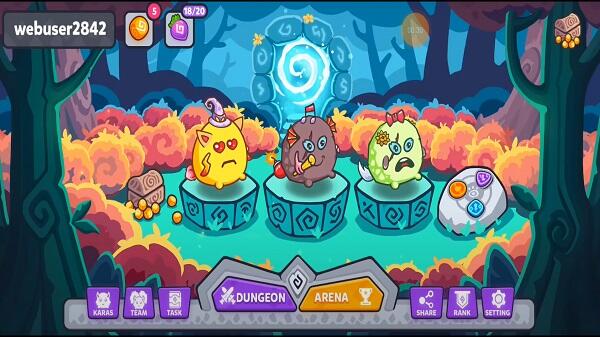 Most NFT games today require players to pay for monsters before playing. But this game is different as it allows players to create a free account and start collecting monsters. They can create the best team so they can clear dungeons and battle players at the Arena.
Here, you can collect energy so you can get digital coins which allows you to earn money. This is an exciting game because it can compete with top NFT games like Binemon and Axie Infinity. Feel free to browse the game and
Collect Monsters – As you know, most NFT games take the shape of RPGs, precisely similar to the Pokémon franchise. In KaraStar, you can collect monsters that you'll use to battle others today.
You can get random monsters with different attack types and stats so that everything is even. You can also level up your monsters and form the best team today! There are so many monsters to collect here, and the good thing is that they don't cost a thing!
Dungeon and Arena – There are two ways to enjoy the game right now; one is through Dungeons and the other Arena. In the Dungeon, you can challenge various levels where you'll fight computer opponents. Here, you can receive energies that you can use to get digital coins.
The game lets you play as many levels as you can with your current strength. Then, you can also do PVP and play against real people in Arena! Fight against the very best and show them what you're made of.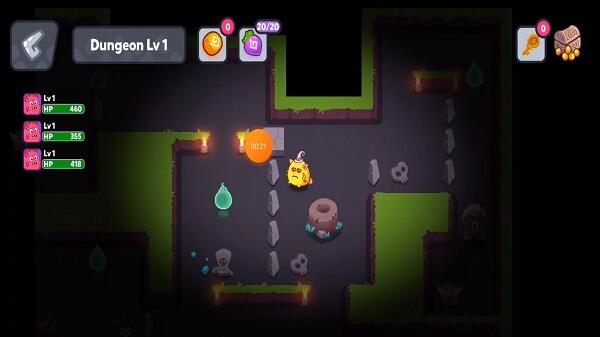 Earn digital coins – This isn't an ordinary game because this is an NFT game! Here, you can earn energy and digital coins, which you can use to earn real money.
There's a massive potential for this game to blow up since it's one of the only free-to-play NFT games that exist today.
Download KaraStar APK – latest version
Don't be late for the party, and download KaraStar now! Collect monsters, battle, and earn digital coins!