Kaasje APK 2.0.0
Download Kaasje APK Latest Version free for Android. Experience a fun platforming game where you run and collect as much cheese as possible.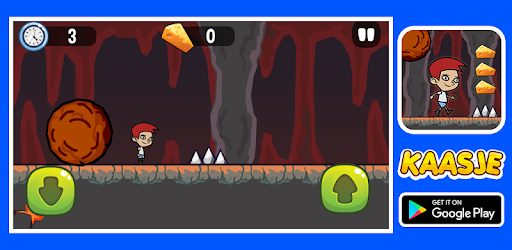 Before we begin with the game, some of you may not understand the name or the concept. But no worries. Once we tell you, there won't be any confusion in wanting to download Kaasje for Android.
So, the name…Well, Kaasje comes from the Dutch language. That's right – this game is not originally for the English speaking. In fact, the name of the game comes from the Dutch word for cheese. You heard right, Kaas is actually the Dutch word meaning cheese.
Now it's all coming together. You can see where the game got its name from now, right? As you can see, there's cheese riddled all across each level for the player to collect for later consumption.
Anyways, now that we've gotten the name out of the way, let's get into a few details about the game itself.
Playing Kaasje
There isn't much to say about the actual game itself. The objective and overall gameplay are quite simple to follow and understand.
Simply put, your goal is to reach the goal and collect as much cheese in the process. This is a traditional platforming game with basic controls and a bare-bones concept. I mean, what more is there to it? Not much, to be honest.
You take control of a…Dutch ninja…or an old man? We don't actually know exactly. But he will be spending most of the time running, jumping and sliding through various obstacles to reach the end of each level. Of course, we need to mention the cheese once again. That's basically the entire appeal of the game.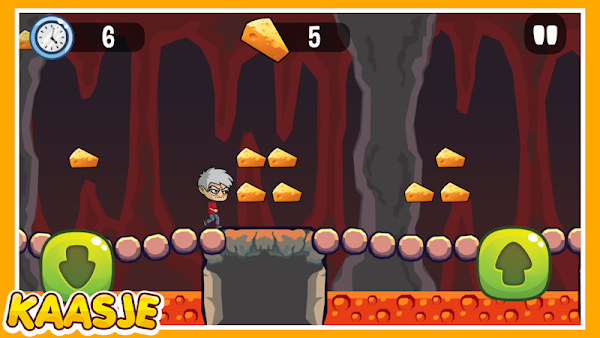 There are various obstacles that will get in the way of your run. The character will be on rails. What this means is you will not have access to the movement of your runner. Instead, you will be in charge of navigating his vertical movement throughout the levels.
There will be saw blades, platform and pitfalls that continue to get in your way. So, you need to time your movements precisely and accordingly in order to progress.
Not only this, but the more cheese you collect, the better. Your hunger for cheese will determine your final score at the end of each level. What's more, it will text your dexterity and coordinating skills.
As a traditional platforming game, there's no need for an internet connection. Do you know what this means? It means you can enjoy the game from any location without worrying about an internet connection. So, this game is perfect for anyone who wants to entertain themselves in their free time, anytime and anywhere.
We recommend playing on a bus, on your break from work or class, and even in the middle of a lecture, if you're brave enough. Regardless, the game is fun and exciting to play, no matter to circumstances.
Graphics
The graphics displayed in Kaasje are quite simple as well. The 2D cartoony feel really draws home with the hilarious concept. Collecting cheese isn't really something you would see a normal person do. Especially in such overdramatic locations.
The controls are displayed on screen at all times. There are only 2 buttons to control your character – an up arrow, and a down arrow. This will determine whether you jump or slide, so time your taps at just the right moment.
Overall, the game looks good and feels natural for the concept.
Download Kaasje APK for Free - Latest version