Jurassic Survival APK 2.7.0
Download Jurassic Survival APK – latest version – for Android test your survival skills against the prehistoric animals called Dinosaurs!
Survival games have become a phenomenon in the last few years. If you're familiar with the popular Last Day on Earth, then you'll know just how big this genre is. The newest and biggest addition to this never-ending genre is Jurassic Survival APK.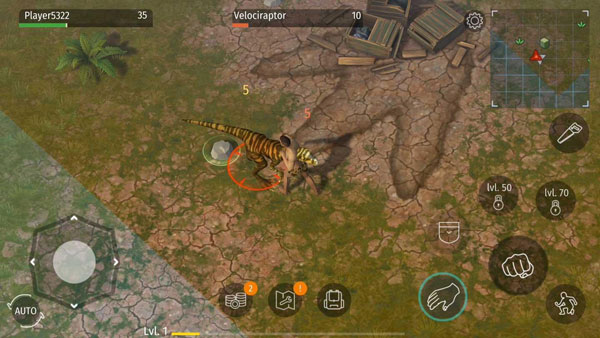 This incredible game is created by Mishka Production and with over 10 million downloads on Google Play alone, it's unstoppable! So, what sets this game apart from hundreds and thousands of other survival games out there? What new can it possibly offer? Let's find out!
The Survival Journey
Like in any survival game, you're put into an island naked without anything to your name and any resources in your bag. The game starts as soon as you play it. You need to find basic resources such as food, water and shelter. Although there's plenty to do in this game, you should start with the basic commodities.
To survive in the first few minutes, you can collect some wood, trees, and stones. Then, you can make knives and axes just so you have a weapon. As you go out to gather more resources, you'll encounter some wild small dinosaurs. Protect yourself using your weapons. Then, you can use the Dinosaur skins for making shirts and pants. In this game, you don't want to be naked for long.
Dinosaurs are your Frenemies
Yes, you've read that right. The enemies in this game are the ever-dangerous dinosaurs like Ornitholestes and T-Rex. They're scary and gruesome so it's important not to attract their attention. Move gently in the wild and try to gather resources without alerting them. This is because when they see you, they can instantly kill you and you're back to square one.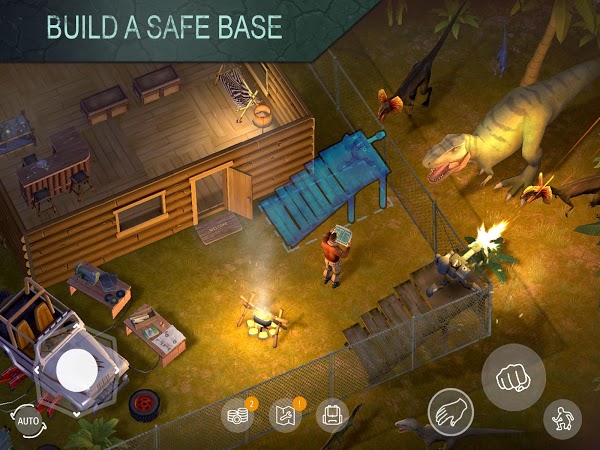 The way to survive in this game is by building a strong fort or a base. Surround your shelter with electric fences. You should also always be alert for any impending doom. That means gathering resources and weapons. But the good thing is you can co-exist with Dinosaurs and tame them. You can make them your companion to accompany you in any treacherous land!
Multiplayer game
In this game, you're not alone with the Dinosaurs. There are also tons of other players all around the world. Meet, talk and barter with them to show gratitude and build alliances. But beware, not all of them will be willing to do this. If they see that you have some great items, they may try to backstab you.
Jurassic Survival Features
Aside from the ones mentioned above, we'll give to you the features of this jaw-dropping game. Here are the they:
Stunning Graphics and Gameplay
Survival games are only as good as the graphics they offer. In Jurassic Survival, everything seems real and smooth. It isn't like any other game out there that tries too hard. In this one, you can feel the intensity of surviving alone in a vast world filled with dinosaurs.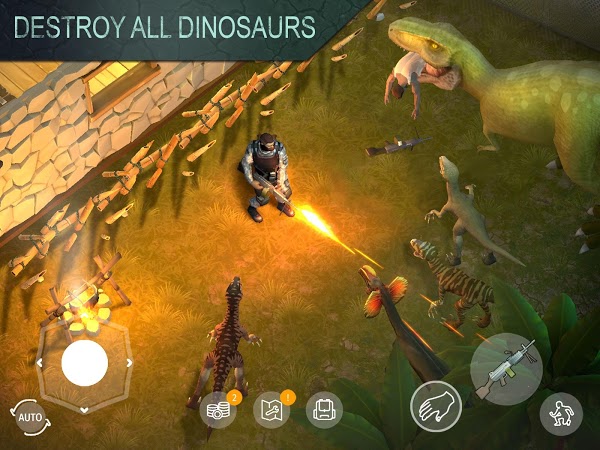 Character customization
Another thing that many gamers will surely love is the ability to customize your character to your heart's content! Of course, this can only be possible if you collect a lot of resources or you buy them in the shop. But the good thing is you don't have to look like millions of other players.
Unique game
The existence of dinosaurs in this survival game just takes it up a notch. While other games incorporate zombies, this one focuses on Dinosaurs and it works! It's such a thrilling experience to know how we humans could've co-existed with dinosaurs. And it's safe to say that we can all experience what that's like in this awesome game.
Tips for Playing Jurassic Survival
Playing without prior knowledge can be fun and exciting but it can also be dangerous. So, to give you an overview and an advantage, we give you these helpful tips:
Build a shelter quick – One of the basic needs of humans is shelter. In this survival game, the same can be said true! With hundreds of predators out there, dinosaurs and humans alike, you're bound to have a bad time. So, one of the first things you need to do is to build a small house at first. You can collect bamboos from the island and start building it right away. Later on, you can upgrade your house as you start to get more resources to better protect yourself.
Use level-up to recover health – When you encounter predators and your life is in danger, don't panic. Even if you don't have anything left that could treat you, use this helpful tip. Try to level-up so you can recover your health instantly. Pretty decent, right?
Communicate with other players – Just like in the pre-historic times, humans have always been social beings. They crave communication and that's one advantage you need to watch out for. As much as possible, join clans and try to talk to other players who've been playing the game for a long time. Exchange information and even items with them for your advantage.
Some dinosaurs are your friends – In this game, you can build an incubator so you can grow a riding dinosaur. Of course, you need to collect some resources to make this possible. You'll need Palm Plank, Nails, Duct Tape, Iron Bar, Bamboo and a Dino Egg. Dino Eggs can be collected from events. Be sure that you're notified about the latest events so you won't miss them.
Collect resources to survive – This should be common sense but collecting food, water and other items are necessary for you to survive in this harsh world. Your character will die if you left him with no resources. Try to gather as many as you can in your surroundings first. Then, after you've exhausted them, visit other places as well. That's how surviving in this game is done.
Jurassic Survival - Free craft
If you don't want to take the long route of collecting resources, then download the now so you can have an unfair amount of resources ready at your disposal!