Idle Streamer APK 1.49
Download Idle Streamer APK - latest version - free for Android to become a professional streamer, the largest on the internet, there are many fans!
Ever envied the life of a professional streamer? Getting to play your favorite games and activities while getting paid for the privilege? What a way to make a living. In Idle Streamer you get the chance to recreate the perfect conditions to become one of the Internet's biggest streamers, upgrading your equipment, building an audience, and gathering those all-important donations. This is an idle game, which is a popular mobile game format because it doesn't require you constant attention. Leave the game running in the background and you can still make progress even as you go about your day-to-day activities!Idle-Streamer-1.20-TechBigs.Com.apk
Of course, the life of a streamer isn't that straightforward. Starting out with only basic equipment and a small audience, it's up to you to decide your path of progress. The game teaches you a lot about the importance of saving for important items for your stream set-up. There is a bit of strategy involved, too. You can't buy super expensive items at the start and you really need to keep your audience happy so they keep donating to your stream. Do you think you've got what it takes to become the world's most famous streamer?
Best Features of Idle Streamer!
Idle Streamer is a fun idle game, which are some of the best mobile games on the market. But what sets this game apart and why should you download it today? It's definitely unique. Building up your streaming empire from scratch is quite the journey. There is strategy to the gameplay and you will need to make educated choices about what's next for your enterprise. If you invest too much, you might not be able to make it through the week, so you have to be careful! Here's a list of the game's best features.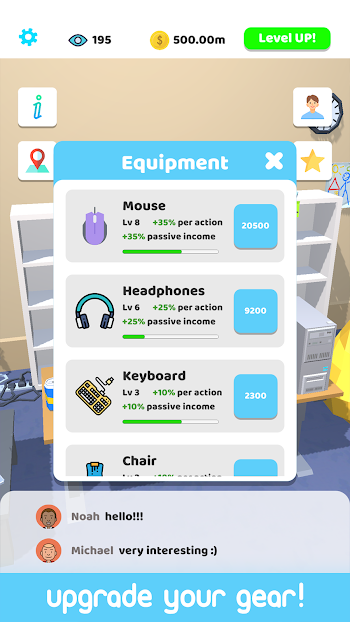 Idle Games Are All About Progression
Idle games are all about the subtle progression through the game, and Idle Streamer is no different. You start out with next to nothing - a useless webcam, a tinny microphone, and a computer that struggles to keep up with the demands of the profession. These bits of kit do give you a chance to get started, but you aren't going to become internet famous with a setup like this! Over time you'll earn more money through donations and sponsorship deals, but what will you unlock first? A better camera? Better computer components? The choice is yours.
Save Money and Upgrade Your Kit
The main strategy to focus on Idle Streamer is to make sure you're saving enough money to make good progress in your career. There are important parts of your setup that you need to focus on, like a computer mouse, a good pair of headphones, a decent keyboard...and so much more. You can't just buy all your equipment right out. Form well thought-out saving plans and you'll be able to purchase the equipment you need in good time, as long as you leave your streamer idly working while you sort everything else out!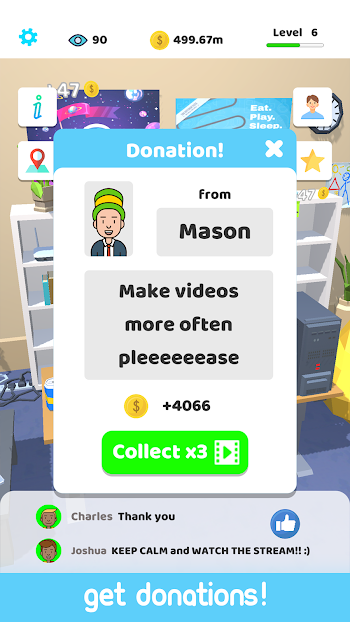 Interact With Your Fans In Lots of Interesting Ways
One of the best parts of becoming a streamer is the fanbase you develop over time. These are your dedicated followers who always tune in to watch your streams and even help you out with subscriptions and donations from time to time. In Idle Streamer you can interact with your fan base with funny comments, listening to their requests, and holding competitions to keep the whole machine churning. Remember, you do have to keep these fans entertained and happy, otherwise they might pay a visit to another popular streamer and your view count will start to tumble!
Easy To Play
Idle Streamer is very easy to play with simple game mechanics that don't take too long to learn. Once you've downloaded the game, you can start right away by tapping away at the coins on the screen, like any good idle game. Tapping away will earn you coins. These coins are used to buy your first upgrades, which in turn earn you more coins. If you're not clued up on your idle game mechanics, at first you will only be able to earn coins by tapping, but over time the game will automate coin collection so you can leave the game running in the background.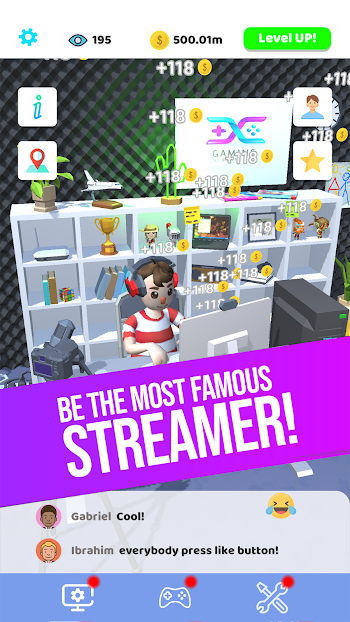 Is Idle Streamer A Good Idle Game?
Idle games all follow similar patterns. Tap on the screen, earn coins, move on with the upgrades. It's a simple formula that is wildly popular on Android, but is Idle Streamer any good? With generally positive reviews, the game does have its good features, but also a couple of negative points. There are a lot of adverts in the game - this is a modern mobile game, after all. Plus, saving up for new gear becomes more redundant as the game progresses and you get even more powerful as a streamer. There aren't many advanced goals to aim for! Don't worry, try out Idle Streamer today and download it here.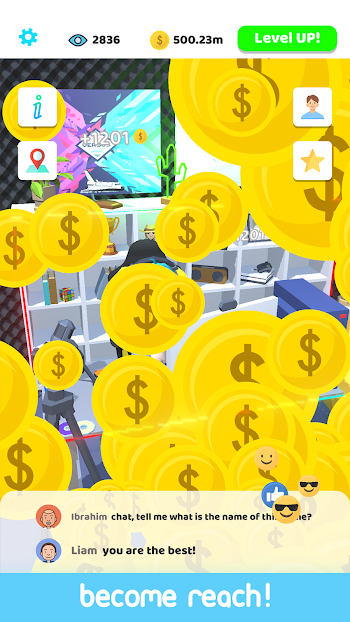 Tips and Tricks for Idle Streamer
Idle Streamer is a straightforward game, but you need to master the art of saving and efficiency to make sure you're making the best progress as a streamer. Remember, although you're sitting on the computer all day playing your favorite games, you still need to pay your bills and feed yourself! This means you need to prioritise upgrades that are going to get you the most early on, and make sure to focus on keeping your fans happy. These are the ones keeping your career afloat, don't let them down!
Idle Streamer APK
Download the brand new version of the modded apk Idle Streamer to play the game with unlimited money and no ads involved.