How to Add Subtitles to a Video on Android
Reasons to Add Subtitles
There may be a couple of reasons why someone would want to add their own subtitles to a video. It could be any (or none) of the following: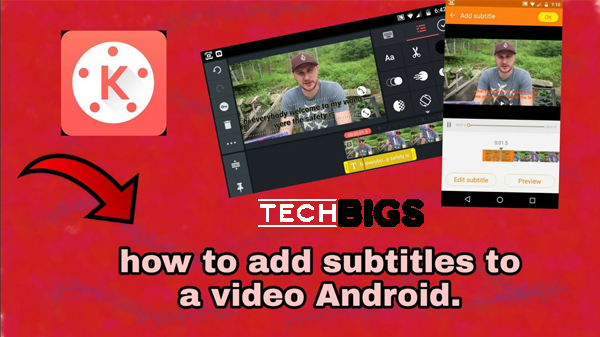 For one, you may not be the best with interpreting the language that is being spoken. This may not be your first language and it may also not be something you are quite fluent in. So, having subtitles of native tongue will definitely add more benefits to you. You can understand everything that is being said, without actually understanding the language.
Second, you may want to lean new words of the specific language. Some shows will use words that are unclear to you. On the other hand, some words will be put into context that is not recognizable to you. Either way, both instances are perfect for you to have subtitles available during your viewing.
One more reason would be that you just feel comfortable having subtitles. Maybe your hearing is the best. So, it's always nice to have a pair of subs that you can read instead of trying so hard to interpret someone's words.
Regardless of which of these categories you fall under, subtitles are a welcoming alternative to enjoying videos. That being said, below, we will explain how you can add these subtitles to video players that don't already come with them provided.
How to Add Subtitles to a Video on Android
So now, we will explain exactly how you can add subtitles on Android videos. This process shouldn't necessarily be too difficult.
So don't worry, in just a few steps, you will find yourself having the ability to ready clear and concise subtitles on your videos. For whatever the reason may be, everyone has a right to read subtitles while they watch their movies, shows, and other videos.
Most video and movie players that are available on the Google Play Store should already come default with the ability to support subtitles. However, there are a few instances where this would not be the case. The base Android video player may not come with subtitles enabled.
This is because subtitles come as a separate file from the actual video. Therefore, in some instances, these subtitles will need to be downloaded and then attached to your video.
Add Subtitles in VLC for Android
VLC for Android is one of the more popular video players for Android. So, we will use this one as an example to adding your own subtitles to your Android mobile device. Luckily, there are many different websites that come full of subtitle files for many movies, TV shows, music videos, and more forms of video entertainment! Even more, most of these subs are 100% free to download onto your Android mobile.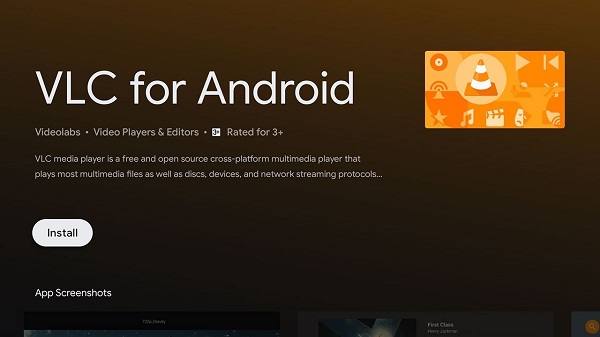 We've included a list of some of the more popular subtitles websites…
All you will need to do is visit the respective website and search for the show or movie that you want. If the subtitles are available, there should be an immediate download link available for you.
If you choose to download via your PC, you should transfer them to your Android's Downloads folder afterwards. This will make them much easier for the VLC Player to locate.
Next, you'll need to open up the VLC player, if you already have it downloaded onto your Android device. Now, if the subtitles are in fact in the Downloads folder, they should be added to the player automatically, once you've started your video. Otherwise, you'll need to head to the subtitles button and select Play, followed by Select subtitle file.
From there, you will also need to manually locate your subtitles. If you have them saved onto an SD card, they may not be visible. In that case, head to your Settings and then onto Display advanced devices.
Once this is done, you should be able to view both your internal memory AND SD card. Now, all that's left is to navigate towards your downloaded subtitles and you're good to go.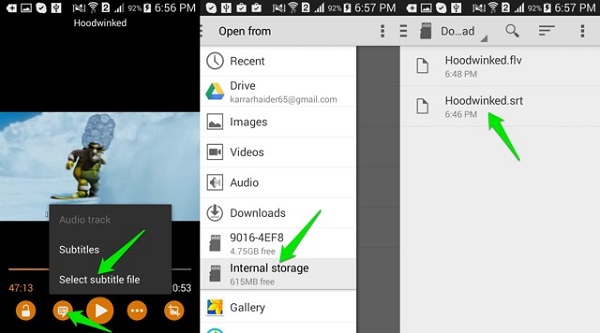 Using a Subtitles Downloader for Android
The next method would be through a subtitles downloader application for Android. These will make the entire process listed above much easier and simplified for everyone. It can become quite annoying and even tedious to go through the same process of locating subtitles over and over. And the best part about these downloaders is – they can be integrated onto most of the current video players available.
So, we've listed the different subtitle downloader apps that are available for Android to use:
GMT Subtitles:
GMT Subtitles is a free to use application that is also ad-free. Although, it is only compatible with Android 4.0 and above.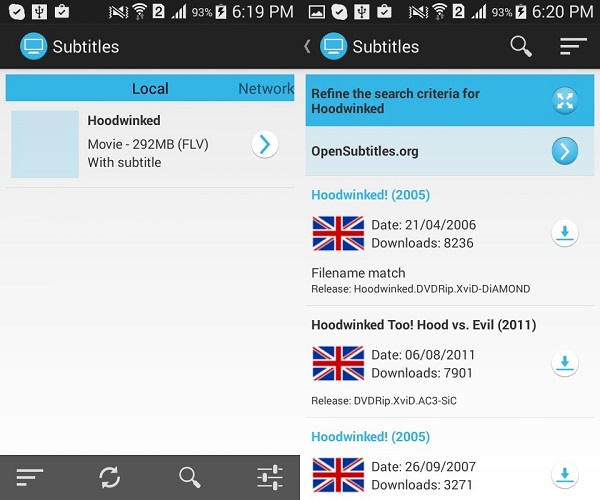 How it works is: the app will automatically search your files for any videos and then display them all through the interface. Now, you can select what video you want to watch. From there, the subtitles will have automatically been added onto your video.
Get Subtitles: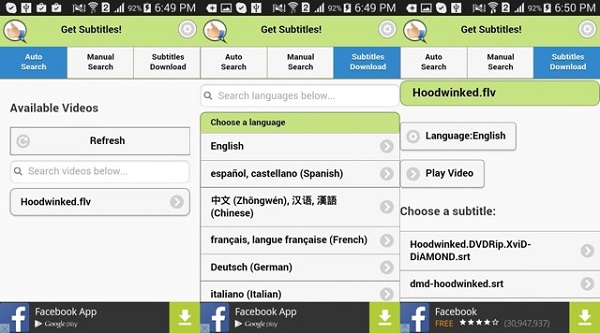 Next is the get Subtitles application. This app is ad supported and contains a simple user interface. It works in a similar fashion to GMT Subtitles. Meaning, it will automatically search for any videos available in your files. But, some videos might not get picked up. In that case, you can still manually search for them.
Once you select a video, the app will display a list of all possible subtitles available. There are over 170 different languages that are associated with Get Subtitles. So, you can change up the language, as we previously mentioned in the reasons to use subtitles. Just tap on the download button and you will begin adding the subtitles to your video.
Conclusion
And there you go! Now, you can watch all of your favorite shows, movies, and other videos with full and clear subtitles!