Houseparty APK 1.65.0
Download Houseparty APK - latest version - Free to join a virtual house party with all your friends if you're spread out across the world or just can't see each other right now!
Houseparty has been around for a few years now but has found new popularity in these trying times across the world. In short, this app provides an easy-to-use virtual space for getting together with your friends. Each phone connects via your camera and you can chat easily with multiple people at once, taking part in games that are featured on the app or just creating your own fun. Houseparty is easy to download, install and connect with many people over the internet. You can connect with people from all over the world, all you need is data or Wi-Fi.
Known as a face-to-face social network, it takes social media to the next level. Rather than text messages and emojis, you can see your friends wherever they are across the world. It's very simple to jump into a conversation, all you need is someone to set up a party and then it's a click of a button to start talking with your friends. You can talk to up to 8 people at a time and when you sign in your friends are notified that you are 'in the house', or ready to talk. Just share a link via SMS message and your friends can click on it to join.
Best Features of Houseparty
Houseparty is easy to download and install and then connect with your friends. You can use Snapchat as a simple way to create a seamless social media profile, sharing your contacts through the app so you don't need to waste time adding everyone all over again. Added features add security, fun with in-app games, and even the ability to create private chats between smaller groups. There are no in-app transactions and the video chat is secure between small groups of friends, ideal for friends, family and younger people. If you want to find out more about the features of Houseparty, keep reading to discover all the best features.
Secure Video Chats
There are no public video chats and the Houseparty chat rooms can only be set up between trusted contacts, keeping people safe when they're chatting with friends all over the world. You must connect through other social media apps or by connecting through SMS codes shared on your phone. It's easy to set up because there are no costs involved, either to download the game or to get involved with some of the free features. This makes Houseparty suitable for use between family, friends and kids to talk to their penpals.
Added Features
Houseparty takes the features of typical social media connectivity and brings them to a video format. You can create secure party rooms for up to 8 people and it's simple to connect. Once you're in a party you are split into a gallery layout where all the faces are visible at once, although you can also request private chats between members, great if you're taking part in some classic party games. You can also mute your microphone, hide the camera, and message friends codes to join other chat rooms.
Messaging With Video Chats
Houseparty takes the features of a messaging app like WhatsApp or Facebook Messenger and makes them more personal. You can send so-called 'Facemail' which is sort of like a voice message but with your actual face! This adds a lot of personality to your messages and brings your community of friends closer, wherever you are on the planet. You can also use the app to send written notes and messages if it's easier and quicker to do so. Last of all, you can also link your Bitmoji from Snapchat to add even more flair.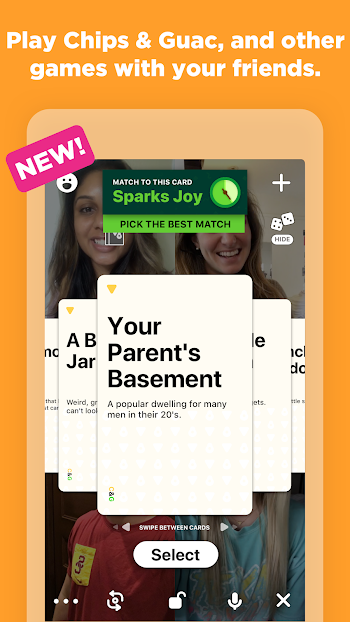 Multiple Different Ways to Interact
There are different ways to use Houseparty, such as using the appear offline feature, or 'sneaking around the house', if you want to jump on and communicate with just one person without getting lots of invites from your friends. You can also switch to ghost, or anonymous mode, if you want to keep your presence a secret or if you're playing a game/doing a quiz. Plus, you can lock your chat rooms, which means only certain friends can enter, again useful to keep your chats organised or to play fun games.
Keeping Safe on Houseparty
Like any app, staying safe online is a priority. With all the privacy features involved, such as anonymous mode, control over your chat rooms, and much more, Houseparty also introduced a report feature so you can keep control of the content you see on the app. If the app is being used by children it's important to keep a track of who they're talking to and warn them about the dangers of online communication. If the app is used with respect, there's no reason why it can't revolutionize socialising online, especially in these difficult times of social distancing and isolation. There have been some reports that it is difficult to uninstall the app once loaded onto your phone, though you could download this version of Houseparty to get around that.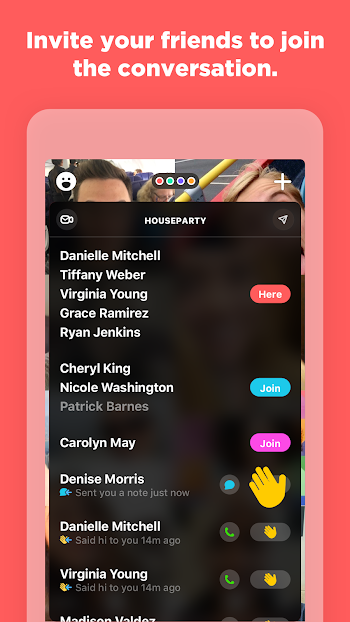 Houseparty in 2020
Houseparty has become a very popular app in the last few months due to the restrictions put in place by the Covid-19 pandemic. Communicating with your friends is an important part of staying connected and staying healthy. Houseparty provides a fantastic platform to stay in touch with your pals wherever they are. Organise parties, host a pub quiz, or just catch up and see how people are doing. It's simple to download and use, ideal for those who might not have used an app like this in the past.
Download Houseparty APK - Get Access to This Great App Wherever You Are
Download the latest version of Houseparty apk to get access to this app with premium access, wherever you are in the world and get past restrictions.