High Heels APK 5.0.22
Do you think wearing high heels is hard? What about running on an obstacle course on it? Play High Heels and try to go through obstacles without falling!
| | |
| --- | --- |
| Name | High Heels |
| Updated | |
| Compatible with | Android 4.4+ |
| Last version | 5.0.22 |
| Size | 242.79 Mb |
| Category | Action |
| Developer | Zynga |
| Price | Free |
| Google Play Link | com.uncosoft.highheels |
Sometimes, women wear high heels in order to look professional or go to parties. These shoes are hard to wear for long periods of time. Some even require rigorous training and experience just to use them. Even runway models sometimes trip while using them. But if you're ready for a different challenge today, try playing High Heels.
This game lets you walk in high heels all throughout. But the challenge doesn't end there. There will be many obstacles that are going to be in your way! Think you are experienced with high heels enough? Try your skills and become a pro runway model in this hilarious yet fun action game. You'll discover many uses of high heels you've never seen before. Be careful of obstacles and collect as many scattered high heels as possible.
Complete Levels in High Heels
As if walking on high heels isn't hard enough, Zynga created an obstacle course game based on the premise of you wearing high heels on obstacle courses. In High Heels, is an action obstacle game that lets you weak these difficult shoes and go past the different obstacles. There are multiple levels to conquer and each one of them presents different levels of challenges.
There wall obstacles and sometimes you may need to walk on a tight beam to cross buildings. But you'll also need to collect the shoes scattered in the course so you don't lose the game. This is because you'll eventually run into obstacles that you can't go around so you will lose some shoes. Regardless, this game is an endless fun that allows you to collect diamonds and different types of heels. You need to play this game now and relieve your stress! Become the high heels queen and show them your skills in balancing, running and in going through obstacles.
What to Expect in High Heels?
Have you ever tried wearing high heels? If you do, then you must know that it's not as easy as any other shoes to wear. Yet in High Heels, you're going to wear one in insane obstacle courses!
Go through numerous levels – In High Heels, you'll go through levels wearing high heels all the time. But you need to be careful as the road is riddled with different obstacles. Sometimes there are blocks on the way, while other times, you may need to cross the buildings on a stick. Overall, you must use your balancing skills and different evading techniques to complete the levels. This is while collecting the different items on the way. There are keys as well as diamonds. Not to mention, you need to collect heels in order to get through obstacles. Lastly, the more heels you have at the finish line, the more rewards you'll get.
Collect diamonds and heels – In High Heels, you'll need to collect diamonds and heels as well as the keys. They are all scattered in the map so you need to do your best to get them while avoiding different obstacles. The question is, can you beat the levels and get the rewards?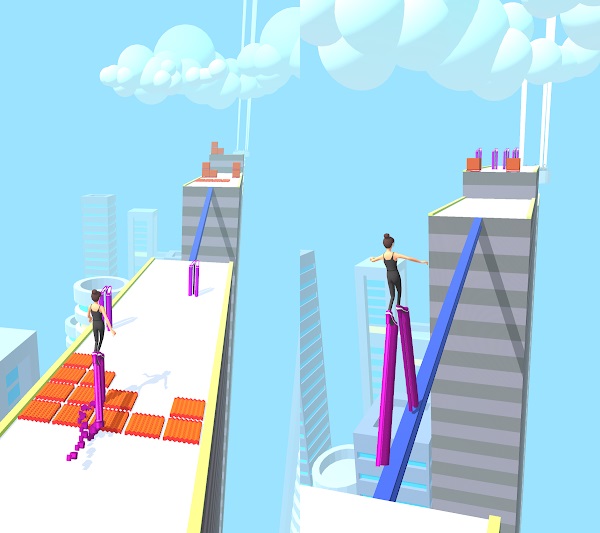 Collect different bodies, jewels and heels – In High Heels, you have the chance to unlock different items such as heels, jewels and bodies. There are quite a lot to unlock. There are different bodies with different faces and skin colors. There are also unique heels that you can use. There's a rainbow-colored one, a gold one, and there's even one with tiny wings. Then, you can also adorn your character with jewels such as a crown, bracelets, and even wings!
Fun gameplay and smooth graphics – This game has a cool graphics and animation that you won't get tired of looking. The courses are designed on top of buildings to give you greater challenges. Overall, you'll thoroughly enjoy the nice animation this game has to offer.
High Heels APK
Ready to run the obstacle course in a heel? Download High Heels now and enjoy different obstacles.
You can experience games similar to: Z Escape and Stumble Guys