Head Soccer APK 6.18
Download Head Soccer APK – latest version – for Android and experience a soccer game that lets you enjoy without complicated game controls.
Soccer is one of the most popular sports around the world, which isn't shocking because it can bring people together while also bringing out the competitive side of both players and spectators. Well, you're in luck! Once you download Head Soccer APK, you'll get to enjoy the sport you love anytime and anywhere.
If you're a long-time soccer fan, you may have tried other soccer video games on your Android device. There is also a huge chance you've stopped playing them after a while because sports games tend to have very complicated controls.
Well, that's one less thing you'll worry about after you download the Head Soccer APK for free! You'll never run out of things to do as you'll find yourself wanting to unlock all characters and use them on various game modes.
Be the Striker and the Goalkeeper!
Games can have easy-to-navigate controls and still have challenging and thrilling gameplay – download Head Soccer APK and you'll see what we mean. Every match is full of excitement in Head Soccer because you play the role of a striker and a goalkeeper at the same time.
In most game modes, every match is timed for 60 seconds where you and your opponent will battle it out by scoring and defending your goalposts. Whoever has the most goals after 60 seconds is the winner.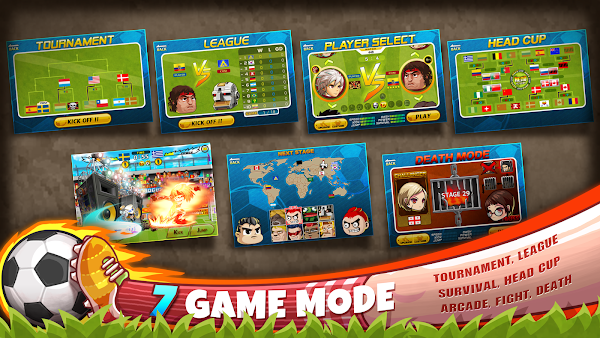 What if the scores were tied, you ask? You'll then proceed to a Sudden Death match, which is much more exhilarating because the first one to score a goal wins!
There Are More Than 60 Characters to Unlock
When you download the latest version of Head Soccer APK, you'll be given the first character named South Korea. He has the most basic skills of all the 60+ characters, so he's perfectly designed to allow you to familiarize yourself with the gameplay and snag those early Achievements easily.
Every character has a different level of power, so you'll be motivated to have everything unlocked. Power levels are measured by the number of Stars a character has. South Korea has 0.5 star, but 5 stars are the highest level. Some characters have special abilities, too. For example, Mon-K will double the points you earned in a match.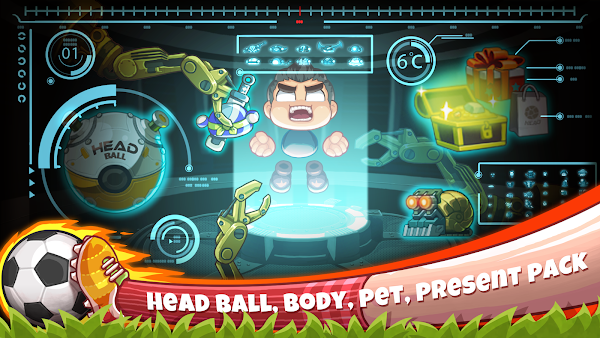 You should keep an eye for a new version of Head Soccer APK. It typically comes with new characters to unlock.
Easy Controls with Detailed 2D Graphics
When we say easy to control, we meant it. In fact, you only have to deal with four controls: Move Left, Move Right, Kick, and Jump.
You'll also notice that the game is in 2D, which is perfect to maintain the simplicity of the controls without compromising the quality of the gameplay. Also, you'll see that the Head Soccer graphics is still filled with amazing details.
Notice those people in the stands? How about how your opponent's eyes get a little purple when you hit them with the ball?
Customization Options – Make Your Avatar Look Good While Kicking Goals
You'll find many reasons to keep playing after you download the Head Soccer APK on your Android device. Aside from unlocking characters, the game has plenty of customization options both for costumes and stat upgrades.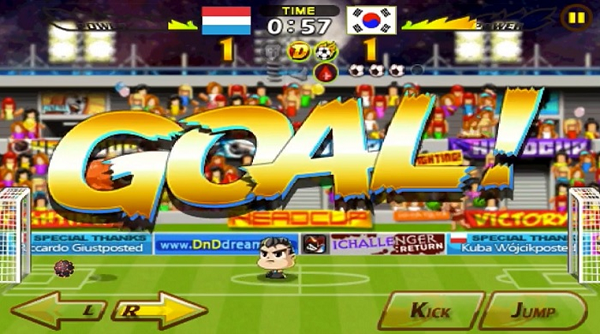 Sometimes, the CPU opponent's attire is going to be your prize from that match. If you're only winning points, don't worry, because those are exactly what you need to upgrade your stats. The cost of upgrades start at 500 points and go up to 256,000 points.
Remember These Power Tips for Playing Head Soccer
While game controls are easy to manage, you'll be required to think well about your next moves such as which game mode to choose or which character to use. Avoid wasting your efforts by following these simple tips.
Know the 6 game modes and their benefits: The Head Soccer APK latest version has six single-player modes. While the general rule is win matches, each mode will affect your progress differently.
Arcade – Best for beginners. Practice here and start winning matches. Collect those easy points to boost your stats and gain Achievements to unlock the early characters.
Tournament – You'll go through several knockout stages to reach the final round where the winner gets 1,700 points. Pro tip: a UFO may appear in the final round, hit that with the ball and your opponent will be instantly defeated.
Survival – The matches are tougher and could be never-ending, but winning here means getting plenty of points and exclusive costumes.
League – The objective is to end up in the first place of the three league tiers: Amateur, Minor, and Major. Your effort will be paid well here because you could win more than 100,000 points in the end.
Head Cup – It's quite a gamble here because you'll pay 5,000 points to play. It's also set up like a FIFA world cup where you go through a group stage and a knockout stage, so you either lose those points or win as much as 30,000 points if you land the first place.
Death Mode – You have to play well to free characters locked in cages that you'll see on your screen. Prepare for the surprise obstacles that randomly stuns, freezes, electrocutes, and even kills your character.
Every character has a unique Power Shot: Power Shot is a special attack. When used at the right time and hitting the right angle, it will help score or win.
Some power shots are best for offense while others are great for defense. There are also different shot angles and how they affect the opponent. You have to know what power shot belongs to which character to properly choose the right avatar that best fits the game mode you'll play.
Use the power shot wisely and pick the right timing because it's not available the entire match. Once the power bar is filled – it's the blaze-shaped bar beside the flags on top of the screen – a power button will appear beside the Kick button.
Head Soccer APK + OBB
Yes, it's quite tedious to unlock the characters you want that can help you win in the more challenging game modes. That's why there's no judgment here if you'd want a little help by having the Head Soccer APK with a that has unlimited money. Download it for free and be the best soccer player you dreamed to be!