Gomax Live TV APK 6.1
Are your cable subscriptions expensive? Download Gomax Live TV now and get free live TV channels on one app. Access live sports, news, events, songs, and more.
| | |
| --- | --- |
| Name | Gomax Live TV |
| Updated | |
| Compatible with | Android 5.0+ |
| Last version | 6.1 |
| Size | 6 MB |
| Category | Entertainment |
| Developer | GOMAX, INC |
| Price | Free |
TVs are a great invention that has revolutionized the way we enjoy entertainment today. We no longer need to go to the cinemas because we can enjoy countless shows and movies on different channels. But the existence of streaming platforms today has made TV subscriptions almost obsolete.
So, how can you still enjoy TV channels without paying ridiculous fees? The answer lies with Gomax Live TV, as it offers countless TV channels from India.
This app provides users with the latest channels with different genres such as news, sports, documentary, movies, music, etc. With this app, you can also download the latest HD wallpapers and trending apps quickly. You can also check for schedules and get notifications!
Not only that, but you can also watch your favorite sports shows right inside the app, thanks to a variety of live channels. Enjoy plenty of channels now like Jeevan TV, Nav Media, Darshana TV, Enterr 10, Star Bharat, Zing, MAA Music, Ishvani, and more.
Watch Shows with Gomax Live TV
There are thousands of channels available worldwide for us to watch. Each channel contains different shows and movies that we can watch on our TV. For most of the past decades, people have subscribed to cable subscriptions for their TV needs.
These cable subscriptions provide users with channels to access their TVs in their homes or at work. But throughout the years, technology has evolved progressively, making cable subscriptions obsolete.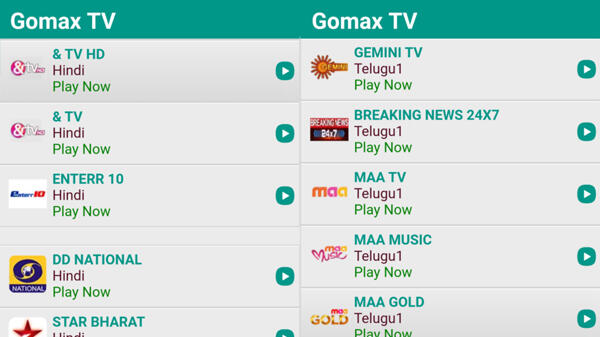 Today, you'll find many people using streaming platforms like Netflix, Amazon Prime Video, Hulu, and many more instead of cable. This is all thanks to the affordability and the convenience that these streaming platforms bring. After all, who doesn't want to watch countless movies and shows on their smartphone?
If that isn't enough, there are also many original movies and shows that you can only watch on these platforms. This makes cable subscriptions a second option now.
But if you'll notice, you still won't be able to watch live TV channels on most streaming platforms unless they're offered. So, the only thing you can do is to download Gomax Live TV instead! This is a streaming platform that offers live TV channels from India.
Here, you can watch countless channels in sports, movies, news, TV shows, movies, and many more. Then, you can also access it in a variety of languages such as Hindi, English, Kannada, Telugu, Malayalam, Bengali, and many more. You can watch live TV channels in real-time using your phone here.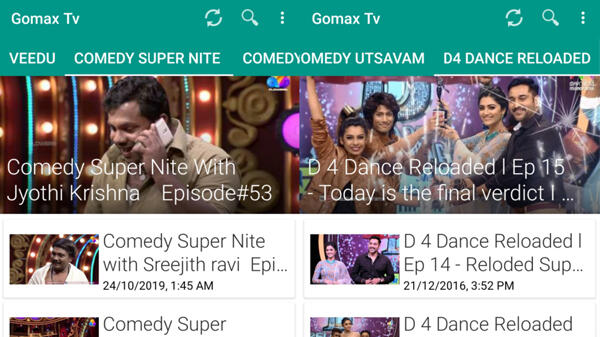 There are all sorts of channels available for this app, such as Gemini Movies, MAA Movies, ACV UTSAV, NAV Media, ISHVANI, MLM TV, and more. Plus, the app is super light, which requires less than 10 MB!
Highlights of Gomax Live TV
With Gomax Live TV, you can get some exciting features that will allow you to watch movies and shows. Here are the features of this app:
Watch Live Channels – If you're into movies and shows, you must know that cable subscriptions aren't efficient today. They provide channels as long as they want, and they don't even care about the costs. But today, things have changed since many streaming platforms have come into existence.
Now, you can get more features from these streaming platforms endangering cable subscriptions as an industry. But with Gomax Live TV, you can enjoy channels as if you've paid for a cable subscription!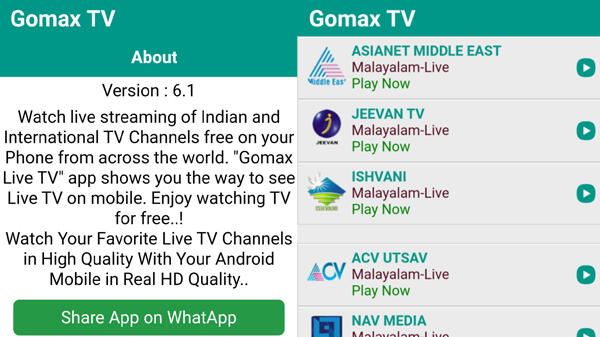 Here, you can access many live TV channels from India wherever you are in the world. Enjoy drama shows, live sports, news channels, movies, and many more on Gomax Live TV. The app also supports local languages such as Bengali, Hindi, Kannada, Malayalam, Telugu, etc.
Different Genres – This app offers a way for people to stream channels right on their devices. Through this app, you can access various genres like Live TV, Live Sports, TV shows, Serials, News, Live Events, and many more. Each of these categories contains countless channels that you can use and enjoy.
These channels include the popular ones like Gemini TV, BREAKING NEWS 24X7, DD NATIONAL, STAR BHARAT, ZING, ASIANET MIDDLE EAST, ISHVANI, MLM TV, DARSHANA TV, NAV MEDIA, and many more. With these different channels, you can enjoy watching live channels on your phone!
View in different languages – The app is also generous enough to allow you to enjoy other channels in other languages and categories. These include Hindi, Tamil, Malayalam, Malayalam News, Kannada, Telugu, Christian, Islamic, Sports, English News, Regional, English, and more.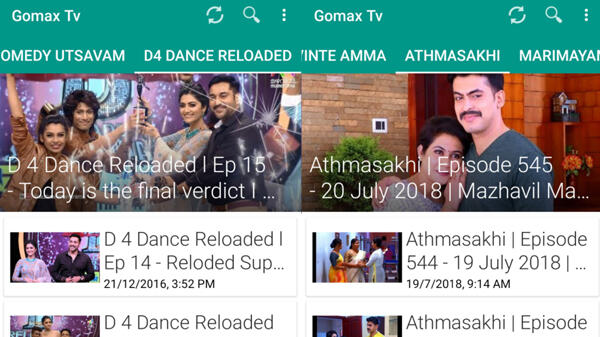 Default media player – What's exciting about Gomax Live TV is that you can watch these live channels inside the app thanks to a default player. Then, the app also supports external players if you wish!
Multiple platforms available – Another thing that you might want about this app is that it's not only known for Android; you can also use it for PC and iOS. You can check out various tutorials on how to do so. But aside from that, you can also use it for your Smart TV using an Android box or Firestick.
No registration needed – There's no registration required with this app today. You don't need to put your essential info or credit card details as well as it's free!
Automatic updates – Countless features are being added regularly. When you open the app with an internet connection on, it will automatically update it for you. This means you'll get the latest channels, features, and other important info!
Download Gomax Live TV APK – New Version
Do you want to watch live TV channels on your device for free? Get Gomax Live TV now and enjoy countless Indian channels!
Is the Gomax TV safe to use?
+
Although Gomax TV isn't available on Google Play Store, it's still safe to use. We check all the apps that we upload on this site which is why you should not worry. Although for maximum protection, you can try using a VPN service.
Yes! It's free to download and use today. There's no need to register or input your credit card details to use it.
Can you use Gomax TV on iOS?
+
Yes, you can theoretically use it if you have an Android emulator for iOS.
Can you use Gomax TV on PC?
+
Yes, you can do so by downloading an Android emulator like Memu Play or Bluestacks.
Can you use Gomax TV on Smart TVs?
+
Yes! You can download Gomax TV as an APK from a trusted website such as this one.