Gardenscapes APK 7.4.6
Download Gardenscapes APK - latest version - free to enjoy one of the best matching tile games on the Android store, with addictive gameplay and great features.
Gardenscapes, from Playrix, has millions of downloads and millions of positive reviews, and for good reason. It's likely one of the finest matching tile games where you have to hit 3 tiles in a row, unlocking bonuses, decorating your garden, and working towards the almost infinite amount of levels in the game. Playrix offers dedicated support for the game, which means there are still levels being added to the game years and years later. Meet the in-game characters, Austin, and say hello to the chirpy little dog. Become a gardening hero when you download Gardenscapes.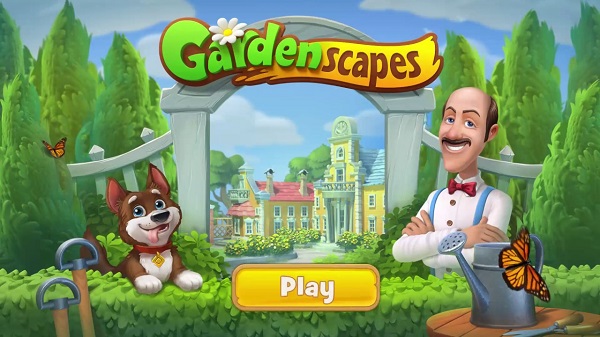 Playrix have done something excellent with Gardenscapes, and their other title, Homescapes. That is, they've added a fun storyline to the base match-3 mechanics that have become so popular on mobile devices. You have inherited a mansion with a garden in a quite disgusting state, but a garden with a lot of potential if you're ready to put TLC into planting trees, mowing the lawn, and creating beautiful flower beds. This is all achieved by smashing the match-3 levels, where you have to match plants, colors and much more. We'll go into more detail below about the gameplay and different features.
The Gameplay in Gardenscapes
If you haven't heard of Match-3 before, where have you been for the past few years of mobile gaming? It's by far one of the most popular formats for Android games, all thanks to hit titles such as Candy Crush, and now Homescapes. The aim of the game is to complete more and more difficult levels by matching 3 or more tiles of the same type. In Homescapes, you unlock different power-ups by busting tiles of up to 6 different pieces. Some of the upgrades include bombs, butterflies, and rainbow power-ups that delete every block of the same type on the board. As with all match-3 games, Gardenscapes starts out easily, but quickly gets harder as you progress through the 1000+ levels.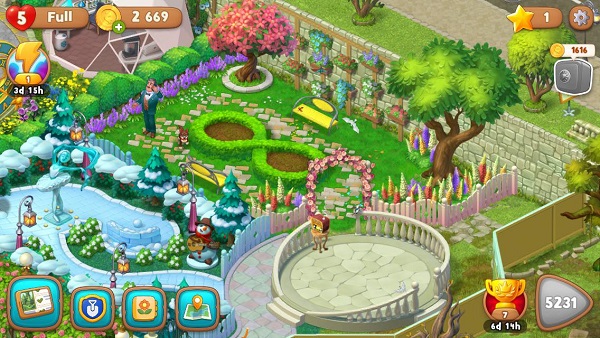 Addictive Progression
As you beat the different Match-3 levels, you'll be able to slowly upgrade your garden. First you'll clear weeds, clean up the fountain, and get rid of garden junk.This leaves space for more interesting inclusions, such as flower beds, maybe a bench or two, and lots of other great features in your garden. Remember, there is a life limit - if you don't beat enough levels in a row you'll need to wait for your lives to regenerate, or purchase more lives from the in-game microtransaction shop.
Best Features of Gardenscapes
Alongside the addictive gameplay, unique Match-3 mechanics (which are found in most Playrix games), and the slow and satisfying progression of making your garden look beautiful. There are also lots of other great features that make it worth downloading Gardenscapes now, such as almost unlimited levels, an in-game social system, and much more. Keep reading to find out all the best features.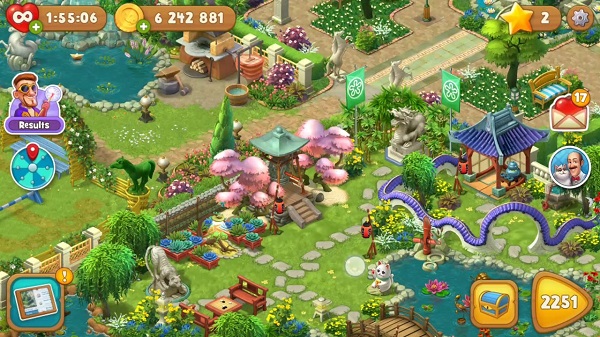 Lots of Unique Characters and Stories
This game is much more than just a Match-3 game. The story that unfolds in the background is pretty heartwarming, and you'll get to meet a host of different characters. Take Austin, who was the original gardener and house butler, who will guide you through the game, explaining how different mechanics work and helping out in the garden. Plus, there's the little dog, who not only cheers you up when the skies are grey outside, but also assists you in the Match-3 levels. He has a special power-up move which will definitely get you out of a sticky situation!
In-game Social Network to Play With Friends
Like all good mobile games, Gardenscapes provides a social platform for you to play closely with your best buds.You can keep track of your friend's levels and even visit their gardens, as well as ask for help on certain levels or get life boosts. This makes it easier to keep playing the game for longer as you won't have to wait around for your hearts to regenerate. Plus, you can be neighbors with your Facebook friends. Although this is all great, you can also play Gardenscapes totally offline, so no need to worry about your data or Wi-Fi connection! Great for commuters and those who ride the subway…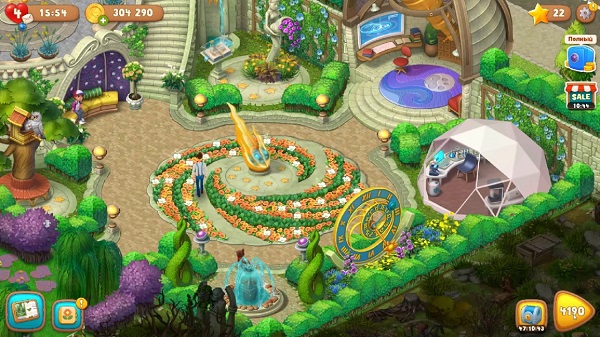 Ad-Free, No Need to Spend Money
Playrix is a fairly reputable mobile games company - Gardenscapes has no intrusive ads that pop up while you're trying to play, and it even allows you to play offline. Plus, while the game does have a time-designated life/hearts system, you don't need to spend money. Much of the enjoyment of Gardenscapes, especially once you get into the difficult levels at 500+, is about taking your time and playing the game strategically - almost like how you might play Chess against the computer. If you can master the ways of Gardenscapes, you'll never have to spend a coin on the game.
Tips and Tricks for Gardenscapes
There are all sorts of tips and tricks for Gardenscapes, and you'll quickly pick up on the best ways to navigate each level as you play. One thing we can recommend is to use your power-ups wisely. Sometimes it's a good idea to wait until you've built up lots of different power-ups on the same board and then set them off in a big chain reaction. Remember, each level has a limited amount of moves, and you'll need to make sure you're being strategic when choosing which path to take through the level. Sure, the game might be relaxing at heart, but once you start hitting those massive levels the game starts to get pretty tricky, and as a result, fairly stressful.
Gardenscapes APK
Download the apk Gardenscapes to enjoy unlimited coins + star and play without having to wait around for your lives to regenerate. Awesome!