Funimation APK 3.9.2
Download Funimation APK – latest version – Free for Android if you want to stream unlimited anime shows! Watch your favorite ones now anytime and anywhere!
Anime has always been a big part of our culture. They've been around for longer than we think but they've just recently become mainstream. Now, anime is not just the collection of shows – it's a culture. Almost every person has been influenced by anime one way or another. Because of that, we crave and long for anime shows. And thanks to the advancement of technology, we no longer have to wait for these shows to air on T.V.
Meet Funimation, an animation streaming service that has over 5 million downloads in Google Play Store. It's like the equivalent of Netflix APK but for anime shows! Thanks to this app, you can watch all the latest anime plus the classics. Now, you'll never run out of things to binge watch. Read on to learn more.
What is Funimation?
Humans love entertainment especially anime. Anime shows bring so much joy to our lives without even realizing it. Like it or not, they have been an integral part of our childhoods. And even as adults, we still watch anime because they're so much fun! Imagine a world without anime, you can't, right?
That's why there are now streaming platforms for anime such as Funimation. This app is one of the leading streaming platforms today alongside Crunchyroll. Of course, there are anime in Netflix as well but it's limited. Whereas in Funimation, you can watch all the latest shows plus some of the classics. You will no longer run out of anime to watch since you can stream them anytime and anywhere. This will allow you to watch countless anime on the go and be updated on the latest shows. If you're curious to know more, read on!
Features of Funimation
Funimation allows you to watch countless anime. But it's not just a streaming app. It has a lot more features than you would expect. Here are its features:
Huge collection of anime shows – Netflix has an impressive list of anime shows but Funimation is the Netflix of anime! Funimation features a huge list of anime that is updated frequently. Whatever the latest shows right not, you can be assured that it's already in Funimation. If you're craving for the classics, you can watch them in Funimation as well. Funimation is complete which includes movies, OVAs and extras that you can't find elsewhere. Stream them anytime and anywhere so you can enjoy all these shows. You no longer need to scour the internet just to watch your favorite anime shows thanks to Funimation.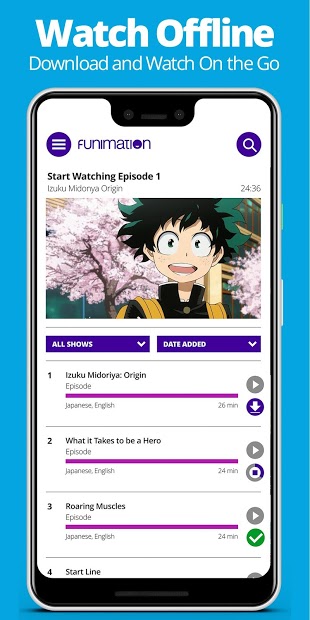 High-quality – Sure, you can watch your favorite anime shows on the internet but sometimes they are in low quality. But in Funimation, you can be assured that all the shows are in high-quality. This is because Funimation buys the license to air these shows on their platform so the quality is top-notch. This is essential for many fans as you'll no longer need to suffer low-quality anime.
Sub and dub – Whether you're a dub or a sub fan, you can watch your favorite anime in Funimation! This app features English subs straight from Japan. And there are also dubbed episodes within two weeks of their Japanese broadcast. This ensures that you are always updated with the latest content. You no longer have to suffer watching.
Offline – In Funimation, you can also download your favorite episodes for offline consumption. This will allow you to truly watch anytime and anywhere! You no longer need to have a constant need for internet connection thanks to Funimation.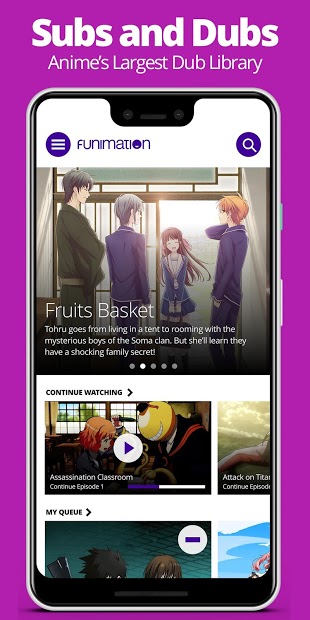 Favorites – You can also add your favorite anime shows to your favorites! This will allow you to access your shows easily. You no longer have to bookmark or memorize their names, just add them to your list!
Similar Apps: Hunk TV APK
Funimation APK – No Ads
Funimation is an epic app that allows you to stream anime shows anytime and anywhere! But the subscription costs money! Download the premium now to enjoy all the features for free.