Flip Diving APK 3.6.60
Download Flip Diving APK – latest version – Free for Android if you want to try a silly flip diving game without the real-life risks present! Can you do some tricks?
Simulation games are fun and the trend nowadays. They're popular because they offer great gameplay on a single topic. Because when people love something, they'll look for all the things that are related to it. Especially if that thing can be done in games!
Flip Diving by MotionVolt Games Ltd. is a popular diving simulation game with over 50 million downloads in the Google Play Store alone! Yes, it might seem silly at first but there are actually tons of people watching these kinds of sports. And they'd love to play it in a game because there are no risks associated as opposed to doing it in real life. But even for non-fans of the sport, this game is as entertaining as most games If you're curious, read on!
What is Flip Diving?
We've always been reckless when it comes to fun and games. And when we see people diving and doing all sorts of tricks on T.V., it hypes us even more. But for most of us, it's impossible to do flip diving tricks especially when there are real-life risks associated to it. We can't just go on the sea and immediately dive like it's nothing. No, divers train for years before they even participate in events.
Thankfully, there's a game called Flip Diving where you can do all kinds of diving tricks without actually doing it in real life. The physics in this game is top-notch so you can essentially practice your diving techniques in here before you try it in the real world. But aside from that, the game is pure entertainment. You will get hooked after just trying one dive. And after that, you will try to do harder ones until you master the art of flip diving.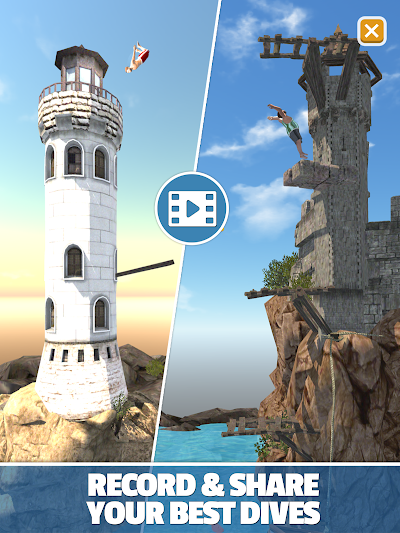 Overall, the game is appealing to kids and kids at heart who always wanted to try flip diving. In here, you can't just dive carelessly, you also need to learn how to land properly. Because when you land awkwardly, you'll get lesser points. Also, you need to take note of the landing spot because you can't go beyond it. This and many more challenges await you when you play Flip Diving!
Features of Flip Diving
Flip Diving isn't your normal game. It's packed full of entertainment and silly antics that will leave you wanting more. Still unconvinced? Here are the features:
Diving tricks – This game wouldn't be called Flip Diving if the tricks aren't as appealing as they can be. That's why this game boasts tons of driving tricks available for you to try. There are layouts, pikes and reverses that you can try to perfect. Furthermore, each trick is dynamically animated with ragdoll physics so it's as realistic as it can get. In this game, you can try a whole lot of tricks if you can perform them.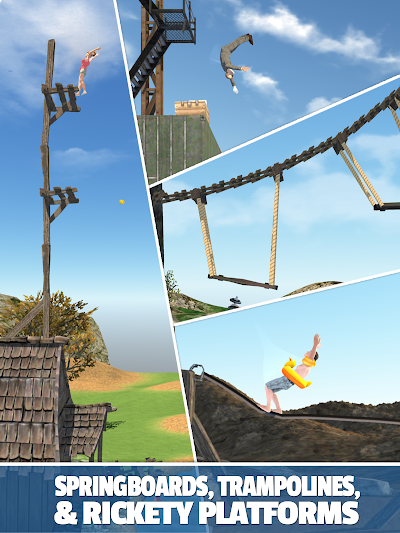 Easy controls – In this game, the controls are as simple as it can get. You just need to tap the screen accordingly. First, you need to press and hold anywhere on the screen. Then, you can release it to start your jump. Then, you need to press and hold in order to tuck. Then, just release to straighten out. This is how easy it is to perform tricks in Flip Diving. You just need to control when you're going to release so you can perform a perfect dive every time. But if you want to change the diving trick and character, just tap the options down the screen.
Locations – In the real world, it might be scary to just jump anywhere. But in Flip Diving, the scarier the jumping point, the more entertaining it is. That's why in this game, you can jump from trees, cliffs, boats, trampolines and more! There are over 50 jump platforms you can leap from. So, there's no shortage of entertainment you can get in this game. Whenever you're feeling like a dare-devil, just jump wherever you feel like jumping and perform stunning stunts.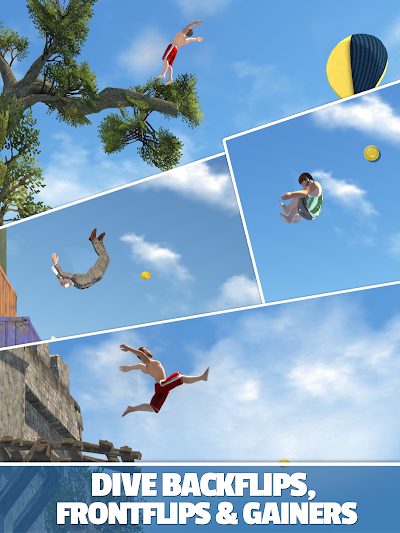 Characters – Another fun aspect of Flip Diving is the characters! In this game, there are tons of characters to choose from such as a Bodybuilder, Businessman, a Girl Diver, a Basketball Diver and many more! Each diver is unique and has their own stats: Difficulty, Jump, and Rotate. But of course, you can only unlock them by having enough coins which you can get from successfully completing dives. But seeing these many options just leaves you wanting for more! Try to collect them all so you can try jumping with each one of them.
Record – In this game, there are no shortage of fun and laughter. You can record your best dives or fails and share them with your friends! This is what makes this game so satisfying.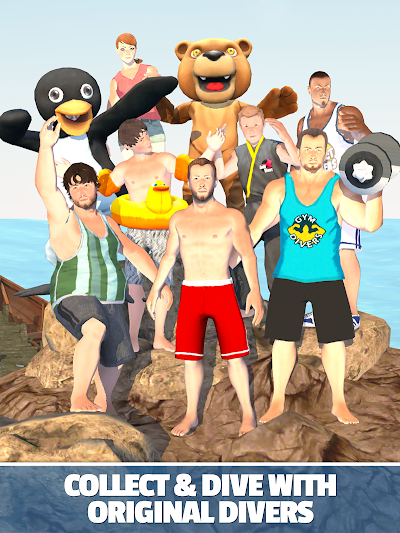 Incredible graphics – Since this is a simulation game, you will appreciate the 3D graphics of this game. The diving physics is on point and the background is well-designed as well. Combine that with the sound effects and you're in for an entertaining time!
Flip Diving APK
Flip Diving is a very fun game that allows you to try different diving tricks. But to unlock characters, you need tons of coins. Don't worry, just download the now and enjoy!