Fishdom APK 7.23.0
Download Fishdom APK – latest version – Free on Android to get some incredible match-3 puzzle game fun. Try it out now and see if you can beat the challenge.
If you're looking for an easy way to kill some time, then match-3 puzzle games are the ultimate addictive solution to solve your boredom. The simple, yet exciting mechanics of match-3 games ensures that you'll be hooked in no time.
Addictive match-3 fun
Fishdom is one of the latest games by reputable developers Playrix. The game follows the same match-3 dynamics as games like Jewel Quest, but adds in a fun fishy element to spice things up a bit. You earn money for clearing the board quickly and efficiently and then you can spend this money on building the ultimate aquarium for your talking fish friends.
Buy fish for your aquarium, and then buy decorations and toys for them to play around with. You can interact with your fish friends and play games with them to keep them in high spirits. Just don't eat them – remember: fish are friends, not food!
Make sure that you keep your fish tank clean and tidy, otherwise your fish will get depressed. Nobody wants to see those cute little fish in pits of despair.
Tips for playing Fishdom
If you're going to play any game for the first time, then it'll help to get some tips to set you up in the early stages. When it comes to match-3 games, you're no doubt already familiar with the basics. Still, here are some tricks to help you get along when playing Fishdom apk.
It's how many you match
Always aim to match more than three objects together – this will give you a bonus. If you match four objects, then you'll get a firecracker which will blow up a few other objects. If you match five, then you'll get a bomb, which will dish out even more damage. If you manage to match seven objects together, then you'll get a warhead, which will destroy almost half of the entire board. Of course, these are very rare – but try your best anyway, especially on move-based turns.
Try to get moves bonuses
On some levels, you'll need to complete objectives in a certain number of moves. If you manage to clear the board with moves left over, then you'll get a bonus for each remaining move left unused. Try to clear as many objects as possible in as few moves as possible to use bombs and firecrackers to clear it as quickly as possible. It pays off in the end.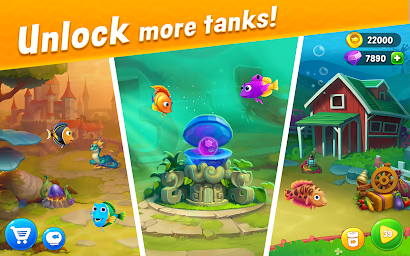 Keep your fish fed
Your fish have a health bar that goes from green to red. Try to always keep it green by feeding them regularly. If your fish are fed well, then they'll start giving you bonus money (from all their fishy enterprises). They won't give you bonus money simply for feeding them when they ask or feeding them. The fish food icon will appear at the bottom of the screen every few hours and you should try to press it regularly.
Keep the aquarium beautiful
Another easy way to bonus money is to keep your aquarium clean. Add decorations to get the beauty meter full and then continually clean it so that you're getting bonus cash from this. The great thing is that you can then spend this money on making your tank even more beautiful.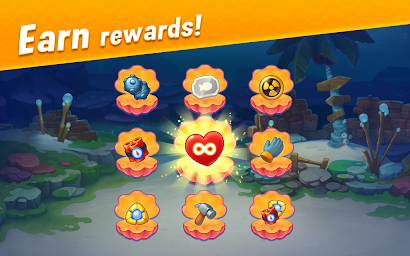 Use lightning
If you keep clearing 4 or more objects, then your lightning bar will gradually fill. Once it's full, you can use it to blast away lots of the board in one swoop.
Download Fishdom APK