Elemental Dungeon APK 1.12
Download Elemental Dungeon APK – Latest version – Free for Android and embark on an epic RPG game filled with magic, mysteries and incredible journey! Can you do it?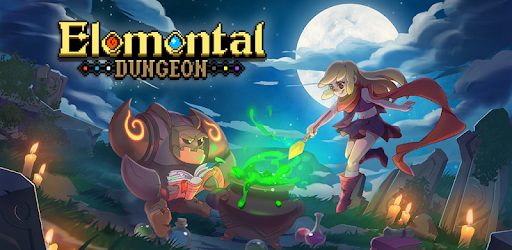 RPG game are always a popular game even outside of mobile games. They are exciting, mysterious and they usually revolve around a story. There are tons of RPG games in the gaming sphere today but some of them are not worth your time. Most are just rehash of the popular ones and they're not even that good. However, some are like hidden gems just waiting to be discovered.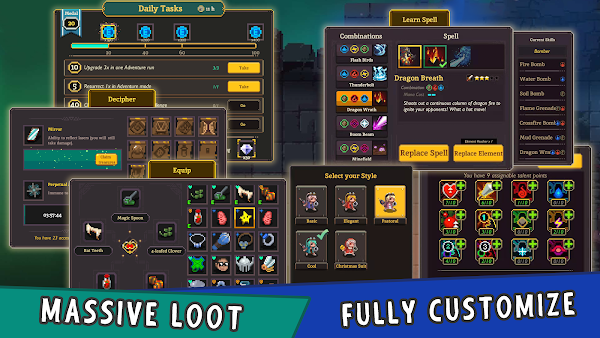 Elemental Dungeon is one of those games. Developed by TBG LIMITED, this game has over 1 million downloads in Google Play Store now! It's also a recipient of many awards from Tencent and other nominations. But what makes this game so popular? Some say it's the pixel graphics but others say it's the epic gameplay. But whatever it is, one thing's for sure – they all make up the game! Read on to learn more!
What is Elemental Dungeon?
RPG games are always a blast to play. They are fun, adventurous, and requires plenty of time to master. And for the most part, you will play them for a long time. This is because you need to upgrade and buy all sorts of items to make your characters become stronger.
Such is the case with Elemental Dungeon. This popular RPG game starts off as you meet a mysterious old man. He will suddenly teach you how to control and use natural elements as powers. He will teach you how to use fire to break wooden boxes. Then, you can also use water to create a barrier to protect yourself. Then, you can also use the earth to create walls to protect yourself. If you're familiar with Avatar: The Last Airbender, you'll love this game! But that's not all there is to the elements. In this game, you can also conquer dungeons where you will encounter different enemies and different traps. Let the old man show you how you can utilize the different elements to fight enemies! There are plenty of ways on how to use them, just learn to master them first.
In this game there are 6 main elements: Water, Fire, Earth, Lightning, Ice and Darkness. In Elemental Dungeon, you can use 3 elements at once and the elements can be combined to form even more powerful spells. When you can combine the 3 elements, you'll have with you the most powerful spell in the game. You can also do all sorts of things in this game, things that you'll find out once you read more!
Features of Elemental Dungeon
Elemental Dungeon isn't your typical RPG game. This one is packed with all the features that you wouldn't normally expect an RPG to have. It's an epic culmination of different games into one. Here are its features:
Epic gameplay – In this game, you'll be free to explore the dungeons. You need to use your skills to pass through different gates. Then, you need to fight the monsters using the different elemental spells you have. Of course, the farther you go, the difficult the enemies will be. This is just normal in any RPG game. But when you die, everything will be put into reset. However, the dungeon will be different so that players can't abuse the system. This will ensure that the game stays fair and challenging. In this game, you don't upgrade your character stats. Instead, you will buy elements and new spells on the shop. Then combine them to create more advanced and powerful skills. Then, you can roam around the dungeon using the virtual pads.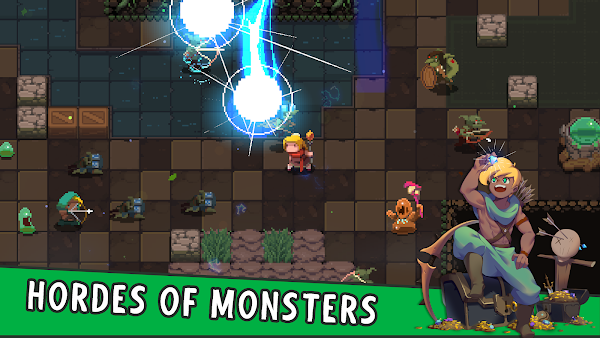 Elements – In this game, there are 6 elements: Water, Fire, Earth, Lightning, Ice and Darkness. You can equip 3 elements simultaneously in Elemental Dungeon. This will allow you to combine them and create more powerful spells. You can also unlock new spell scrolls to learn new spells and become even stronger. Aside from these, you can also create elemental shields to protect you from the same element. To upgrade the elements, you need the same element type and you need to activate the special effects at the Temple.
Strategy and skills – In Elemental Dungeon, you are free to use your surroundings to your advantage. Burn the grasses, freeze puddles, or blow up barrels. These will allow you to have collateral damage and kill multiple enemies at the same time. Then, you can also find hidden passages and magic treasures in Elemental Dungeon. Unlock the mysteries that await in the dungeons and try to become the strongest mage there is!
Multiplayer modes – In Elemental Dungeon you can play with your friends and family in an epic quest together. You can fight alongside each other in dungeons so that it will be easily cleared. Or you can also challenge them in epic fights to see who's the ultimate fighter. Whatever it is, Elemental Dungeon has you covered!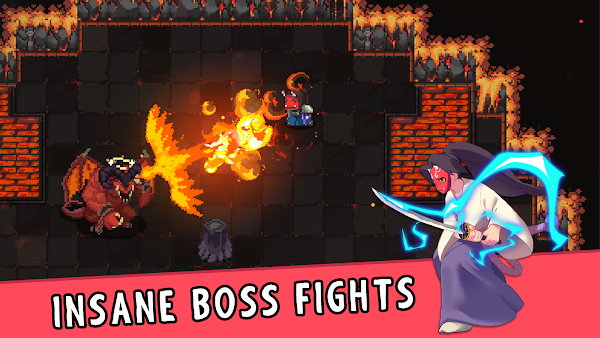 Epic graphics – Elemental Dungeon boasts its well-designed pixel graphics. The unique pixel art and characters will make your heart melt. Combine that with the epic soundtrack and you're off in an adventure of a lifetime! The effects, characters and the monsters are all well-designed giving you the perfect gaming experience.
Easy controls – The controls in this game is easy enough for you to learn. You can move your character freely using the joystick at the left-hand side. Then you can use the elements using the respective buttons at the right side of the screen. Learning them is easy but master them is a different story.
Monetary system – In Elemental Dungeon, there are 3 currencies that are used: Gem, Energy and Coins. The Gems are considered the premium currency. You can use these to buy new characters and upgrade elements. You can only get a small percentage of Gems because they only give out a small amount. Then, the Energy is the currency that can be kept in dungeons. Then, the Coins can be used in dungeons. You can use these to buy things at the Temple and at the shop.
Characters – In Elemental Dungeon, there are 4 different character classes. There's the Mage, Ronin, Hunter, and Bomber. Each of these character classes have different skills and you can unlock them using gems.
Elemental Dungeon APK
Elemental Dungeon is an epic RPG game that allows you to master different elements. Download the unlimited mana now to unlock all the characters as well as elements!