Dude Theft Wars APK 0.9.0.9a10
Download Dude Theft Wars APK – latest version – Free for Android and do whatever you want in this open-world game! You're free to do just about anything!
Simulation games are plenty nowadays. There seems to be more and more people playing these games now because they provide the highest entertainment from normal games. But what if you combine simulation and sandbox games into one?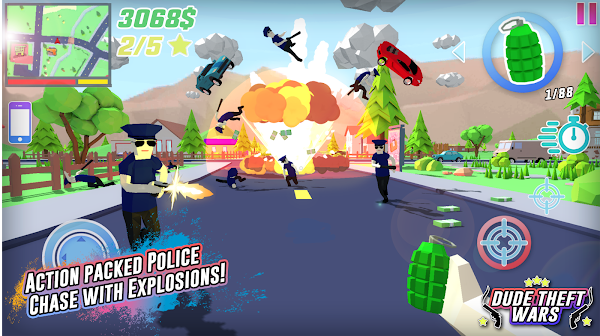 You'd get Dude Theft Wars! This epic game is a simulation and an open-world game developed by Poxel Studios. Due to its popularity, it has reached 10 million downloads in Google Plat Store alone! In this game, you can do anything from driving cars to annoying other people – it's your choice. Think of this as the Minecraft version of the GTA series. If you want to know more, read on!
What is Dude Theft Wars?
What if you lived in a world where you can do anything? Where stealing cars and selling them isn't considered illegal. Where you can be a law-abiding citizen or a ruthless gangster and no one will bat an eye. Will you live in such a world? Who wouldn't, right?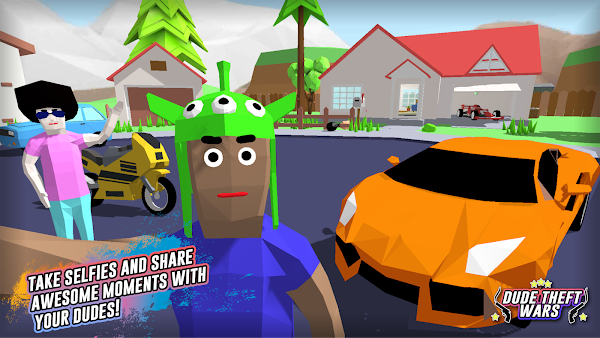 Well, thanks to Dude Theft Wars you can now! This open-world sandbox game is everything you've ever wanted to. You'll be Jack who used to live a normal dude life until he found out about Dude-o-polis! In this game, you can do pretty much everything you've always wanted! Throw grenade at strangers and watch them run, it's prohibited! Nothing can stop you from roaming around the city and causing havoc. Or you can choose to just admire the beautiful designs and help other people.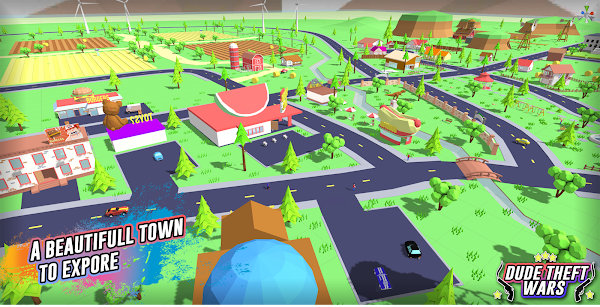 As for the designs, the game is similar to Minecraft. But the gameplay is similar to the GTA series. But most importantly, this game gives you a lot of fun!
Features of Dude Theft Wars
Dude Theft Wars is a completely unique game that allows you to everything you can ever want! From stealing cars to slapping people, nothing can stop you! Here are its features:
Items – In this game, you can interact with almost anything you can see! From TVs to weapons, you can use them all! In Dude Theft Wars, there plenty of weapons you can use such as SMG, revolver, shotguns or you can use your hand to slap people. Then you can also drive different types of cars such as a monster truck, cars, skateboards, UFO, karts and more! You can also order brand new cars using dUber! In Dude Theft Wars, there are tons of things to play with so you'll never get bored ever!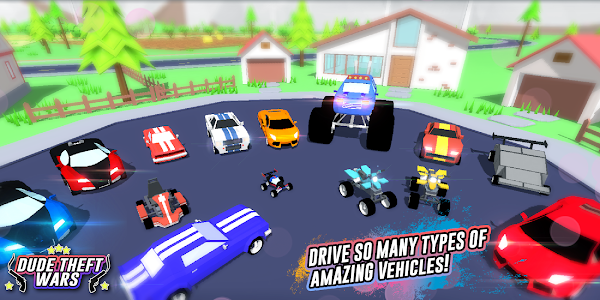 Open-world Sandbox game – In this game, you can become a popular criminal that will do heists. Be prepared because the police will chase you. But this will make for a very exciting gameplay as you try to outrun them. In here, you'll do missions so you can progress the story. But as you do so, you can do tons of other things as well so you can enjoy your way up there.
Epic graphics – The graphics of this game may remind you of Minecraft and Roblox. You may even think that they're a combination of both! But the most important things are you play in a first-person point of view therefore you will appreciate everything.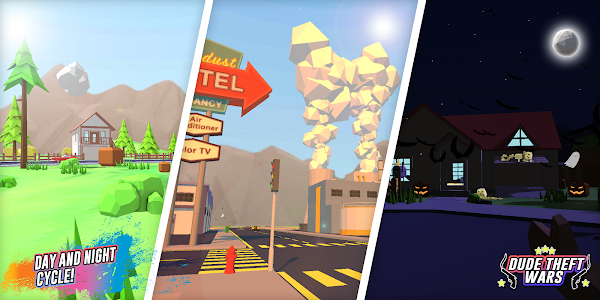 Easy controls – In Dude Theft Wars the controls are fairly easy to learn. The virtual pad is located on the left-hand side of the screen. Then the fire and aim button is on the right side. As for the weapons, you can change it on the upper right button.
Dude Theft Wars
Dude Theft Wars APK unlock all characters is an epic sandbox game that allows you to do whatever you want. Download the unlimited money to enjoy everything!
Similar games: Gta 5 apk and Gangstar vegas apk