Disgaea RPG APK 3.2.10
RPG games are fun games to play whatever your age. In Disgaea RPG, you'll enter the demon world to fight plenty of monsters! Summon powerful characters now!
There have been many games, movies and anime show centered around the demon world. It's always a blast seeing these types of games flourish as this is a fun topic in the world. If you're looking for an RPG with this topic, you'll need to play Disgaea RPG today! This is a brand-new game brought to you by Boltrend Games and it has a unique vibe to it. Here, you'll go to the Netherworld and raise the strongest overlord there is!
In this strange game, you'll get to journey in the Netherworld fighting the strongest monsters and demons around. Search for monsters far and wide while building your own team. Summon many strong protagonists such as Adell, Mao, Etna, Killia, Valvatorez, Laharl, Flonne and many more. In this game, you'll enjoy the usual turn-based game where you'll fight enemies while using various skills. You can then create the ideal team and deal tons of damage!
Enter the Netherworld
In the gaming world, the topic of demons is popular as they're usually portrayed as antagonists. Now, more and more shows, movies and games are reversing the norm as the demons are getting the spotlight. While this isn't to the liking of many, some people might find these interesting. If you do, then it's time to play Disgaea RPG! This is the newest RPG game on the block as it features classic elements from the popular series.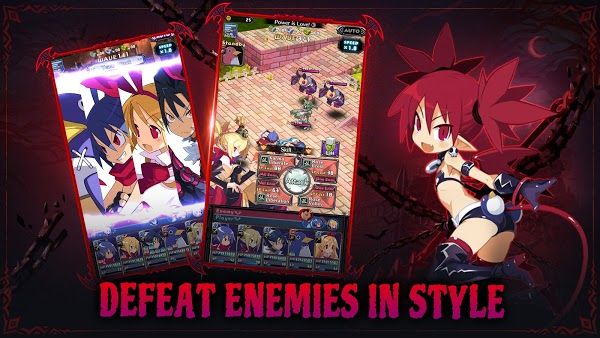 There are many battles that you'll enjoy in the game today from the monsters to even demons! There are so many fun scenarios you'll enjoy in this game such as the original stories and music. You'll enjoy the strange stories of the different demon protagonists now such as Killia, Laharl, Etna, Flonne and many more! Each of them has unique visuals and skills and they will reunite in the game. You'll be able to enjoy the familiar plots if you're a fan of the series. But if you're a beginner, you'll absolutely love everything here.
Here, you can use various skills in battles against different enemies today. You can also awaken and upgrade your characters in hear to reach the max level.
Disgaea RPG Features
Exploring the vast plains is overrated. How about going to the Netherworld instead? In Disgaea RPG, you'll enjoy the time you'll spend here.
Welcome to the Netherworld – The RPG genre is one of the most popular and the oldest ones today. It has existed way before mobile games were a thing and it's still popular right now. Thanks to mobile gaming, RPGs are thriving as players love exploring different areas and auto-fighting. In Disgaea RPG, you'll enter the Netherworld as you raise the strongest Overlord today! Get a chance to summon many powerful demons today and upgrade them.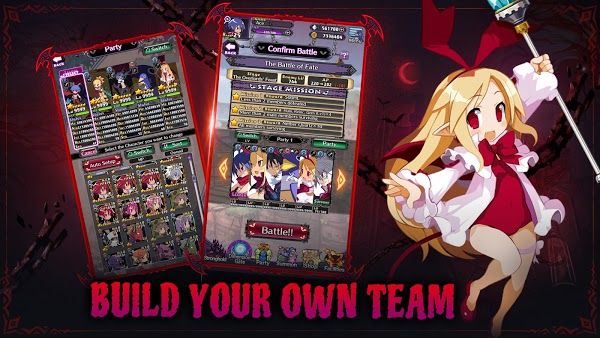 If you're a fan of the series, you'll love the mobile adaptation of this game! Here, you get to enjoy the classic stories, characters as well as the music from the series. Moreover, you'll enjoy the battle systems that will allow you to form the ultimate team to create synergy. Upgrade your characters today and deal insane damage to enemies and monsters. Get the best equipment, travel to different areas and challenge the Overlord's Tower!
Summon Strong Demons – When we see demons in movies and shows, they're depicted as evil beings. They don't have any regard for rules since they're strong and they can stand against anyone. In this game, the same can be said as you'll try to rule the Netherworld with the classic cast. Here, you can summon characters like Valvatorez, Adell, Etna, Flonne, Laharl, Killia and many more. Go in countless adventures today and share a laugh along with the cast.
Original Stories and music – We all know that demons aren't the same from humans. In this game, you'll enjoy seeing the different aspects and stories of each character as play the game. They each have their ups and downs and it's your job to make them incredible beings! Enjoy the classic music and relive the classic plots in the game today. You'll appreciate every cinematic scene in here now.
Upgrade – As you equip many equipment and learn skills and magic, you'll face tougher opponents. With this, you also need to upgrade them regularly so you can face difficult opponents! Get to the max level and awaken the powers of your characters within.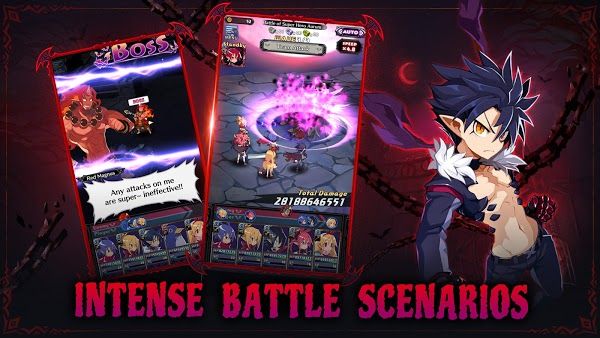 Create your team – Here, you can build your own team of epic characters. Each of the characters will have their own strengths and weaknesses. The more compatible the team is, the stronger they can become!
Edgy graphics – Have fun with the edgy graphics and visually-appealing character designs.
Download Disgaea RPG APK – latest version
Rule the Netherworld today in Disgaea RPG! Summong powerful beings and defeat foes.