Digimon ReArise APK 99.9.0
Download Digimon ReArise APK Latest Version free for Android. Join into the world of Digimon ad experience an entirely new adventure in this fun RPG game for Android.
The mysterious Digimon going by the name Herissmon has suddenly appeared inside of your own smartphone. What could this mean? And now, a group calling themselves the Spirals are attacking.
It is time for you to uncover the secrets of this story in Digimon ReArise. Become a Tamer and raise your own digital monsters "Digimon". Watch them grow stronger, battle alongside them, and then finally digivolve!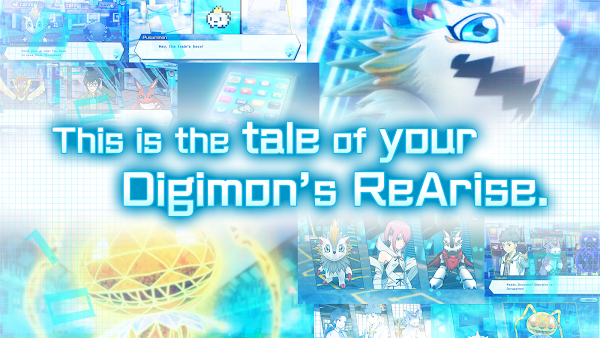 There are a ton of familiar fan favorite Digimon all around. And there might even be some that you've never even seen before. Regardless, this is the game that you want to play! So, go ahead and download Digimon ReArise for Android mobile devices now!
Awesome Features
So, besides carrying the Digimon IP on its back, what other reason would you have to download the Digimon ReArise game? Does it hold up as a standalone game? We definitely believe that it does! But, to understand this, you'll need to know the different features included in the game.
So, here are some characteristics and aspects to look forward to when playing ReArise for Android…
Enjoy a Compelling Story Between Digimon and Tamers: Follow the new and original story set in the world of Digimon. Here, the bonds between digital monsters and their Tamers will be put to the test as they grow and deepen their own connection. Play through the story with all new and original characters and stunning art & graphics.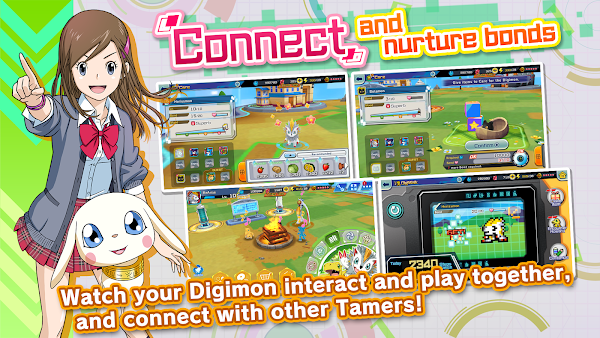 Share Moments with Your Digimon to Strengthen Your Bonds: Watch all of your monsters interact with one another and play in your pocket world of DigiTown. Additionally, you can connect and play with other players to further strive towards connecting more with your Mons.
Battle it Out: Build up your own personalized team of up to 5 different Digimon. Here, you'll be able to truly put your friendship to the test in epic 5v5 battles. Afterwards, you can head to the Battle Park to battle against other strong Tamers from all across the world. Or, take the chance to team up with them in the Clash Battles mode. There, you will battle some seriously powerful Digimon opponents.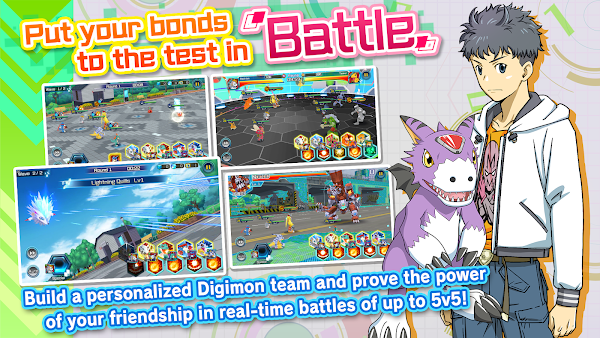 Train Up Your Digimon: Give your Mons some equipment and have them work out to grow even stronger. Also, you can interact with them and fulfill different requests they may ask of you. Eventually, you'll open up the path that allows for your Digimon to reach their next level and Digivolve! These level follow the different stages of a Digimon's class:
In-training is the first class of digital monster. These are the babies that still need to be nurtured to grow stronger.
Next would be the Rookies. These are the child phase of the Digimon. Now, they can at least defend themselves in battle and are competent enough to fight off more dangerous threats.
The next stage would be Champion. Your monster has digivolved into a powerful new form. These Champions are capable of holding their own against multiple threat level Digimon.
Now, Ultimate level Digimon are a force to be reckoned with. These super-strong powerhouses can hold their own in battle.
Finally, Mega level Digimon are the most powerful of the bunch. These guys can completely wipe out opponents in a single attack, if they aren't prepared. This is the apex of a digital monster's strength. Therefore, everyone must strive to achieve this form.
However, not all Digimon can achieve all ranks of power. Only specific ones will be able to reach these different levels. While others will need to accept that they cannot.
Graphics
If you've ever played Digimon Cyber Sleuth on the PS4 consoles, then you'll find the Digimon ReArise graphics to be refreshing. This game has console level visuals and effects that make this one of the better looking games on Android.
All of your favorite Digimon are present here, and they all look better than ever! Watch them as they continue to battle and grow, then eventually digivolving. All of which are displayed with beautiful animations and effects.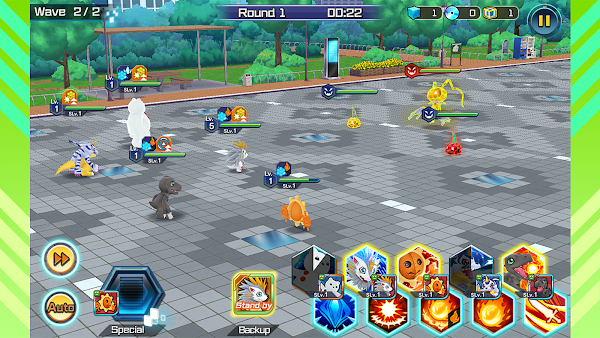 That's not all, even the character art is something to appreciate. All illustrations and designs were made by Katsuyoshi Nakatsuru. If the name rings a bell, that is because they are one of the original character designers of the animated series.
If you're a sucker for a fun and good-looking monster collector RPG game, then this is perfect for you! ReArise definitely hits the mark as being one of the best in the genre, currently for Android mobile devices.
Digimon ReArise APK Free Download
You can choose to get the Digimon ReArise APK download for Android right now. Although, the APK doesn't grant you any special features aside from the Google Play Store download, there are still some cool aspects and reasons to download.
For instance, you may not want your Google account to be used when accessing the game. Instead, you can choose to download Digimon ReArise APK English from our website to avoid this. Also, you'll save some of your own mobile data and storage by downloading the APK over the Play Store.
Both the human and digital worlds may be at risk. Try to protect what you love and fight alongside your digital monster s in this new journey. Get the Digimon ReArise APK Android download today!