Cut and Paint APK 200278
Download Cut and Paint APK – latest version – for Android to test your cutting and painting skills over several objects and try to sell them!
Have you ever been mesmerized by master craftsmen when you were a kid and wondering how they made things? Perhaps you dreamt of becoming one when you grow up but didn't become one?
Meet Cut and Paint APK, the solution to your dreams! In this simulation game, you can cut, paint, trim, and scrape items to your heart's content! There are no limitations to the artworks you can create as you try to sell them to clients! Excited to know more? Read on!
Simplistic Gameplay
If you didn't know, simulation games don't have a storyline or characters to collect. Instead, they revolve around a central theme as you practice and hone your craft in that skill. In this game, your crafting and painting skills will be put to the ultimate test to create your dream masterpieces!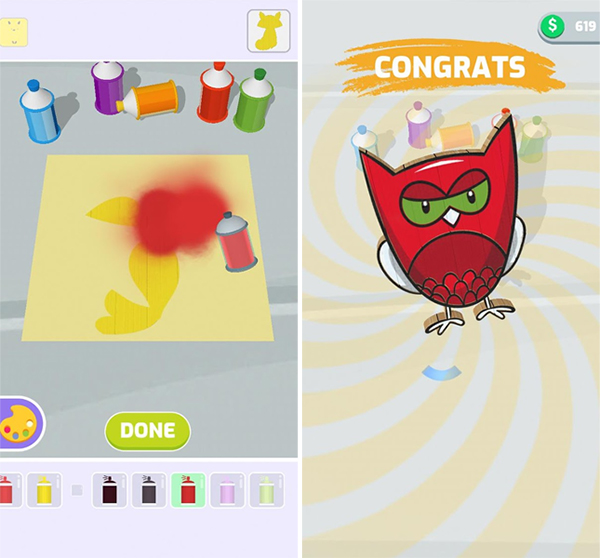 The way to becoming a master craftsman may be long and arduous but with this game, nothing's impossible! By experimenting and doing countless designs, you're able to achieve that in no time!
In this game, you will start by scraping a rough wood template into a smooth one. After that, you begin to cut the wood into the shape that you intend to do by just pressing the button. Next, is the fun part where you'll start to color the wood using different colored spray paints. You'll use different paper blockers and paint over that to achieve perfect designs every time! The only hard part about this is picking the perfect colors to achieve a great combination. Also, you need to ensure that every part is colored otherwise the offer of clients will be low. Yes! You've read that right. That's how you earn money in this game – clients will offer you different prices for your artwork and you just need to pick one.
Features of Cut and Paint
As this isn't just your typical simulation game, there are plenty of features in here. They created a game that exceeds your expectations and so did millions of people when they downloaded the game! With that said, here are the ultimate features of Cut and Paint:
Master the art – In this game, even if you don't know a single thing about crafting and painting, you'll still be able to create awesome masterpieces! That's the whole premise of this game, to simulate in easy ways how most things are created! You don't need to this in real life as you can experiment all you can in this very game without even spending a single cent! The best part is, you'll practice your craft that you can even apply in the real world once you've played enough hours.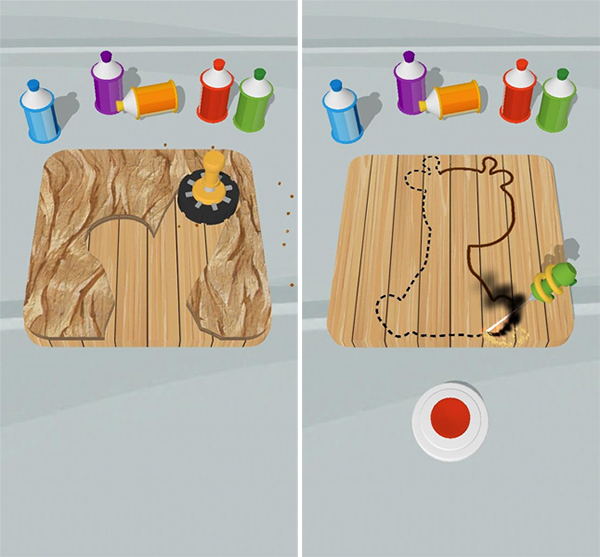 Different art styles – As you finish one design after another, you'll be offered different designs to make automatically. You'll just need to create the designs and pick the colors based on your creativity and imagination. No need to be so strict about it as there are no right or wrong colors! You just need to be able to bring them harmoniously and ensure that there's consistency in the color scheme that you're picking. In this game you can create bear designs and angels plus more! Unlock them all as you play and get more designs created!
Watch videos to unlock features – In this game, there are only limited money you'll get especially at the start of the game. That means you can only buy a limited option for colors, wood surfaces and spray paint styles. But don't worry as you can unlock more by just watching a 15-30 second video advertisement! That's not all. By watching video ads after selling your art, you can double the price you're going to get! How convenient is that?
Simple Graphics – Aside from the simple but unique gameplay, this game offers a stunningly simple graphics too! The graphics may be simple, but they're incredibly-designed. All the details are correct and you can actually even see the shadows of things. What's great is that the effects and how much paint you want to do is well-reflected with the end result. This means that the masterpiece will result to how exactly you want it to look like! Unlike some other simulations where you can only control a certain portion. In this one, everything is made easy but it still looks stunning!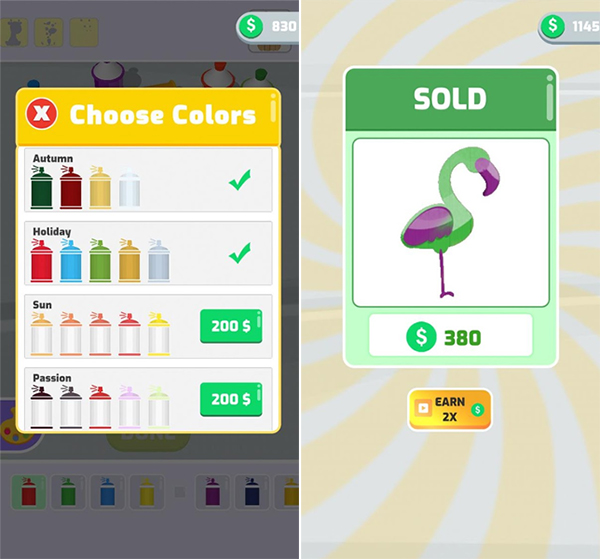 Easy controls – This game's controls are incredibly simple. Since this is a simulation game, you're just going to follow the instructions that are flashed on the screen. This can include swiping back and forth, pressing and holding! That's how incredibly simple the controls are. No complex control schemes or anything. The cutting part is even automated for convenience!
Cut and Paint APK
Don't want to watch video ads and don't want to wait to unlock all the designs? Then, download the unlimited money, no ads now and enjoy it to your heart's content!