Clumsy Ninja APK 1.33.3
Download Clumsy Ninja APK – free for Android to remove your boredom as you train an incredibly clumsy Ninja!
Have you always wanted to be a ninja? Well, in Clumsy Ninja APK, you're not exactly the Ninja. However, you can help him become a fully-fledged one by teaching him how to. You don't need fancy skills to do so, just baby steps at first since he's incredible clumsy.
Become the sensei of your ninja by taking care of him and training his body to do different ninja tricks. This is a lot better than Talking Tom which is just petting a cat. In this game, you'll discover many tricks to punish and teach your ninja to get better. Want to know more? Read on!
Cool Missions
You're never going to get bored when playing this game as there are more than 70 items you can use with your ninja. Some of these items are a chicken, a watermelon, sandbags, trampolines and more.
Clumsy Ninja offers a lot of missions. You progress in the game by completing training courses that become difficult as you go. There are free training courses available but some need gold/coins to be unlocked.
Sleek Customizations
Another fun part about training ninjas? It's that you get to customize their looks! You can change their clothes, glasses, hats down to the minute details like colors. Feel free to change the way they look to suit your needs or get that elite ninja look you're going for.
Simple and Intuitive Control Scheme
In Clumsy Ninja, you don't have to memorize insanely difficult codes or controls just to control your ninja. It's as simple as touching your ninja! Just tap, drag and drop to interact with the ninja!
No complicated controls like in other games. In here, you'll get to have fun right away.
High-Quality Graphics
One of the most defining traits of Clumsy Ninja is the high-quality graphics. This game wouldn't be possible or as entertaining if the ninja can't respond quickly to gestures. But it does, and it has more than that.
The stunning 3d rendering of the ninja as well as the scenic backgrounds make for such an interesting game experience. You'll feel like you're in a cartoon world where you can touch the characters and the background in this game. That speaks to the quality that the game has to offer.
Train, Level Up, Unlock
As you train your ninja more and complete challenges, you'll be rewarded with experiences. You can use these to level up your ninja in order for him to be less clumsy. Work hard and train like a true ninja to unlock skills and powers.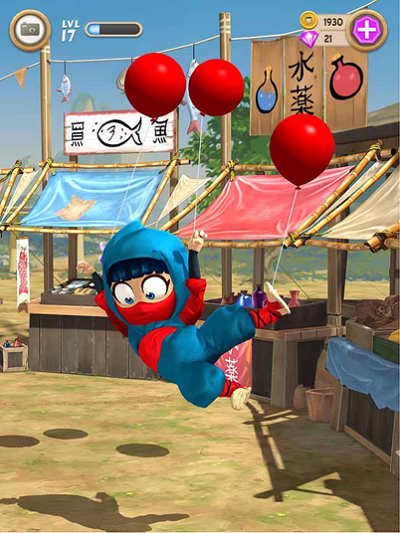 Overtime, you'll notice that your ninja will become less clumsy but the challenges will increase in difficulty as well. This is necessary in order for your ninjas to become certified.
Epic Journey
Aside from the training, the game also has an epic story that will leave you speechless. The first thing your ninja needs to do is to find his long-lost friend Kira. Go on epic adventures with your ninja as you discover new places, interact with different characters, and unlock gameplay that are interesting.
Tips to Get Your Ninja from Clumsy to Elite
When you're faced with the task to train a clumsy ninja, there's not a lot you could achieve. You're going to inevitably face a lot of challenges along the way. But that shouldn't stop you from training him! If you want to know how to get your ninja from clumsy to legendary, here are our tips!
Train Hard – The best tip we could give you is to just go at it. Your ninja won't level up by himself. Complete challenges and trainings to get XP and to get new training items. As you progress, you'll get greater items that you can use to train with your ninja.
Stop paying for repairs – As you train with your ninja, your items will need to be repaired after. The game offers a few options to speed up the process; buy gems and use them or tweet/watch a short video. Don't just mindlessly spend your gems on things like this as there are significantly better ways to spend them. Just tweet or watch a short video as much as possible. Or better yet, just wait for it to get fixed for a period of time. After all, patience is a virtue that a ninja must have.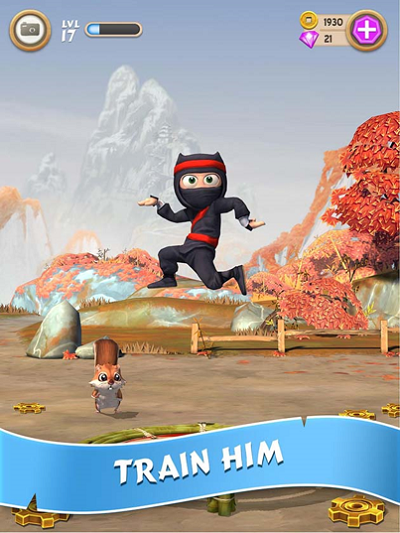 Pop balloons for XP – If you didn't know, popping balloons will give you a big boost of XP except for the Fiery one. Our tip is to get the Sky balloon early on for only 4 gems as this will give you big rewards. Then, once you reached level 9 you can spend 25 coins to buy 5 blue balloons. To give you an idea of how much popping balloons can give you XP, here it is:
Natural balloons - 50 coins for 5 or 6 gems for 10 - 1,100 XP
Sky balloons - 25 coins for 5 or 4 gems for 10 - 430 XP
Sensei balloons - 75 coins for 5 or 8 gems for 10 - 6,300 XP
Multicolored balloons - 100 coins for 5 or 10 gems for 10 - 10,000 XP
Make sure to complete all training – Before logging off each time, make sure that you didn't miss any training. This is a good use of your time as you wait for Sensei to repair your items.
Get daily bonuses – If you don't have the time to play and train with your ninja, just make sure to open the app and collect your daily reward! Then, you need to put your ninja to sleep for the day so you can collect your rewards tomorrow too. Aim to consistently log in for 7 days in a row to get 1,000 coins!
Clumsy Ninja APK 2023
If you want to progress and have Unlimited Coins, Diamonds, then download the now. It's way faster and cheaper without paying anything!