Chrono Trigger APK 2.1.2
Do you want to enjoy a timeless RPG? If you do, then you can download Chrono Trigger today! There are so many enjoyable features you can play in this game.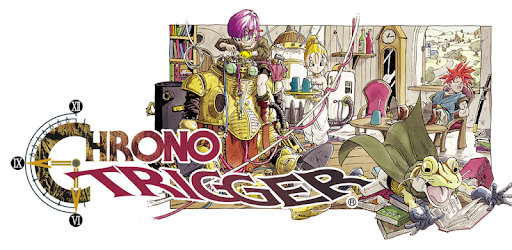 RPG games are popular today since they allow us to play with so many characters and features. If you enjoy these games, there are so many enjoyable RPG games where the story is unique, and you can go through many adventures.
There are so many enjoyable RPG games today but if you want to play a vintage one, try Chrono Trigger now! This is a classic among the classics that Square Enix produced.
If you're a fan of Dragon Ball, you'll love the character designs here as they're similar to popular anime. Here, you'll play as the hero who has gone through a time machine into the past and in the future where you'll save plenty of civilizations.
Enjoy countless items and weapons that you can collect here and even abilities you can master. There are different combos that you can execute between characters while battling here. Go through countless dungeons and adventures now.
Exciting RPG
The world of mobile gaming is filled with action, shooting, simulation, and RPG games today. Many classic games are making their way to the modern era, where new and old players are looking for them.
If you want to experience plenty of classic games, Google Play Store has a lot to offer. One of the most intriguing and enjoyable vintage RPG games is Chrono Trigger! This is a game that has been entirely revamped for mobile gameplay today.
In this exciting game, you'll go through many missions and quests, not to mention the adventure that awaits. The characters are similar to Akira Toriyama's Dragon Ball since he's one of the game's original creators.
There are so many fun adventures that you'll go through, including the past, present, and future timelines! Enjoy collecting many pieces of items, unlocking mysteries, and going through epic adventures here. Fight through hordes of monsters and perform powerful combos!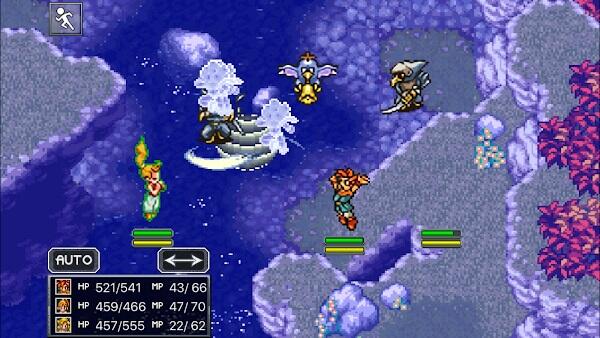 There's also the Dimensional Vortex and Lost Sanctum dungeons that you can explore here. There are plenty of secrets that will be revealed when you play this game today.
Highlights of Chrono Trigger
There are many fun games when it comes to RPG. But Chrono Trigger is a different breed.
Experience RPG at its best – There are so many fun RPG games that have been made over the past years. Before mobile gaming has become a thing, RPG games have been popular with PC and console gamers.
But now that many old games are coming to the modern era, we can enjoy them once again. With Chrono Trigger, you can enjoy a timeless masterpiece that will let you have fun with many adventures!
This is a game with pixel graphics and an art style similar to the popular anime Dragon ball. In here, you'll travel through many timelines from the past to the present and the future! Save humanity as you know it by going through dungeons, fighting enemies, and going through many adventures.
There are many secrets to discover, mysteries to unlock, and abilities to use! Enjoy many powerful combos and a fun-filled adventure today. You can go through boats in various places, walk around and enjoy the city!
Enjoyable characters – You'll enjoy plenty of the same characters that the original game introduced in this game. The main character Crono is a powerful and just guy who's willing to do anything to save someone and even the whole world.
There's also Marle which is the girl who's accidentally transported to another dimension. Then, there's Lucca and many other characters that you'll meet along the way. There are so many friends and foes that you'll meet here and have fun with!
Tech moves and combos – In this game, you can perform Tech movies which are abilities and skills you can use. There are also magic skills that you can unleash in here and over 50 various combos that you can execute!
You can fight using two to three characters here, where you can enjoy many combos. Fight monsters and gain experience as you go! You can also unlock weapons, vests and buy so many items to use here.
Dungeons – You'll go through several dungeons like the Dimensional Vortex, which allows you to go through different times and dimensions.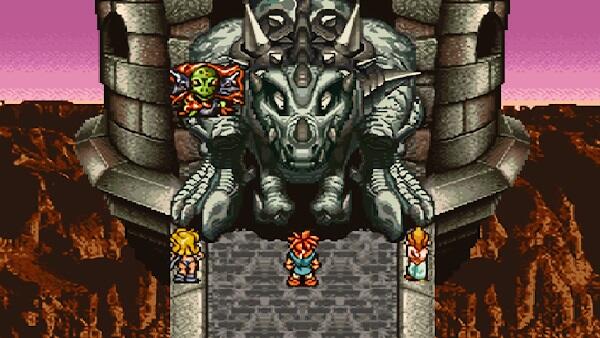 Then there's The Lost Sanctum, where you can go through prehistoric times today. Enjoy venturing into the outside world full of mysteries today!
Pixel graphics and fun sound – If you love pixel graphics, this game will appeal to you. The controls and sounds are enjoyable as well.
Download Chrono Trigger APK – Latest version
If you want to enjoy a classic RPG, then Chrono Trigger is the game you can download today!