Castle Fusion APK 1.9.7
Are you a brave warrior who likes to tinker with weapons? Play Castle Fusion today, so you can combine identical towers to create powerful ones right away.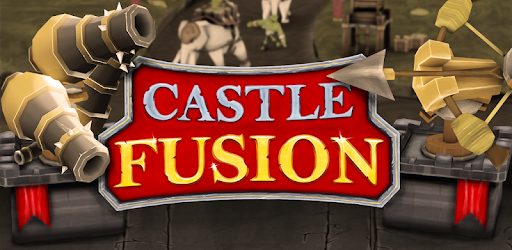 Are you a huge fan of tower defense games that were popularized years back? Do you wish there was a game that brings this genre back but with modern features as well? If so, your wish is granted as Castle Fusion is now here. Created by Shark Jump, this game is an upgraded version of tower defense which lets you combine similar weapons to form a stronger one. Here, there are numerous monsters trying to get in to the castle.
Fight for your castle in this game as you drag and drop similar towers together and generate powerful ones. Don't let enemies close as you also unlock turrets that will stop them in their tracks. In this game world, there are many towers that you can use and add. You can also upgrade them so they can become powerful against orcs and other enemies.
Defend Your Base Using Towers
Tower defense games are always a reliable game to play when you're getting bored. They provide a steady stream of constant fun and can even turn it up a notch sometimes. However, Castle Fusion isn't like the boring ones you always see on Google Play Store. This one has an improved gameplay that lets you add towers together to get a more powerful one. The more you add, the more powerful towers you can get!
Set in the medieval world, you'll follow the story of heroes trying to save the castle from monsters in the wild. These monsters are orcs, elephants, and more. Protect your castle by merging weapons together and placing them on the battlefield. They'll automatically shoot an enemy they see on the sight so you just reap the rewards. Aside from that, you can upgrade them as well as compete in the leaderboards to gain points.
Castle Fusion has one of the most appealing graphics for a tower defense game. The towers are designed just like in medieval times but they also have modern touches. All in all, the game provides a great way to kill your time.
Castle Fusion Highlights
Are you a valiant warrior who's not afraid of orcs? Play Castle Fusion today so you can defend the castle easily.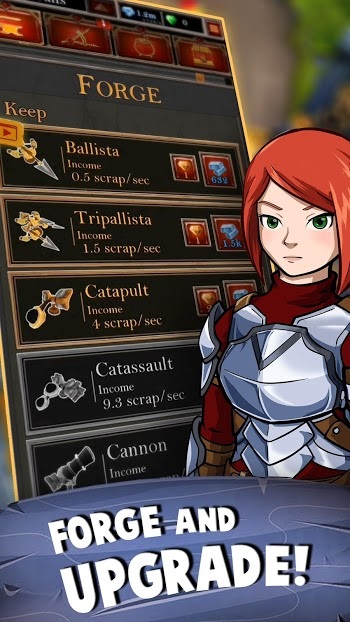 Unique Tower Defense Game – Tower defense games are a reliable genre as there are plenty of them available. But for people who can't get enough of the regular games, they should try Castle Fusion. This game is literally a fusion of your favorite castle games with casual games as well. Simply put, all you'll be doing is defending the castle by merging the weapons to form powerful ones. Aside from that, you can take on quests and receive appropriate rewards.
This is a game where you can enjoy non-stop action and improvements. There are dialogues as well from heroes who're trying to save the castle. Enjoy a simple and idle gameplay that will take you back to the medieval times.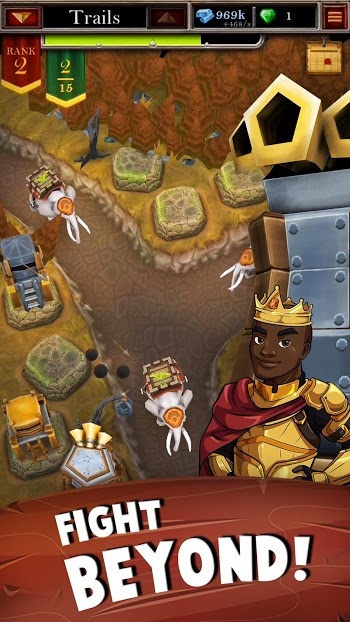 Merge Weapons – One of the main aspects of this game that you'll enjoy is the fact that you can merge similar weapons. For instance, increasing a double-bow turret will yield you a triple-bow one! Then, you can keep on going until you get a lot of powerful ones on your side. In this game, there are a variety of turrets you can unlock and use such as bows, cannons, and outposts. There are no limits to how many you can use just make sure that there's enough space on your tower for them.
Select Quests – In Castle Fusion, there are also a variety of quests that you can start and complete. Each of these have different objectives but revolves around the same gameplay – kill enemies using towers. Here, there's the quest of protecting the princess, not leaving a comrade and many more. Each quest has their own levels, time and the rewards. This means that you can enjoy a variety of game modes every day!
Forge and Upgrade – In this game, you will have a workshop where you can forge crates. These can then be used to acquire different weapons such as the Ballista, Tripallista, Catapult, Catassault, Cannon and more. You can also upgrade these ones so they can generate more income per second to you. Enjoy managing different weapons now and unlock their full potential.
Medieval Graphics – The game is set in the mediaeval world where monsters exist to destroy castles. Enjoy a realistic setting and graphics as well as weapon mechanics. Lovers of tower defense games will love this one as it features full 3D environments and characters.
Download Castle Fusion APK – Latest version
Download and play Castle Fusion now and merge similar weapons together to make them powerful. Defend the castle from numerous monsters!