Car Industry Tycoon APK 1.7.5
Download Car Industry APK Latest Version free for Android for another great idle simulator game. This time, it's with your very own car factory and garage.
Now is the time for you to live up to your dreams. Build up your very one car factory from the ground up! Afterwards, you call the shots – manage everything going in and out and become a pro in the industry.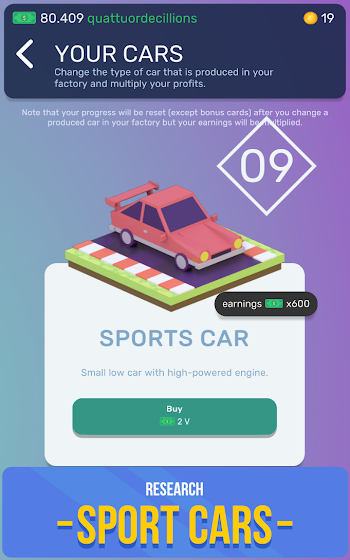 Building new cars for customers, growing your business, earning tons of cash is the main objective to strive for. Do you have what it takes to become a billionaire in the business? If so, download Car Industry Tycoon for Android.
Idle Business Management Fun
First building up your empire isn't going to be walk in the park (or drive in the garage). You'll need to hire workers and staff, collect cash, and manage all the small details of your own business.
In addition, you'll need to create car parts to sell to customers. There are many different models of cars that you be built. Also, the more you upgrade the machines in your factory, the more car models are able to be built. So, remember to save up some cash to get upgrading as soon as you can.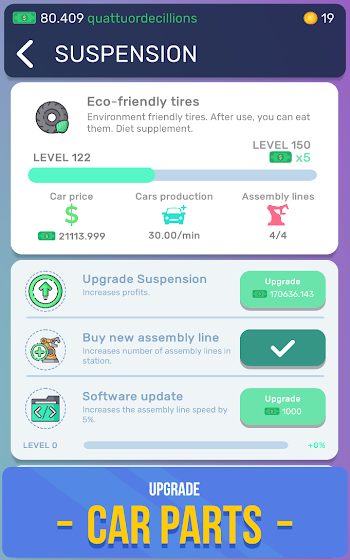 Parking will also be an important aspect in Car Industry Tycoon. Obviously, you'll need to have enough customers coming in to make money. The more space in your parking area, the more people will come to your business. Furthermore, you can upgrade your parking to increase the size and overall number of customers.
Anyone can pick up and play Car Industry Tycoon - Idle Factory Simulator. The game is fairly easy to start playing. However, if you want to become a master in the industry, a lot of time and effort will need to be put into your industry. Not everyone can handle the pressure of owning a business empire.
As you progress and make some serious cash, various aspects of the game may become easier to access, but harder to manage. As people come rushing into your factory, you may get a little overwhelmed.
Thus, it is always recommended to start the game slow and work your way at a consistent pace. This way, you'll gradually make money, while learning not only the basics, but pro strategies to use in the long run.
Ultimately, this is one of the greatest idle strategy games for car lovers and upcoming entrepreneurs!
More Features
There are extra additional features in the game to keep your occupied, there's now wonder people love this game. Features of Car Industry Tycoon include:
12 different cars that you can build – As you raise your prestige, more cars will become available at a time!
Many, many, MANY different technologies to buy, utilize and manage.
Various side quests to keep yourself occupied.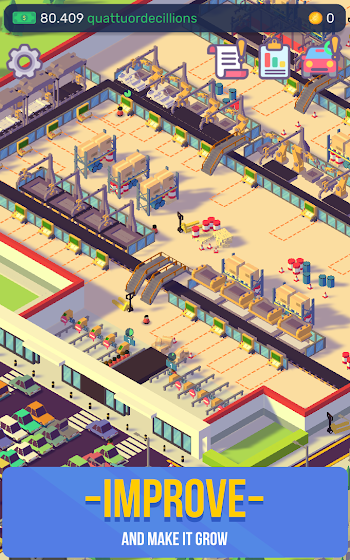 9 different machines are also available in your factory, which can be upgraded and improved for better results.
Intuitive gameplay from a unique bird's eye point-of-view.
Play anytime, anywhere. Regardless of internet connection, offline play is the best way to enjoy this game!
Many more aspects of the game are just waiting for you to figure out for yourself. You'll need to download Car Industry Tycoon for Android to see for yourself.
Car Industry Tycoon APK 2020 Free Download
The definitive version of the game to play would definitely be the modified version. If you're not playing this version, you cannot truly enjoy idle business management. How else will you be able to develop your industry and be fully satisfied?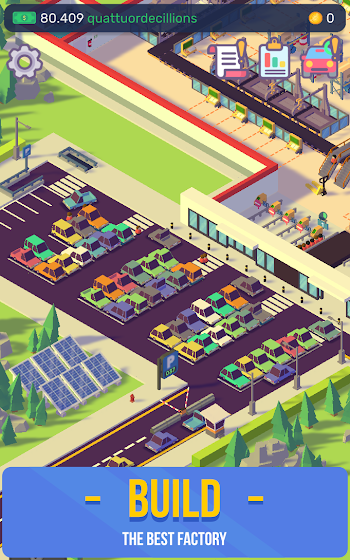 Modified features include:
When you download Car Industry Tycoon APK unlimited money, you don't need to worry about upgrades and prestige.
So, get this version of the game to fully enjoy all features as quickly as possible. Download Car Industry Tycoon APK 2023 version now!