Boxing Gym Story APK 1.3.5
Do you want to manage your own boxing gym full of professional boxers? Download Boxing Gym Story today and try to manage your own boxers to win.
Boxing is one of the major and most popular sports around the world. Each match almost attracts millions of viewers around the world! Popular boxers such as Pacquiao, Mayweather and more have earned millions in their profession. But if you want to manage your own boxing gym, it's your chance to do so in Boxing Gym Story. This game is a fresh one with retro graphics and an enjoyable gameplay.
Created by Kairosoft Company, this boxing gym simulator allows you to manage your own group of boxers. In this game, you'll be training boxers, hire trainers, and upgrade your facilities. There are tons of boxing matches that you'll held and championship belts that your boxers can take home. You just need to guide your boxers and make informed decisions. Can you make an interesting tale?
Manage a Boxing Gym
Boxing is one of the hardest sports mentally and physically. It requires years of training and effort for one boxer to even step his foot into the ring. Because of this, not a lot of aspiring boxers eventually become a professional boxer. But if you're here today, you can help a lot of amateur boxers make their dreams as a reality as a boxing gym owner!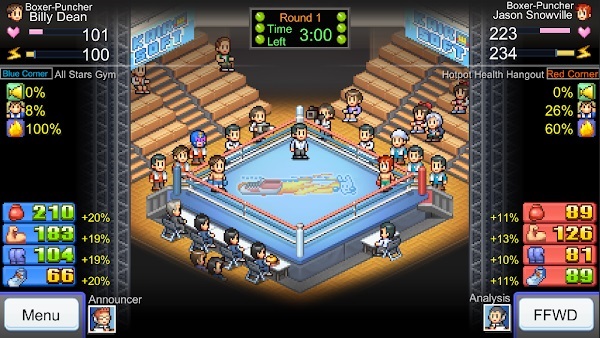 You'll have your own gym to manage in Boxing Gym Story. In this game, you're able to create your own gym and invite many aspiring boxers. The more wins your boxers rack up, the more money you'll earn as well. Your boxing gym will also rise in popularity allowing many boxers to participate in your gym. Plus, you can upgrade your boxing gym facilities and add spa baths, cafeterias and many more. You just need to take note of your boxers and train them. In addition, you're able to watch the boxing matches of your boxers! The graphics are all retro-style so you will enjoy everything you'll see. Bring home many championship belts and spread your legacy!
Highlights of Boxing Gym Story
Are you a huge boxing fan? If so, then you must play Boxing Gym Story now. Here, you'll work as a boxing gym owner in charge of everything!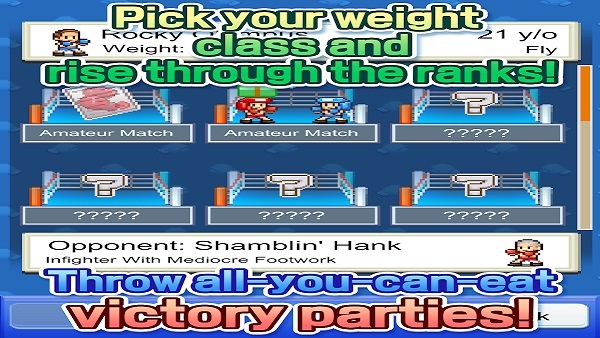 Manage boxers – If you want to be a boxer, you must endure a lot of hardships throughout the years. There's no shortcut to becoming a great boxer and you must make a lot of decisions. One of those decisions include choosing the right boxing gym for you. If you want to help aspiring boxers, play Boxing Gym Story. Here, you'll be a boxing gym owner who's in charge of aspiring boxers in your city. You'll select their weight class and their opponents. You will also be in charge of training and guiding them. Or you can hire trainers to help you. Overall, the more wins your boxers rack up, the better it is for your reputation as a gum owner.
Improve their stats – Most boxers start off with mediocre stats. They are diamonds in the rough. This is why your role as a gym owner is to cultivate their abilities and let them develop. For this reason, you'll see every info about the boxer in their status. You will see their HP, skill, punch, charm, stamina, defense and footwork. You'll notice that there's a grading system that determines their skills in each of these categories. The lowest is F and the highest is A. It's your goal to help them develop all their skills to their full potential through rigorous training and healthy relationships. Don't give up on any boxer because you never what the future holds for them. They may just be the one to bring home a belt for you!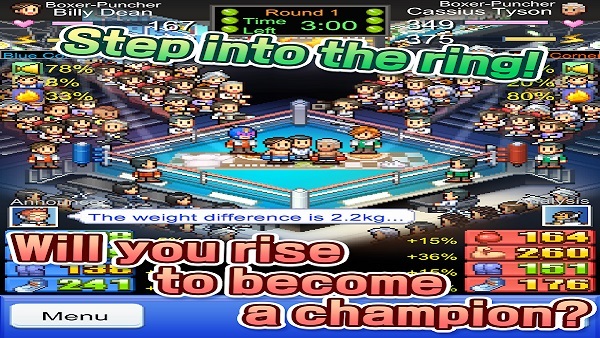 Hire trainers – As a boxing gym owner, you also need to think about leveraging some of your work. As a business owner, you still need to make a lot of decisions. One of them includes hiring trainers to make your boxers become stronger and more skillful. Remember that these trainers cost money as well so you should prioritize your earnings as well. But if everything works out, your investment will pay out in the end.
Upgrade your facilities - Boxing Gym Story also allows you to upgrade your facilities! Here, you can get new boxing rings, training equipment, cafeterias, spa baths and many more. The more you upgrade your facilities, the better training your boxers will get. Plus, you can throw celebration parties to the boxers who win!
Retro graphics – This simulation game features retro-style graphics which makes it extremely pleasing to play. Not only are the graphics cute but the animation as well.
Boxing Gym Story APK – Unlimited money
Want to see if you can raise boxers to be champions? Download Boxing Gym Story now and showcase your skills.