Bowmasters APK 2.14.10
Download Bowmasters APK Latest version – for Android and partake in a brutal archery game for the ages!
Archer games have been around since the dawn of Android and iOS. There's something so satisfying about hitting a headshot from so far away. Plus, these types of games aren't as graphic-intensive as say - shooting games.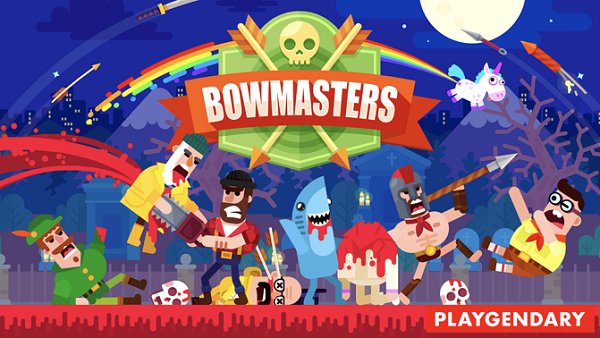 But in a sea of archer games, there's an outlier. A game that's as popular as other hyper casual games out there. It's called Bowmasters! If you love Angry Birds or basically anything that is a trajectory shooting game, then you'll instantly love this game too! But it's not just a simple archer shooting game, there are much more to love in this game. We're going to talk all about that in this article!
Ready, Aim, Fire!
From Miniclip comes a game so smooth and so addictive, you'll forget your name! Bowmasters is a simple yet fun to play game that's suitable for almost all ages. When we say almost all ages, that's because there's a little bit of blood and gory in this game.
But overall, the cool character designs and the incredibly simple gameplay makes this a 10 out of 10 instantly. The key to victory in this game is how well you can calculate the distance and aim the arrow. Everything else is child's play. You and your opponent take turns hitting each other until the one with HP left wins!
The game has no story mode nor any backstory on the characters. It's as simple as it gets yet it gets the job done. Each match averages to around 1 to 2 minutes. You can simply whip out your phone and play this game anytime and anywhere!
Bowmasters Features
Even if this game may look super straightforward, there are some features that you probably don't even know. It's our job to inform you these so you can enjoy this game to its fullest potential! Be prepared to be amazed:
Incredibly Simple Graphics – As we've mentioned earlier, the game looks incredibly straightforward. However, everything is beautifully designed and meticulously crafted such that they bring enjoyment to players. When you successfully hit an enemy, you can see blood splatting and their flesh flying everywhere. That's why the design is made to look this way so as not to look violent. It's a simple 2D graphics game that entertains a lot of people.
Fun Characters to Choose From – What makes any game enjoyable is the cast of characters. If they're just a generic list, players won't enjoy it as much. But in Bowmasters, every character is designed with fun in mind. Each of them is unique and has a theme going on. You'll get to unlock characters with familiar faces from Disney animations and cartoon shows. For instance, you can choose Thor or Deadpool and they also have their own weapons. For Thor, his hammer while Deadpool uses a sword.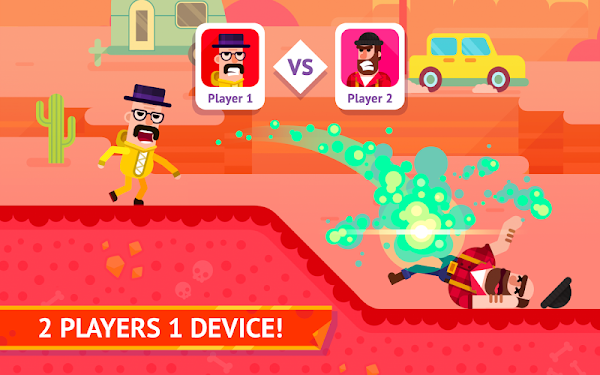 Different Modes – To make the gameplay more interesting, the developers added a little bit of variety in the modes. In the normal mode, you'll play against an enemy on a 1 vs. 1 match to the death. You can play against an online player or an AI. Challenge your friends or family to a match to see which one is the better archer. Furthermore, you can select "move" or "fixed" targets to vary the difficulty according to your liking. Aside from that, you can play their mini games such as Hunting Ducks or Shoot the Apples. Lastly, there's a tournament weekly for online players to test their aiming skills against other players worldwide. Are you the best in the world?
Tips to Become a Bowmaster
Becoming a master archer isn't easy. It requires practice and incredible skill. That's why we're here to give you the list of top tips to make this dream a reality. Here are some tips to help you become a bow master:
Go Full Power – At the start of the match, its normal to take your first arrow as a way to gauge your distance to the enemy. But our advice is to do it with an attack that's at 100 percent. This way, you can still deal a bit of damage even when it barely hits. As for the range, try to clock in between 10 to 20 percent.
After hitting your opponent, your next arrow should adjust depending on the reaction of your opponent. If they get hit and stepped back a little, try adjusting your next shot. If they got back up after getting hit, you shouldn't change your projectile.
Master them all – In order to become a true bow master, you first need to master every character there is. Every character comes with his/her unique weapon. It's your job to figure out how they work and to master them. The standard weapons are the ones which fly straight down but they deal a lot of damage.
On the other hand, there are rotating projectiles which are heavier and slower in the air and their damage output isn't big. However, using these weapons are easier to land a hit on opponents so you might be able to chip away at their health using these. Lastly, there are special projectiles are a combination of the other two projectiles forming a combination that will surely knock your opponent out. They also activate a special ability when you tap them in midair. They're great weapons but hard to master so practice and try them all.
Get more coins – Getting more coins allows you to unlock more characters. The normal ways to get coins is through headshots and pulling off fatalities. The Bird Hunt mode is also a great way to gather easy coins. Or you can always watch video ads in order to get more retries or double coins as rewards.
Bowmaster APK
If you don't want to bother with video ads, you can always download the unlimited coins and gems . This way, you'll be able to play all the characters and play all you want!