BlackHole APK 1.13.0
Download Blackhole APK latest version and stream/download all the songs you need. You will revolutionize your playlist and enjoy music in all genres without restrictions.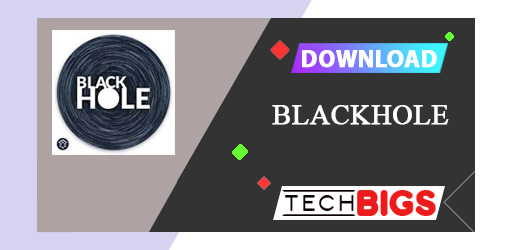 | | |
| --- | --- |
| Name | BlackHole |
| Updated | |
| Compatible with | Android 6.0+ |
| Last version | 1.13.0 |
| Size | 26 MB |
| Category | Music & Audio |
| Developer | BlackHole |
| Price | Free |
Complete Details about Blackhole APK Download 
Blackhole Pro APK is a free music application that supports online and offline listening of your favorite music. It offers thousands of songs in different genres. You can be sure that you will get songs that will keep you dancing all day!
It has a simple user interface that guarantees easy navigation, even for beginners. It was developed from the Google's SDK specifically meant for creation of Flutter Apps.
Overall, the app will transform your music experience. Download its latest version today and start building your playlist. It is only 10 MB, making it relatively lightweight. As such, it does not affect the functionality of other applications.
How Blackhole APK Works
Using Blackhole APK is convenient. You only need to download it on your Android device and start listening to your favorite music. It can search for thousands of songs that are free and legal.
The application will display both the song's title and its artist. Thus, you will pick the songs that suit your taste without a hassle. Whether you are a fan of pop or rock music, Blackhole APK guarantees you an excellent experience.
The app also allows users to create playlists and share them with friends and family members. This makes it convenient for those who want to promote their content. Even better, most of the songs come with lyrics, so you can sing along and learn the words.
Blackhole APK Features 
Top-Notch Sound Quality.

The songs are provided with high sound quality of 320kbps to ensure that you can enjoy listening. You don't have to worry about poor audio while streaming or downloading songs.

Multilingual Song Catalog.

The app offers songs in different languages. Users can select their preferred language, including English, Indian, Chinese, Vietnam, Japanese and Korean.

Easy to Use Interface.

The app has a simple interface that even beginners can use without hassle. Users won't get confused finding their favorite songs.
Social Media Integration.

You can post your playlist on social media platforms, such as Facebook and Twitter, allowing you to share them with friends at the touch of a button.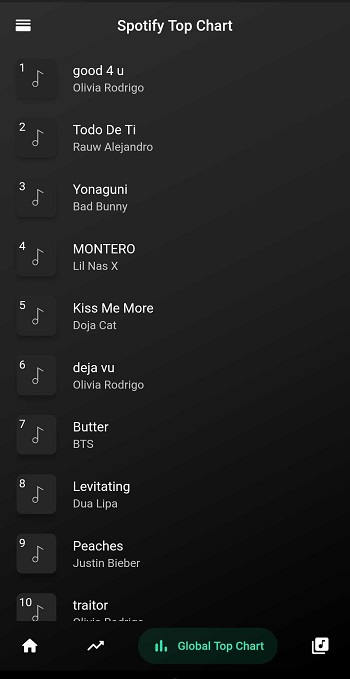 Allows Offline Listening.

Blackhole APK is designed to allow music downloading. As such, you can create an offline playlist to listen to whenever you are out of network coverage.

No Ads.

This app has no ads, so you won't be interrupted while browsing through songs and playlists. You will enjoy an ad-free experience and relish the music of your choice without annoying advertisements.

Exportable Spotify Songs/Playlist.

You can export your Spotify songs/playlist to Blackhole APK for easy access.

No Monthly Subscription Fee.

You don't have to pay any monthly fee or download songs by album. You can listen to all the free music you want with this app without worrying about charges, subscriptions, limits, and fees of any kind.
Get Many Trending and Popular Songs.
Blackhole Pro APK features the latest and most popular international songs. You can listen to all of them for free at any time. The developer updates the app frequently, ensuring that you listen to the latest popular songs.
Additionally, the app includes a collection of oldies but goodies. It also features international pop and rock music from all over the world. If you prefer listening to Indian or Asian music, Blackhole Pro APK offers a wide selection that you will love.
Convenient Search Options
The app allows users to search for songs and playlists based on their artist, title, and genre. The search engine is amazingly fast, and you can start listening to your favorite tunes in just a few seconds.
Additionally, Blackhole Pro APK offers recommendations for new songs that might interest you. This feature saves you time by presenting you with relevant results.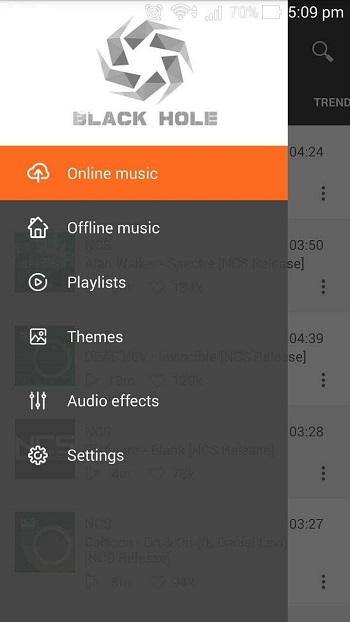 What's more, you can sort all the results according to their title and date added. Thus, if you want to find the latest or popular songs, this app guarantees an enjoyable experience.
Add Your Songs to Favorite Folder
If you like a song, you can add it to your favorite folder so that you can find it easily the next time you want to listen to that song.
This feature ensures you won't have to scroll down if you want to listen to your favorite songs. Moreover, you can continue browsing for other music while listening to your favorite songs in the background.
How to Download Black Hole APK File
Downloading the Blackhole APK is a straightforward process that only requires a few simple steps. You can get the APK file by following these instructions:
Go to Settings > then Security > and Turn On 'Unknown Sources'
Download the .apk file on your Android device

Open the app after successful download.

Complete instructions are given in the "Downloads" section.

Launch the application
Additionally, you can download the Blackhole APK version. This APK has no ads, allowing you to enjoy an ad-free experience. Simply follow the instructions above and install the APK onto your Android device.
Conclusion
Blackhole is your go-to music streaming app when you're looking for something new to listen to. Whether you want to relax, party, study, work, exercise, or anything else for that matter, Blackhole has your back.
This app offers a wide selection of free music streaming services on an international level. You will be exposed to all the latest hits from popular artists of all times.