Basketrio APK 2.9.1
Download Basketrio APK Latest Version free for Android. Next generation mobile basketball game that will surely show off your skills and personality.
Become a basketball legend in the next best street ball game – Basketrio.
As of now, the Basketrio game is not available to play. So, all we can really do is speculate what will come from the game. It may or may not show promise. But, the closed beta IS available right now.
Promised Features of Basketrio
From what we have seen and already know of the game, the following features should be included.
Full character customization is one of the selling points of the game. You'll start by picking your own avatar and continue from there. There seems to be a wide variety of costumes, accessories, cosplays, and other great outfits to edit your character.
Competitive matches are what we are hoping for. Everything is fast-paced and exciting from start to finish. You can go for classic 3v3 street ball, or more personal 1 on 1 matches. The game should have and intuitive online mode for players to compete with others from across the globe.
Improving and growing your character is an aspect that is also included. You'll sign contracts with other figures in the game and work your way to becoming a legendary basketball player. Although, you'll need to manage a lot of different aspects with your character. So, make sure to be invested in every aspect.
Show off different moves and emotes. There are many flashy moves and emotes that can be used to intimidate or provoke your competition. Get the upper hand and then showboat to everyone to let them know who's boss.
We're hoping for Basketrio to deliver all of these and more once the official game has finally been released to mobile devices.
How to Play the Basketrio Beta?
So, what should you do if you really want to play Basketrio for Android now? Well, you are sadly out of luck. This is because, unfortunately, Basketrio is a closed beta download only. Meaning, if you haven't already pre-registered before October 12th, there is currently no way for you to enjoy or experience the game.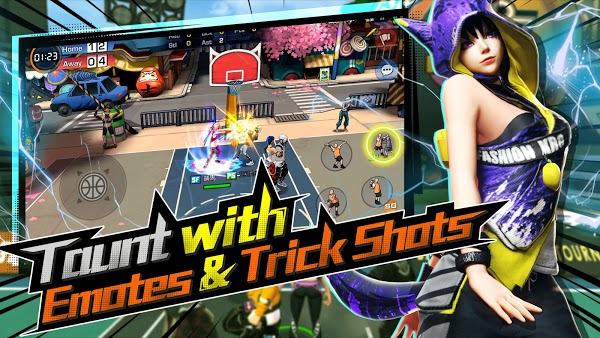 All we can do right now is hope for the game to release soon and become freely available to everyone. But for now, let's bide our time and enjoy other games of similar genres. We offer a ton of different basketball games on our website for you to download and joy, so try them out for yourself.
Basketrio APK Free for Android - Latest version