Adobe Scan APK 23.09.26-google-dynamic
Do you always use PDF files? If so, download Adobe Scan APK today so you can turn any files or pictures into PDF or JPEG files. This app is your portable scanner!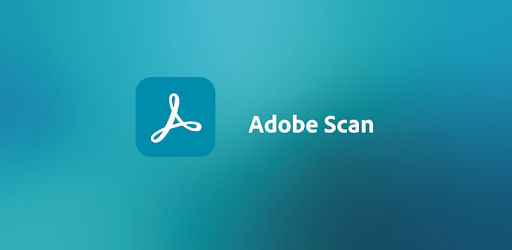 | | |
| --- | --- |
| Name | Adobe Scan |
| Updated | |
| Compatible with | Android 4.3+ |
| Last version | 23.09.26-google-dynamic |
| Size | 75.79 Mb |
| Category | Business |
| Developer | Adobe |
| Price | Free |
| Google Play Link | com.adobe.scan.android |
We use many files in our daily lives whether in school, work or for personal purposes. Because of technology, our lives have become easier as we no longer need to send out physical files every time. Today, you can send PDF files or any other files through the internet. We use the internet for much of our work today and it has been a huge blessing for us. But if you want to have a portable scanner, you can download Adobe Scan today.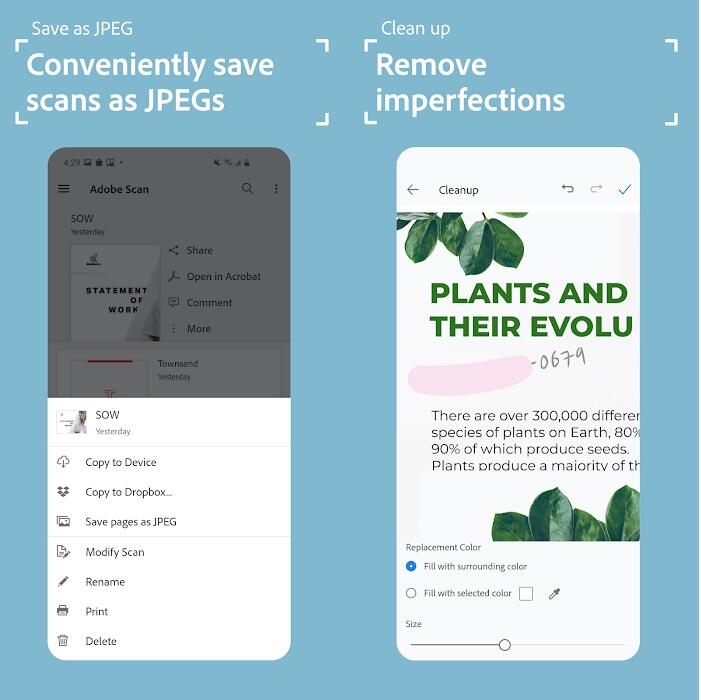 This app was published by Adobe and it allows you to turn any photos and files into digital ones. It can scan just about any type of paper such as business cards, receipts, work documents, notes, and others into digital files such as PDF and JPEG. You can also enhance the scan by adjusting the color, rotating, cropping reordering and many more. With this app, you can also edit the documents in the app itself!
Portable Scanner
If you have a smartphone right now, there's a huge chance that you've used digital files before. Today, you can send photos, videos and files over the internet to literally anyone! With just a few clicks, you can now share whatever you want whether for someone or with the public. Because of this, we are always looking for ways to make our lives easier. If you've always wished that you can just snap a pic of your notes so you can turn it into a digital document, you can now with Adobe Scan!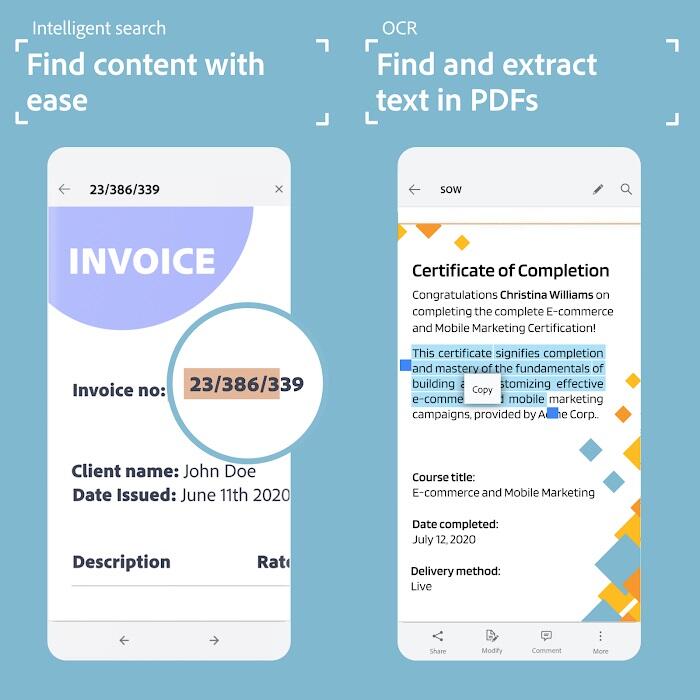 This app works like a portable scanner in which you just need to snap a photo of any paper you have! This can be a receipt, your notes, photos and even whiteboards. You can also upload a photo on your gallery into the app and it can turn it into PDF or JPEG files that are digitized. Thanks to the OCR text recognition feature, you can scan and edit the texts in your files. This lets you edit anything in your phone today.
You can now easily send files through the internet thanks to the app. There's nothing more convenient than this!
Adobe Scan Features
Do you wish you can scan anything on your phone to turn it into a digital file? With Adobe Scan, you can now do so!
A Portable Scanner – There are many files that we use regularly in our daily lives. These files are used in different aspects such as work, school, the hospital and many other places. Even if we are in the digital age, we still use a lot of paper documents today such as notes, licenses, documents and many others. Because of this, it takes a lot of time to turn them into digital files and it requires a scanner. But with Adobe Scan, you can turn your phone into a portable scanner!
What this means is that you can snap a photo of anything with text and then you can turn it into a JPEG or a PDF file! You no longer have to use a scanner as this app replaces that completely. It can recognize any text and document such as IDs, receipts, photos, business cards, invoices and many more. You can also edit the texts in them after scanning if you need to!
Scan any file or photo – Adobe Scan allows you to easily scan any file document today such as receipts, documents, IDs and anything that you want! You're also free to scan photos or upload them so you can turn them into digital version. This app is capable of doing so as it recognizes the edges, the texts and the type of document you're scanning. This app is the ultimate portable scanner that you can use easily.
OCR Capability – This app lets you scan various physical files today and turn them into PDF and JPEG. What's even more amazing is that it recognizes every text in the app and transforms it into digital files. This means you can reuse the content so you can easily edit them. You can them edit files on the go easily with just your smartphone and this app!
Enhance scans – The app also enhances your documents. This means you can improve and edit imperfections. You can erase any marks, stains, creases or even your handwriting if you want. Adobe Scan allows you to enhance any document into a digital one that looks professional and clean today.
Share easily – After scanning any file or photo, you can then share it to any social media sites or through email!
Download Adobe Scan APK – latest version
Do you want to turn anything into a digital file? With Adobe Scan, you can turn your phone into a portable scanner.